02/23/2022
Study shows majority of blind and visually impaired schoolchildren have been significantly disadvantaged during pandemic remote learning; inadequate digital tools are leaving these children behind.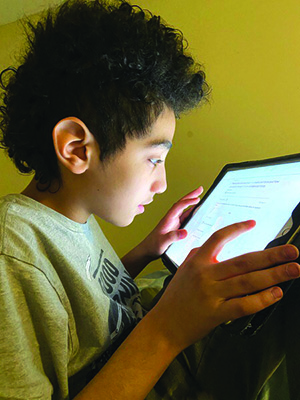 Many parents and family members were thrust into the role of teachers during the COVID-19 pandemic. We have struggled to get our students squared away with their Zoom classes and help them manage Google Classroom and other online learning management systems (LMSs) and applications before logging into our own meetings or appointments. It's been tough! Now, imagine if you or your student had to tackle all of this on a website without any words or labels—if every single button or link was a colorful blank blob. That is the reality for many parents and students who are blind or have low vision, when we encounter poorly coded websites and apps.
Website and application inaccessibility has been an enormous problem that has excluded an entire cross-section of the population for a very long time.
The American Foundation for the Blind (AFB) researchers have conducted studies over the past two years that clearly demonstrate the realities of digital inaccessibility for people who are blind or visually impaired and the very real implications for students—children just like yours and mine.
In our Access and Engagement II study (2021), nearly 60% of the educators reported that their students who are blind or have low vision could not access at least one of the digital learning tools they were expected to use in class, and 35% reported their students could not access at least two tools.
"My son has really struggled with Canvas. I know there are some accessibility features built into Canvas, but it is not user friendly for children with VI [visual impairment]."
-Parent comment from the Access and Engagement II study, 2021
Similarly, 72 family members of school-age children who are blind or have low vision reported that their student had to use an average of five different digital learning tools during hybrid or online instruction in 2020. They also reported that, on average, three of those learning tools were inaccessible. Families and educators described challenges such as students being unable to complete required assignments or needing continuous support from a family member to complete their work, and students feeling frustrated or discouraged because they could not access their lessons like their peers.
"They had little games that were timed and [my son] wasn't on time at all. He wasn't even in the ballpark… Couple times he cried in frustration."
- Parent comment from the Access and Engagement II study, 2021
In our forthcoming study, Journey Forward, 104 participants answered yes to the question: "Since March 2020, have you been responsible for a child receiving early intervention, preschool, K-12 education, or transition services?" When asked to share their concerns related to the education of children in their care during the COVID-19 pandemic, study participants expressed several concerns. The most frequent were fears about their children's academic performance and accessibility issues, including online education and the inaccessibility of technology used by schools. Across these studies and across different learning environments, digital exclusion issues were clearly present.
We all want the best education and opportunities for the children in our lives. In 2022, there is absolutely no reason why every student should not have access to quality education at the same time and in the same manner as their peers, regardless of disability. It is well past time to put an end to digital inaccessibility and provide barrier-free education to children who are blind or visually impaired.
AFB has committed to digital inclusion as one of its primary advocacy priorities for 2022, which includes fighting for better accessibility and usability in digital learning environments. We also have provided advocacy resources that we continue to build out. Will you commit to help AFB champion the cause of digital inclusion and web accessibility?