09/14/2017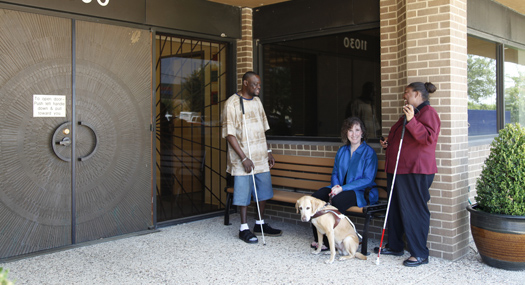 We did it! Thanks to all of you the AFB Center on Vision Loss (CVL) reached the $5,000 challenge goal during North Texas Giving Day on September 14 . In addition, our generous challenge grant donors contributed another $5,000 when we hit the goal! In total, you helped us raise $13,025 benefitting the Center on Vision Loss.
The AFB Center on Vision Loss focuses on increasing the numbers of persons with visual impairment served in the North Texas region. Funding from the giving day will go to enhancing public awareness about vision loss, assistive technology demonstrations provided to CVL visitors, and general operations.
For those not in the North Texas region, North Texas Giving Day is an annual 18-hour online giving event for local nonprofits that is powered by nonprofits, social media activism, area wide collaboration, and individuals such as you. The goal of this event is to help build awareness and support for nonprofits in the North Texas region.
To all that contributed to the enhancement of the AFB Center on Vision Loss, we can't thank you enough.
Didn't get a chance to donate to the cause? No worries, there are many other ways you can help us build a world where people who are blind or visually impaired live, learn, and work without limits. Visit www.afb.org/nolimits to learn how you can be a part of our present and future.