10/31/2016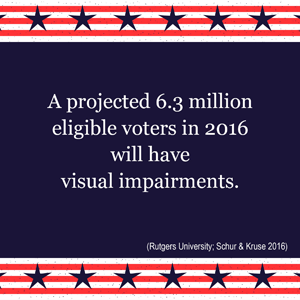 It's almost Election Day. People with vision loss can have the greatest impact when everyone takes action, registers, and votes—whether voting early, absentee, or on Election Day, November 8th!
First equip yourself by knowing your rights, and the potential impact of voters in the disability community (which outnumbers eligible African American voters and eligible Latino voters). Then, it's time to go vote!
Make Sure You're Registered to Vote
One easy place to get registered is at vote.org—which includes options for registering, verifying your registration, and requesting an absentee ballot. Another good way to verify your voter registration is to call your state's Secretary of State's office (you can also call this office to request an application by mail or to ask voting-related questions).
The Help America Vote Act instituted Protection and Advocacy for Voter Access efforts (PAVAs) in every state. Find out more by contacting the Protection and Advocacy agency in your state.
The American Association of People with Disabilities (AAPD) has organized the "REV UP" (Register, Educate, Vote, and Use your Power) effort to get out the vote among people with disabilities. Their website provides helpful links for national and state resources. The REV UP toolkit (which can be customized by state) includes the following reminders of voting rights and accommodations:
When registering to vote, it is good to know:
Offices that have voter registration forms must also offer to help you complete the forms, unless you refuse assistance
Political parties, activist groups, and private citizens can give out application forms. If they do, they must help you register, too, whether or not you agree with their politics or point of view.
If an agency is providing you with services in your home, and if they offer voter registration services, they must provide those voter registration services at your home.
If you reside somewhere else that is not in the same county as your permanent address, you can register to vote by mail in the county where your permanent address is. Then you can vote with an absentee ballot.
Know Your Rights As a Voter Who Is Blind or Visually Impaired!
In any election for a federal office, you have the right:
to vote privately and independently.
to get help from a person of your choice or an election worker, except that you cannot be assisted by an agent of your employer or union or a candidate for office.
to a physically accessible polling place, including accessible parking and the use of an accessible voting machine.
to have sample ballots in alternative format.
to go back and make corrections if you make a mistake before submitting your ballot.
In some states, like Virginia, early in-person voting is only available to people who meet certain qualifying criteria. Often, having a disability is a qualifying rationale for voting early. This option could save you lots of time! In some cases, you can even register to vote and vote early, all in one visit! Check with your local election office for more details.
If you vote using an absentee ballot:
You have a right to an accessible ballot.
Be sure to verify that you have requested your ballot before your state's deadline.
Be sure to verify that you have returned your ballot on time and following the instructions.
If voting in person (early or on election day), you might want to bring:
headphones to hear your ballot,
photo identification (check the laws for your state),
a hand-held magnifier (if you typically use one), and/or
a trusted sighted assistant (if you prefer to vote with assistance).
Curious about voting with an accessible machine? Read about VisionAware blogger Empish Thomas' first voting experience with an accessible voting machine (spoiler alert: getting access to the machine first required a lot of self-advocacy!)
What to Do If You Experience a Problem at the Polls
Talk to the head election judge. If he/she cannot fix it, ask him/her to contact a city/county election official. If that doesn't work, call 866-OUR-VOTE (a voter helpline service from the nonpartisan Election Protection Coalition). Spanish-speaking/bilingual voters may wish to call 888-Ve-Y-Vota, and Asian language speaking voters can call 888-API-VOTE.
If your complaint is not resolved, file a written complaint before leaving your polling place.
You may also submit a complaint to the Department of Justice Voting section:
One final thought as you head off to the polls: Noted disability rights advocate Justin Dart once said, "Vote like your life depends on it - because it does!" At AFB, we want to encourage you to exercise this valuable right, no matter who you vote for. We wish you the best of luck! Here's hoping that in 2016, voter participation rates for people with vision loss are through the roof, evidence of our community's passion, power, and participation!
Recommended Links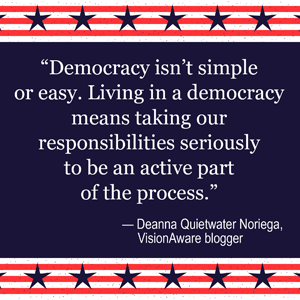 Want to tell us about your voting experience? Comment below!
VisionAware blogger DeAnna Quietwater Noriega wrote "Democracy isn't simple or easy. We can use our power at the polls to elect people we believe will represent our values... If we opt out of participating, then others who may hold opinions different from ours will decide outcomes. Living in a democracy means taking our responsibilities seriously to be an active part of the process." Be sure to read DeAnna's heartfelt blog post on VisionAware.
Empish Thomas writes, "As an African-American who grew up with parents who lived under segregation, I have known and understood the importance and power of the right to vote." Read her powerful piece, Feel the Power of the Disability Vote By Using the Accessible Voting Machine.
Read Mark Richert's blog post on the 5 critical policy issues specific to people who are blind or visually impaired
This information was excerpted from the September 23 issue of the AFB DirectConnect newsletter. Please subscribe to stay informed about your rights, and get important updates from the AFB Policy Center. To subscribe, go to http://www.afb.org/myafbnewsletter.aspx and either log in (if you have registered before) or follow the link to "sign up to receive free newsletters and other services." Once you have an account and are logged in, just check the box next to AFB DirectConnect, and click submit!