04/10/2016
The American Foundation for the Blind needs your help! This week, we are asking all of you to support the Cogswell-Macy Act, the most comprehensive special education legislation for students with sensory disabilities to date. Call in on April 14th to ensure key resources are available to these students and their parents and educators through and expansion of the Individuals with Disabilities Education Act (IDEA). 
Parents and teachers around the country are rallying around this bill. We asked for stories about the importance of specialized services for children with sensory disabilities like hearing loss, visual impairment, blindness, or deafblindness.
Here are just a few of their responses to the question, "How would improving the 'child count,' strengthening the reporting requirements of IDEA, and establishing best practices for teaching and evaluating students with visual impairments help your child?"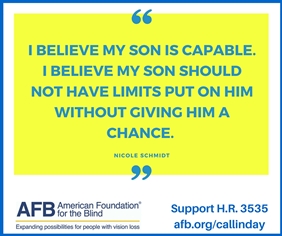 "Hello, I am a parent to a child who is deafblind.  Andrew is almost 11 and attends our local school district. Andrew prefers sign language as a form of communication and he has yet to get this form of communication that he needs at school.  
I am very confident in saying that I believe my son can learn. I believe my son is capable. I believe my son should not have limits put on him without giving him a chance. I believe my son deserves a language. I believe that not only my son deserves a purposeful and meaningful day, but I believe ALL children deserve this same right!"
—Nicole Schmidt
"My 4 year old daughter, Avery, was born visually impaired and one of our first worries was how she would function in a sighted world. She required extra human help and devices to learn to crawl, eat, walk, use a white cane and even talk, due to her disability.  And although she receives excellent care at her special needs pre-k, I still worry about her future as far as access to enough resources/devices and getting her needs met.  She requires many extras that are vital to her learning. 
It is clear that schools need more funding to more appropriately meet the needs of these children, in terms of more qualified vision impaired aids, as well as therapists for speech and motor delays, which often accompany visual impairments. 
This act is so important in ensuring kids like mine can keep up with their typical peers!"
—Ann Devereux
"I am the mother of an adult child who is still receiving instruction from the local ISD. I believe that while this act is too late to help with my son, I believe it will give children across the country a better opportunity to actually learn something than my son ever did.
My son was labeled as emotionally impaired, and it seemed like the educational system gave up on actually teaching him how to read braille or even enlarged print. He never learned how to read beyond that of a first grader and now as the parent, I see many things that should have been, but never were.
I believe this act would give our children a better learning opportunity as the schools will have to take into consideration their visual and hearing impairments and not just a mental deficit."
—Ruth Paris
"As a parent and as a man who has lived with Optic Nerve Atrophy for my entire life I feel the great need for children to be evaluated and tested to ensure their performance level in the school setting runs as smoothly as possible. By strengthening the child count and improving requirements of IDEA, the state and federal lawmakers as well as board of education workers, teachers, and physicians must get involved to inform parents and students of programs that are available.
I personally feel very strongly and passionately about this movement."
—Jarrien Murdock
"Our son, Cole, who is blind and deaf, would greatly benefit from improving the requirements of reporting under IDEA and from establishing best practices for evaluating and teaching children who are blind, who are deaf, and who are deaf-blind. Cole was born with CHARGE Syndrome, which is a medically complex syndrome that has impaired most of his systems to include being blind and deaf. 
When he was a baby, we were told that he may never walk, talk, eat or do many daily life skills.  Not only is he doing these things, he is doing so much more. 
….
Cole is now in the 4th grade, and until I saw the Cogswell-Macy Act, I had given up all hope that Cole would ever receive a free and appropriate education. Attending a school with professionals who are trained in evaluation and teaching methods specific to Cole would give him the opportunity to be educated, be with other kids, and learn skills which would allow him to become a successful adult.  This act gives me hope that Cole will be able to attend school again."
—Shawn & Raymond Herrick  
"We need this Act! Thank goodness the Cogswell-Macy Act champions kids with visual impairment and multiple disabilities! All kids should count...even ones with multiple disabilities!"
—Bette Lee