06/19/2019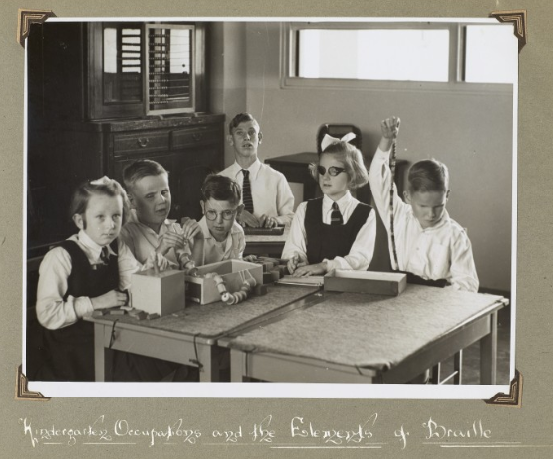 AFB's mission to bring Helen Keller's inspiring legacy to a global audience took a massive step forward with the Helen Keller Archive digitization project. Begun in 2015, over 176,000 digital images are now available at one's fingertips. One of the project's goals is to make the digital archive a stellar educational tool. Last summer, at a party celebrating the launch of the archive, our archivist introduced the digital archive to visually impaired 5th graders at the New York Institute for Special Education. They loved it!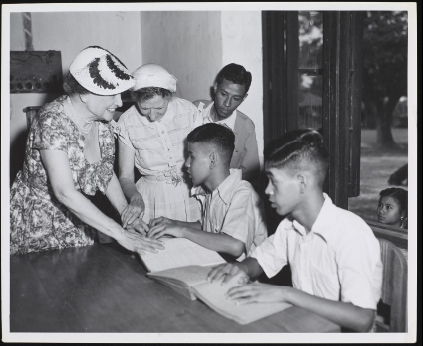 (Photograph taken indoors of Helen Keller and Polly Thomson visiting students reading braille at the St. Michael's School for the Blind, Rangoon, Burma (Myanmar) 1955.)
This year, we are meeting and working with middle school educators who teach technology and social studies. AFB is learning what schools want and need to teach about Helen Keller and how to use the digital archive to greatest effect. Takeaways from our discussions with the teachers are guiding our efforts. Teachers are asking:
What is an archive?
How do you make a website accessible?
How can teachers incorporate perspectives of people with disabilities into the social studies class using the digital archive?
What digitized documents in the Helen Keller Archive inform our knowledge of her work in the fields of women's rights, civil rights, and disability rights?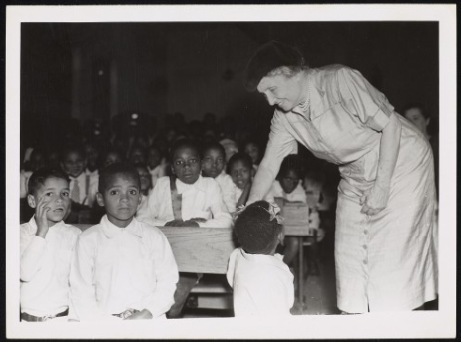 (Photograph taken indoors of Helen Keller with a class of school children at the Dominican School for Colored Deaf, South Africa. 1951)
Keller was a consummate activist and educator. She traveled the nation and the globe demanding equal rights for those with vision loss. She spoke passionately about the ability of those traditionally marginalized by society to participate fully in society and civic discourse. Her life and the lives of those with disabilities belong in every classroom. We can use the digital archive to create resources and curricula for school students worldwide, truly fulfilling her legacy.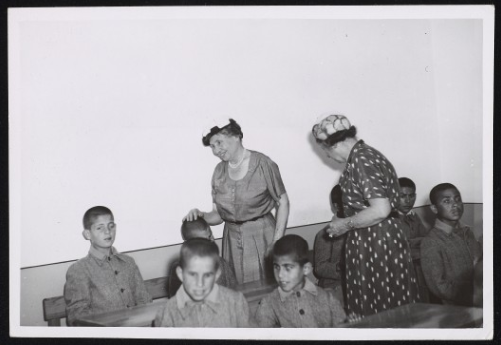 (Helen Keller and Polly Thomson in a school room with boys who are blind, Jordan May 13, 1952.)
You can help! Donate today to support this groundbreaking project. And if you are a middle school teacher, or teacher of students who are blind or visually impaired, please write to archives@afb.org and let us know what kind of lesson plans would be most helpful to you, and support your educational goals. Thank you!