11/10/2021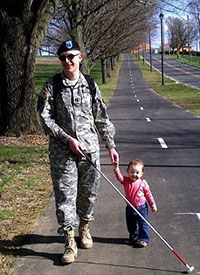 This year and every year, the American Foundation for the Blind wants to take a moment to give tremendous thanks to the veterans who so selflessly have defended and protected our country with honor and pride. Thank you for your service.
When veterans leave the military, it is not uncommon that they do so with disabilities. The Veteran's Administration Office of Blind Rehabilitation Services estimates that there are over 130,000 veterans in the United States who are legally blind. AFB was founded in 1921 to support veterans who were blinded in World War I, and throughout these 100 years AFB has never forgotten that founding mission.
While they may have acquired a disability during their military service, veterans often have many work years ahead, during which they may desire to fulfill professional goals or establish a new career. It can be challenging for veterans with vision loss to transition into the civilian workforce. Not only do they need to learn to integrate into civilian life and culture outside the military, but they must also learn the necessary skills, tools, and technology to perform work successfully with their disability.
From learning to use adaptive technology such as screen reading or magnification software, to garnering professional networking and communication skills, veterans may benefit from supports to get started on the right foot. According to the Veterans in the Workplace Study conducted by the Veterans Administration, participating in a mentoring program can assist the veteran in personal and professional growth as well as help them to adjust to the civilian workplace culture and reach their full potential within the organization.
The AFB Blind Leaders Development Program (BLDP) pairs mentors and fellows to engage in leadership growth activities and encourages self-exploration of professional strengths and areas for growth. AFB wholeheartedly encourages veterans who are blind or visually impaired to participate in BLDP to either receive mentoring or as a mentor to another veteran with vision loss.
According to DAV, "Mentoring is important because of not only the knowledge and skills veterans can learn from mentors but also the professional socialization and personal support to facilitate a successful career that mentoring provides."
Another key to employment success for veterans who are blind or visually impaired is understanding their rights to an accessible workplace afforded by the Americans with Disabilities Act (ADA) and Section 508 of the Rehabilitation Act, which requires all federal agencies to procure and utilize information technology that is accessible for people with disabilities. It is imperative to ensure all workplaces are fully accessible for returning veterans who are blind or have low vision. The upcoming AFB Workplace Technology study will identify some of the ways in which employers should do more to make their environments accessible for people who are blind or have low vision.
Whatever career path veterans may choose, providing services and improving workplace accessibility is essential to ensure their reintegration into civilian employment is successful. AFB will continue working toward a world of no limits that is accessible to and inclusive of our blind and low vision veterans.