04/23/2018
April 25 is International Guide Dog Day, which recognizes and celebrates the crucial role that working dogs play in enabling and supporting people who are blind or visually impaired to get around safely and independently. To that end, here at AFB we asked some of our colleagues to share their thoughts about getting around as a blind individual, their own dog guides, and the special relationship they have with their canine counterparts.
Neva Fairchild, National Independent Living and Employment Specialist, on Dog Guide Vinny: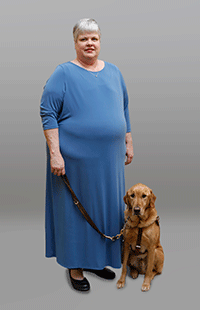 "The decision to work and train with a seeing eye dog is the single best decision I have made as a blind person," Neva says. "Walking with my dog, Vinny, is like racing downhill on skis. But not so scary! We walk faster, negotiate crowds and routes easier, and generally sail through our day. Initially, I was afraid that I wouldn't be able to keep up with grooming and other tasks associated with caring for my dog, but it is so little to give back for all he gives me that I had nothing to worry about. He keeps me safe, and he does it all for love."
Neva joined AFB in 2008 to oversee Esther's Place at the Center on Vision Loss. Esther's Place is a demonstration model home with over 500 products and environmental adaptations to help visually impaired or blind individuals live a life with no limits. Neva has over 25 years of professional experience in blindness rehabilitation and a lifetime of experience living with low vision. She was diagnosed at an early age with cone rod degeneration, a rare genetic eye condition.
Aaron Preece, AccessWorld Technology and Information Specialist, on Dog Guide Joel: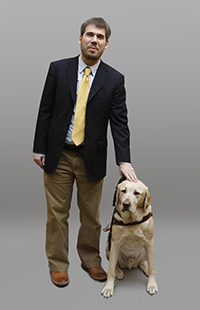 "I find that the fluid travel experience provided by a dog guide allows me to travel with more confidence and efficiency, but also have a greater appreciation for the act of traveling itself," Aaron says. "Though it is not the primary purpose of a dog guide, I find that the close bond between guide and handler, as well as the more approachable image a dog guide can provide to the public, provides tangible benefits that cannot be understated."
Aaron joined AFB in 2013 after serving as an intern with the organization. He authors articles for and assists in the production of AccessWorld, AFB's technology magazine, as well as operates AFB's Information Center, where he provides information and resources to those with vision loss, their families and friends, professionals in the field of vision loss, and the general public.
Learn more about how dogs assist people with visual impairments.