05/06/2022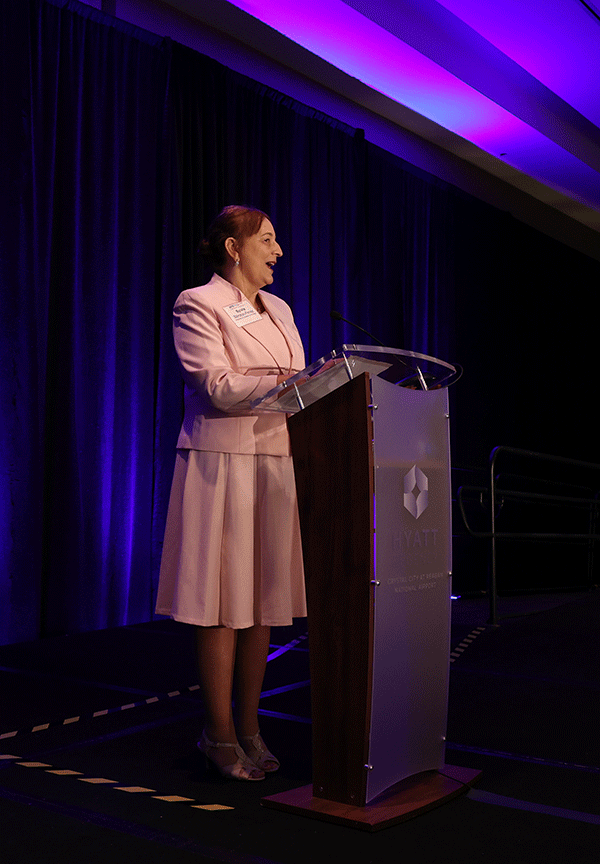 On behalf of the entire American Foundation for the Blind team, I want to thank attendees, presenters, sponsors, and exhibitors for joining us at the 2022 AFB Leadership Conference. It was so wonderful to connect with almost 300 people in person. It was an inspiring, informative, and engaging time of learning and networking. Our 2022 conference theme of Inclusion at Work was obvious throughout all of the wonderful keynotes, panels, and breakouts. What an amazing and energizing program.
The "ideathon" was also a huge hit. So many said how much they enjoyed the interactive ideation experience. We will certainly be sharing more and continuing the discussion!
Congratulations again to our amazing award winners:
Gale Watson and Judith Dixon, recipients of the 2022 Migel Medals
Rachel Longan, recipient of the first ever Llura Gund Leadership Award
Dr. Rona Pogrund, Dr. Shannon Darst, and Dr. Michael Munro, recipients of the 2022 Corinne Kirchner Research Award
A special thanks and congratulations to the 28 AFB Blind Leaders who joined us at the conference. You demonstrated exceptional leadership and enthusiasm. One of our leaders stated that the experience was "transformational." We welcome applications for the new class of Blind Leaders! The application process will remain open until May 15, 2022.
We would love to hear what all of you thought about the conference and the content! We will now start working on a virtual series to continue the momentum…so let us know what topics you might want to continue engaging in. I honestly can't wait to start working on the 2023 AFBLC!
Our gratitude continues. Thank you so much to the fantastic keynote speakers—Catarina Rivera, Stephanae McCoy, the Honorable Tony Coelho, and Dr. Sachin Pavithran—and to our terrific panelists and breakout session speakers (over 40 presenters). I know it was extremely difficult for our attendees to select breakouts since they all were so great. Thanks to our guest moderators, which included several AFB Board of Trustee members as well as guest journalists. And a big thanks to the AFB team who delivered a great conference, with the amazing support of Q&A Events and Meeting Contractors, LLC.
And thank you once again to our generous sponsors:
Leadership Circle
Hewlett Packard Enterprise
Horizon Therapeutics
No Limits Circle
JPMorgan Chase & Co.
Delta Gamma Foundation
Google
Northrop Grumman
Vanda Pharmaceuticals, Inc.
Oncor
Meta
Walmart & Sam's Club
Changemakers
Allies Circle
Challenger, Gray, and Christmas
Charter Communications
Spark Therapeutics
Supporters
CTIA
New York Life
National Industries for the Blind
Again, it was so wonderful to connect, to learn, and to network with you all. I look forward to continuing so many conversations and building collaborations as we all work together to create more inclusion of people who are blind!
Sylvia Stinson-Perez
Chief Programs Officer
American Foundation for the Blind (AFB)