02/16/2016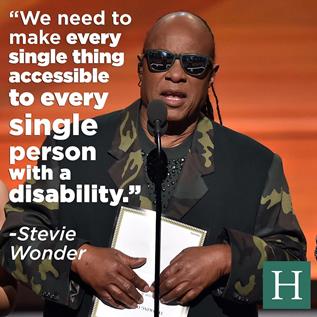 I am still applauding Stevie Wonder's call for accessibility at last night's Grammys; it was fabulous. First, he made everyone laugh when he teased the audience with a "na na nana na…y'all can't read this huh?" referring to the fact that the Song of the Year winner was written in braille. And then right before he announced "Thinking Out Loud" as Song of the Year, he said, "We need to make every single thing accessible to every single person with a disability."
And in the seconds after that, the media and social media were afire with comments.
Thank you, Stevie, for shining the spotlight on this very important topic.
Some of you may wonder, what exactly is accessibility? It means giving people with disabilities equal access to our world. Specifically, it means ensuring public spaces, websites, cell phones, books, classroom environments, office equipment, personal banking, and more are optimally designed for people with disabilities.
Here at AFB, we dedicate our lives to making the world a more accessible place for people with vision loss. A lot of progress has been made on this front over time. Not that long ago, basic cell phones were difficult, if not impossible, for people with vision loss to use. Today, Apple's iPhone is fully accessible right out of the box, and many apps and websites have taken big steps to ensure accessibility. But even with these milestones, there remains a lot to be done on this front.
People with vision loss are still being shut out from popular commercial websites because so few businesses follow Web accessibility guidelines. Imagine not being able to easily shop online, search for important medical information, book travel arrangements, or apply for a job through a popular career site. This is especially frustrating for people with disabilities who have fewer transportation options, and often need to use an online store or business to make necessary purchases for daily life or to address confidential medical, financial, or other concerns.
Similarly, many companies fail to consider accessible design when creating new technology.
So, let's take Stevie's words to heart. Together, we can ensure our world is a more accessible, inclusive place, and that people with disabilities have equal opportunities to excel at school, at work, and in their communities.
Find out more at www.afb.org/tech.