09/12/2013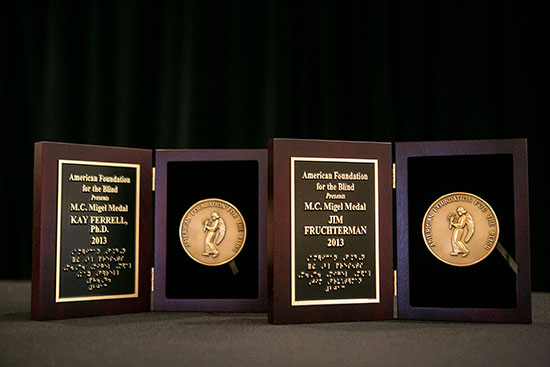 The American Foundation for the Blind (AFB) continues to invite nominations for the 2014 Migel Medals, the highest honor in the blindness field. The Migel Medal was established in 1937 by the late M.C. Migel, the first chairperson of AFB, to honor professionals and volunteers whose dedication and achievements have significantly improved the lives of people who are blind or visually impaired. The Migel Medal Awards consists of two categories, the Professional Award and the Lay/Volunteer Award.
Professional Award nominees should be those whose career work significantly affects services to people with vision loss on a national level. Prospective candidates include, but are not limited to, professionals with specific training and expertise in education, rehabilitation, assistive technology, vision rehabilitation, personnel preparation, administration or related fields. They may work in the public or private sector and their work should span several years.
Lay/Volunteer Award nominees can be volunteers or professionals not employed within the blindness and visual impairment field whose efforts have supported or extended service to people with vision loss. Professionals from these disciplines may include, but are not limited to, those who develop assistive technology equipment and software, health care devices, and improved medical services.
Nominations for AFB's Migel Medals are due by Friday, October 4, 2013, and should be e-mailed to Scott Truax at struax@afb.net.
Nominators should send a one-page description of the nominee and his/her accomplishments, or fill out our online nomination form at www.afb.org/MigelNomination. You must also submit two letters of recommendation with the nomination.
Past Migel Medal recipients include:
2013
Kay Ferrell, Ph.D., professor of special education at the University of Northern Colorado (UNC) in Greeley.
Jim Fruchterman, founder, president, and CEO of Benetech.
2012
Kathleen Mary Huebner, Ph.D., professor and director of the National Consortium for Leadership in Sensory Disabilities at the College of Education and Rehabilitation at Salus University.
George Kerscher, Ph.D., secretary general of the DAISY Consortium and president of the International Digital Publishing Forum.
Visit this link for a complete list of Migel recipients.