12/03/2017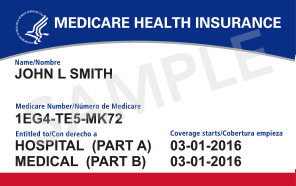 In September of this year, the Centers for Medicaid and Medicare Services (CMS) announced that redesigned cards will be issued to all Medicare recipients starting in April of 2018. This project is known as the Social Security Number Removal Initiative (SSNRI).
The reason for the change in card design is so that individuals' Social Security numbers can be replaced by a new "Medicare Beneficiary Identifier (MBI)"—a unique, randomly assigned series of numbers and upper-case letters for each card holder. The move away from placing Social Security numbers on Medicare cards is intended to combat fraud and identity theft.
All current Medicare cards will be replaced by April 2019, and a "secure look-up tool" will be available so that people with Medicare as well as healthcare providers will be able to access the new numbers when needed. There will also be a 21-month period in which physicians, healthcare providers, and suppliers will be able to access an individual's Medicare information using either their Social Security number or the identifier found on the newly issued card.
Medicare recipients are urged to destroy their old Medicare cards as soon as they receive the new one, which raises some important questions for anyone who is totally blind, or who has low vision.
It will be of the utmost importance for a blind person to be able to independently make note of the number-letter combination included on their new card. Will materials be made available in a variety of formats including braille, large-print, audio, and electronic text so that the person receiving Medicare will not need to ask for sighted assistance to obtain this information?

Of equal importance is the question of how accessible the new online look-up tool will be for anyone using magnification or screen-reading solutions to access the Internet. Many blind people will want to access this information from a variety of platforms including Windows, Mac, iOS, and Android.
AFB reached out to the Centers for Medicaid and Medicare Services for information about the needs of the blind community regarding the Social Security Removal Initiative, and we received a response from CMS.
Along with the new Medicare card, letters will be sent out in braille and large print to anyone who CMS identifies as needing this information in an alternative format. You can call 1-800-MEDICARE (1-800-633-4227) to let them know that you would like to have this material in braille or large print.
The new patient portal where you can access your entire Medicare card number along with other relevant information is available from MyMedicare.gov, and CMS reports that it is Section 508-compliant. This means that it should work with any screen reader available today.
If you wish to do so, you can follow this link to learn more about what is involved in the roll-out of new Medicare cards next year, and how you will be affected.
Additional information:
The new Medicare Beneficiary Identifier won't change your Medicare benefits. People with Medicare may start using their new Medicare cards and MBIs as soon as they get them.
The effective date of the new cards, like the old cards, is the date each beneficiary was or is eligible for Medicare.
Once beneficiaries get their new Medicare cards with an MBI, they can use their new cards to enroll in a Medicare health (Medicare Advantage) or drug plan. Those Medicare beneficiaries who do choose to enroll in Medicare health and/or drug plans will still also get an insurance card from their health and/or drug plans. As always, while beneficiaries are enrolled in health and/or drug plans, they should use the cards from those plans when they get health care and/or prescriptions.
Many of you who are currently reading this post will soon begin receiving your new Medicare cards, and we would be interested in your feedback. Feel free to leave comments for those here at AFB, as well as your fellow readers.