05/06/2021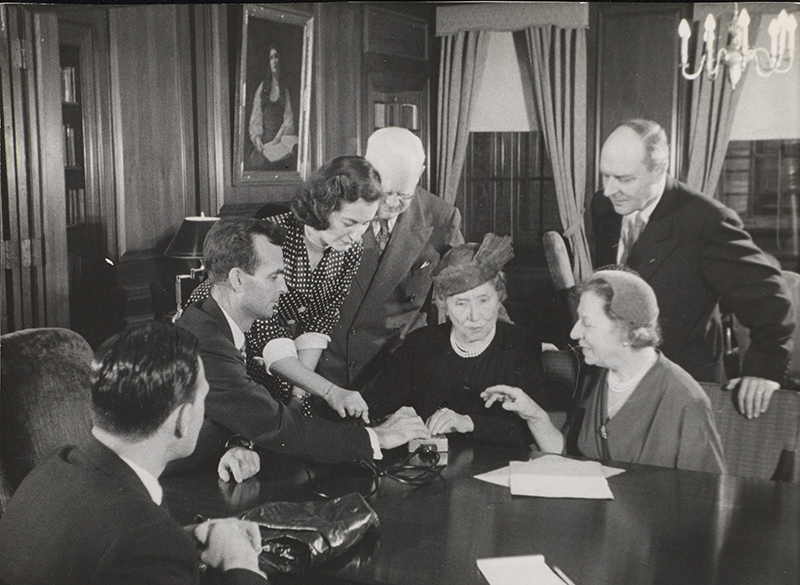 As part of the American Foundation for the Blind's (AFB) year-long centennial celebration, we recently published Our History, a robust new timeline outlining AFB's past. Lesser-known milestones in advocacy, education, and technological innovation are all chronicled, from the creation of Talking Books in the 1930s, to the first international conference on AIDS-related vision loss in the 1990s, to our most recent work to study the impact of the COVID-19 pandemic on adults and students who are blind or have low vision.
The timeline illuminates AFB's long track record of tackling new problems as they emerge, and fighting against longstanding prejudice and inequity.
"This timeline is a marvelous stroll through our fascinating past," said Helen Selsdon, AFB's archivist, who worked extensively on the project. "Images, text, audio recordings, and film footage reveal AFB's key involvement in every aspect of the lives of America's blind communities since 1921. Each decade begins with a quotation—many authored by Helen Keller, our champion from 1924 until 1968."
AccessWorld Editor-in-Chief Aaron Preece also addressed the (then in-progress) timeline in the Editor's Page of the February 2021 issue.
"Looking through the draft timeline, I discovered some interesting tidbits regarding AFB's role in technology advances over the years," Preece said. "You may know that AFB was a key player in the development of the first Talking Books in the '30s, but did you know that AFB also began research on currency recognition as far back as 1978? A prototype currency identifier was developed that year and marketed several years later in 1983. AFB also developed a precursor to the video magnifier all the way back in 1953. This device was called a Megascope."
Since our founding 100 years ago, we have amplified the voices of people with vision loss, and have been the engine of advancement and opportunity for every person affected by blindness or vision loss. We are very excited about this new timeline, which illustrates our many decades of advocacy in a clean, chronological format. Take a look for yourself, and let us know what you think. We welcome your feedback, which you can send to communications@afb.org.