02/25/2022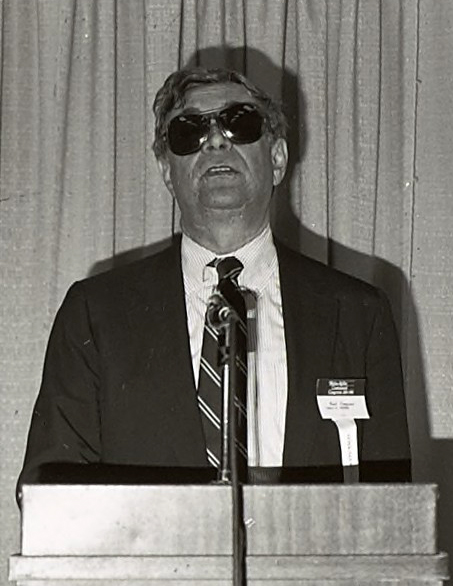 The American Foundation for the Blind mourns the passing of Donald H. Wedewer, 96, of Charleston, South Carolina, a former AFB trustee and beloved colleague who committed his life to service. Born in Dyersville, Iowa, Wedewer was badly wounded in combat during World War II while serving as an infantryman, resulting in his losing both legs as well as his vision. While recovering from surgery, he met Helen Keller, who was visiting the veterans' hospital and was particularly interested to speak with blinded soldiers. In 2016, he reflected on this brief but life-changing encounter in a video interview.
After two years of recovery, Wedewer went on to receive his bachelor's and master's degrees from the University of Missouri, and eventually became the Director of the Florida Division of Blind Services, where he served until his retirement in 1989. Colleagues admired his deep personal interest and follow-through on the outcome of individual cases -- he truly fought for the best interests of blind people. He was also a persistent and effective advocate for the development of a strong nonprofit network in Florida to support blindness services.
Wedewer's commitment to service connected him to a wide range of nonprofits and professional organizations. His accomplishments were recognized by four U.S. presidents, and he received more than a dozen awards for his professional achievements, including induction into the American Printing House for the Blind's Hall of Fame for Leaders and Legends of the Blindness Field. In 1990, the American Foundation for the Blind awarded Wedewer the Migel Medal, the highest honor in the blindness field. Wedewer was also named an AFB trustee emeritus in honor of his exemplary service on our board.
We join the entire disability community in extending our sincerest condolences to his family, and we will strive to live up to his legacy of service.