12/29/2016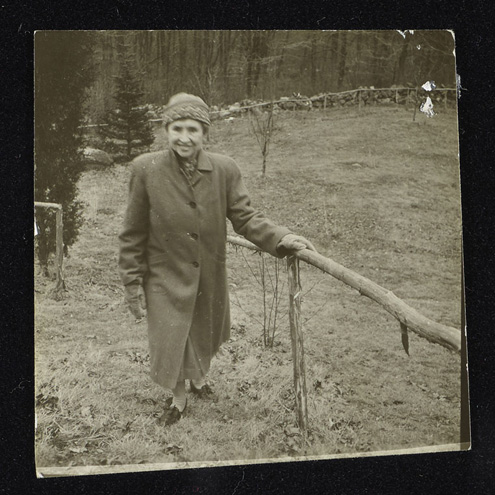 Image: Helen Keller walks in her garden in Westport, Connecticut, 1950. It is wintertime. Keller is seen smiling, facing the camera. She wears a long coat and woolen hat. She holds a wooden branch railing with her left hand.
As the new year approaches, it's a good time to review the progress that is being made to digitize the Helen Keller Archive. This is a mammoth task, and we are well on our way to accomplishing the work of preserving and disseminating online the over 80,000 items in the collection. We are simultaneously working on another major objective: to make the materials accessible to hearing, sighted, blind, deaf, and deafblind audiences alike. This is pioneering work and we have no doubt that Helen Keller would be thrilled that her archive is the catalyst for the creation of ground-breaking technology for people with disabilities.
Today, over 40,000 images are up on the site, many items are transcribed, and the collection can be searched as a result of the thousands of pieces of information (metadata) that have been created to describe each item. Enjoy some of the newly digitized photos, or a film clip of Helen flying in 1918, or try a simple search in the online collection and see what you find!
Helen Keller's involvement in the key cultural, social, and political events of the 19th and 20th centuries is unparalleled, and few archival collections have the potential of providing historians with so rich a source of information on this nation's history and direction. Above all, the collection powerfully illustrates Keller's lifelong work to make the world a better place, and as we reflect on the past year and consider how we can do better in 2017, her life story and words are more relevant than ever. As she said:
"I do not like the world as it is; so I am trying to make it a little more as I want it"
Happy New Year from the American Foundation for the Blind!
Recommended Resources
How You Can Help