11/22/2021
Last week, President Biden signed the Infrastructure Investment and Jobs Act, a law investing $1.2 trillion in physical infrastructure and reauthorizing the surface transportation programs. We have been paying close attention to this legislation because the funding it authorizes impacts the availability of various public transportation systems that are important to people who are blind or have low vision for the next five years and beyond. As we know, lack of transportation is a leading barrier to employment, healthcare, and community inclusion for people with disabilities, so AFB is working at the federal level to ensure that resources and policies address the need for reliable, affordable, convenient transportation options.
In honor of Thanksgiving, here are four things we were thankful to see included in the bill, and some thoughts about the work that still remains to be done.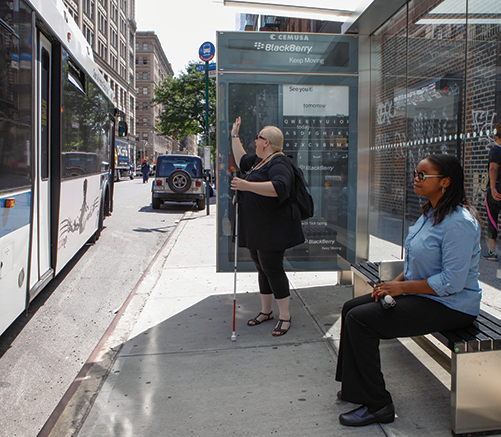 1. Hooray for Additional Transit Funding!
This law provides $110 billion in new money to improve roads, bridges, and other major projects. $1 billion will go toward removing barriers that cut low-income communities off from opportunity, including highways. On policy, the law requires the US Department of Transportation (DOT) to regularly update the Manual of Uniform Traffic Control Devices to include the "inclusion and mobility of all users," which we hope will include improvements, such as Accessible Pedestrians Signals, for people who are blind or have low vision.
Transit projects will receive an additional $39 billion, more or less doubling federal transit funding. Even though this law does not substantially change policy to focus on accessibility, we are thrilled that there will be more funding available for transit projects since these projects must meet the standards of the Americans with Disabilities Act (ADA), such as providing ADA-complementary paratransit service. While most of the funding will go to new purchases and construction, reducing the financial pressure on agencies will enable some transit agencies to improve operations, meaning that some planned service cuts or fare hikes may be able to be taken off the table.
Additionally, $1.75 billion dollars will be available to improve the accessibility of transit and commuter rail stations that predate the ADA and remain inaccessible. As a Co-Chair of the Consortium for Citizens with Disabilities Transportation Task Force, AFB helped advocate for additional uses of this funding that would fund accessibility improvements, such as wayfinding, that are not required by the ADA standards. However, we are still pleased that this money will be available to bring stations into compliance with current standards.
2. Bravo for Rail Investments!
The law includes $66 billion in passenger and freight rail investments, including Amtrak. The funding for Amtrak includes a focus on accessibility for people with disabilities. The law pressures Amtrak to improve the accessibility of the national rail system and requires Amtrak to add to its board a person with a disability "who has a demonstrated history of, or experience with, accessibility, mobility, and inclusive transportation in passenger rail or commuter rail."
3. Cheers to Safer Streets!
The legislation includes $11 billion for highway and pedestrian safety programs. We are pleased to see funding for the Safe Routes to School program to enable children, including specifically children with disabilities, to walk or bike to school. In addition, research will be conducted into the safety of vulnerable road users to promote walking and other forms of active transportation. The law requires a portion of the funds to be used to adopt or implement Complete Streets standards or policies that improve safety, mobility, or accessibility on our streets.
4. Yes, More Broadband!
The law includes $65 billion for expanding broadband infrastructure and access. $42 billion will go toward supporting infrastructure, mapping, and adoption projects. $14 billion will be used to extend the Emergency Broadband Benefit program, though with a new name and a lower subsidy for households each month. One new program will seek to improve connectivity for underserved households, including people with disabilities, by allocating nearly $3 billion toward activities such as improving digital literacy skills.
And a Disappointment…
We were disappointed, of course, that the bill did not include the Disability Access to Transportation Act. More than 1,600 people signed our petition this July urging Congress to pass that bill, and more reached out directly to their legislators. However, we are still excited that nothing in the law precludes agencies from implementing innovative paratransit programs and reforms to better serve passengers. With so much additional funding, we expect more transit and pedestrian travel options to be available across the country. Plus, we've heard from Rep. Langevin's office that he still supports this bill and will continue to look for options to pass the bill over the next year.
What's on the Horizon
We continue to look forward to the next spending bill which will provide funding to address other needs, including:
creating apprenticeship opportunities
providing home- and community-based services
addressing teacher shortages
creating affordable housing
transitioning jobs from subminimum wages to competitive integrated employment, and more
It also allocates an additional $10 billion for transit serving disadvantaged communities, and addressing disability accessibility is among the allowable uses of that funding.
Of course, Congress has a lot on its plate right now. As it finalizes negotiations for the Build Back Better Act, it must also address the government funding for FY 2022 and a pending debt limit by December 3. Accomplishing all three priorities will be a challenge, but they also present a great opportunity for additional investments in our communities.