10/04/2021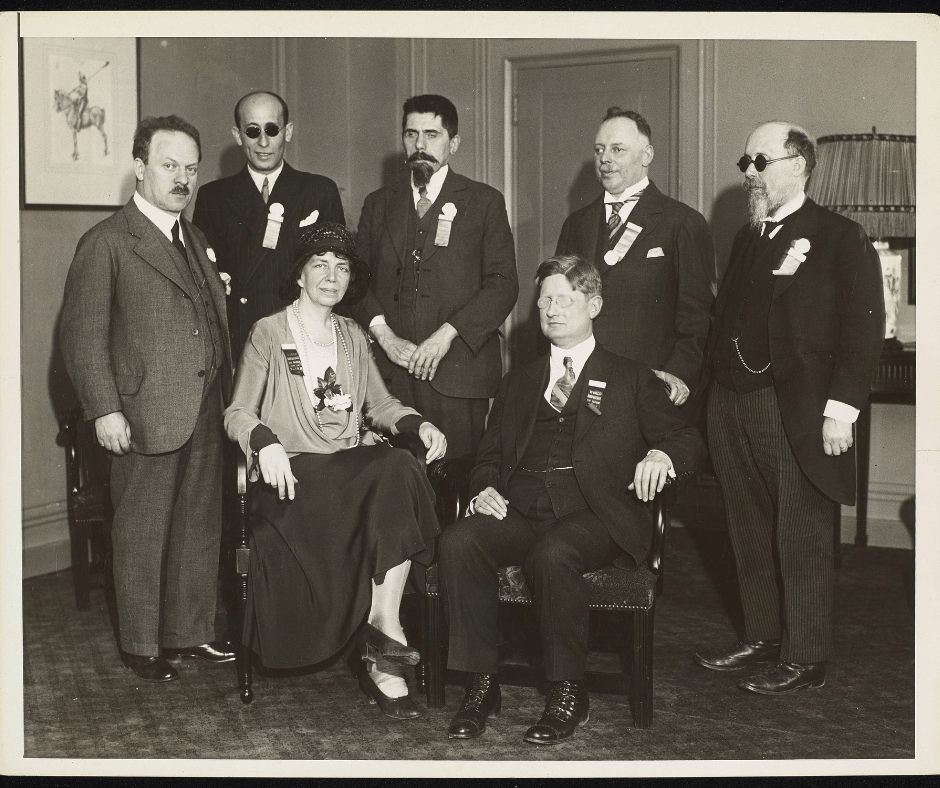 Photograph of Eleanor Roosevelt and Robert B. Irwin with others at the World Conference on Work for the Blind, 1931.
Anna Eleanor Roosevelt (October 11, 1884 – November 7, 1962) was an American political figure, diplomat, and activist. She served as the first lady of the United States from 1933 to 1945, during her husband President Franklin D. Roosevelt's four terms in office, making her the longest-serving first lady of the United States. President Harry S. Truman later called her the "First Lady of the World" in tribute to her human rights achievements.
She was the first presidential spouse to hold regular press conferences, write a daily newspaper column, write a monthly magazine column, host a weekly radio show, and speak at a national party convention. On a few occasions, she publicly disagreed with her husband's policies. She advocated for expanded roles for women in the workplace, the civil rights of African Americans and Asian Americans, and the rights of World War II refugees.
Eleanor Roosevelt urged the United States to join and support the United Nations, becoming its first delegate. She served as the first chair of the UN Commission on Human Rights and oversaw the drafting of the Universal Declaration of Human Rights. Later, she chaired the John F. Kennedy administration's Presidential Commission on the Status of Women. By the time of her death, Roosevelt was regarded as "one of the most esteemed women in the world"; The New York Times called her "the object of almost universal respect" in her obituary.
To celebrate the life of Eleanor Roosevelt, we pulled some photos and letters from the Helen Keller Archive to share with you.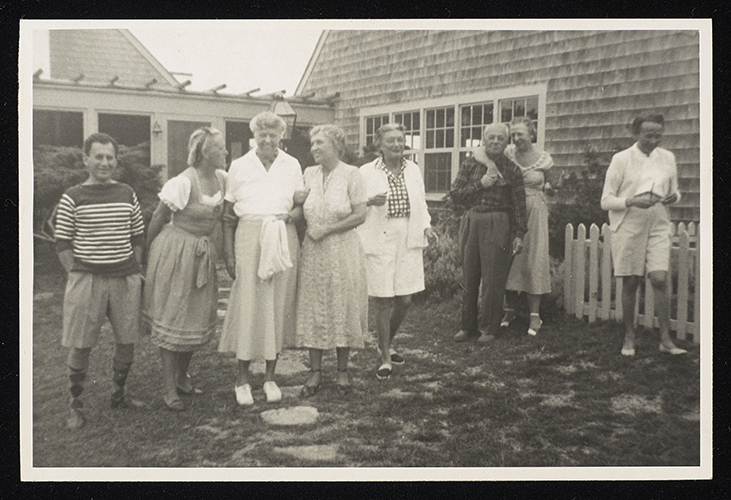 Seen left to right are Joseph Lash, Trude Wenzel Lash, Eleanor Roosevelt, Helen Keller, Katharine Cornell, David Levy, Polly Thomson, and Adele Levy, 1954.
On a late summer's day in 1954 a group of friends gathered in Martha's Vineyard for tea and conversation. The setting was Chip Chop, a sprawling compound owned by the married actors Katharine Cornell (known to friends as Kit) and Guthrie McClintic, and a few photos were taken to mark the occasion. The image above is one of them.
A web of professional and personal connections linked the figures in the photo, with Eleanor Roosevelt and Helen Keller at the hub of a wheel whose spokes included progressive politics, the arts, and child welfare. Eleanor first knew of Helen during her husband's presidential years, when Keller publicly supported Roosevelt and met with the president and his wife several times. Both were celebrated women who traveled extensively and took an active role in politics and civic affairs, known privately (Keller) and publicly (Roosevelt) for their commitment to human rights, women's rights, and international cooperation in an era when anti-communism had put such positions under siege.
---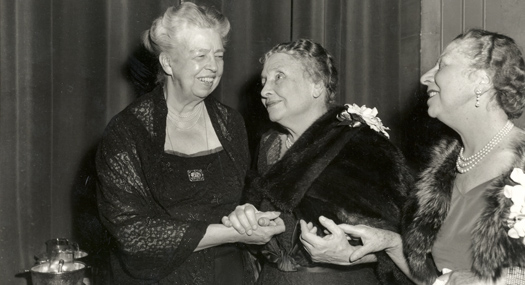 Left to right: Eleanor Roosevelt, Helen Keller, and Polly Thompson, 1955.
Eleanor Roosevelt, Helen Keller, and Polly Thomson standing side-by-side, smiling and holding hands. The occasion is a dinner at the Waldorf Astoria honoring Helen before her trip to Asia. They are photographed standing infront of dark curtains. They all wear evening attire and Polly and Helen are wearing furs with corsages attached. The corner of a table with silverware is visible on the right of the image.
---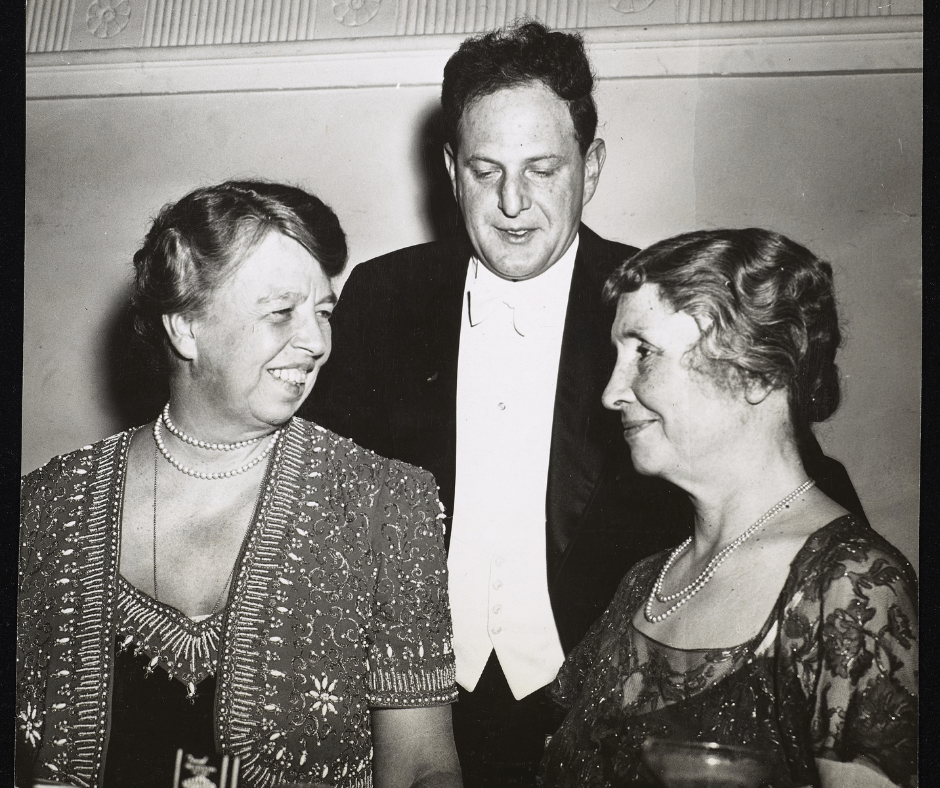 Photograph of Eleanor Roosevelt, James Marshall and Helen Keller, indoors. 1941
James Marshall, President of the New York City Board of Education is slightly behind and between the two women. The photograph was taken at a dinner of the Committee for the Study of the Care and Education of Physically Handicapped Children at the Hotel Roosevelt in NYC. All three are in evening attire. The women's clothing is sequined and highly decorated. They both wear double string pearl necklaces. Both women are smiling. Roosevelt's head is turned towards Keller who is in profile.
---
Letter from Eleanor Roosevelt to Helen Keller about her Declaration of Human Rights. January 27, 1949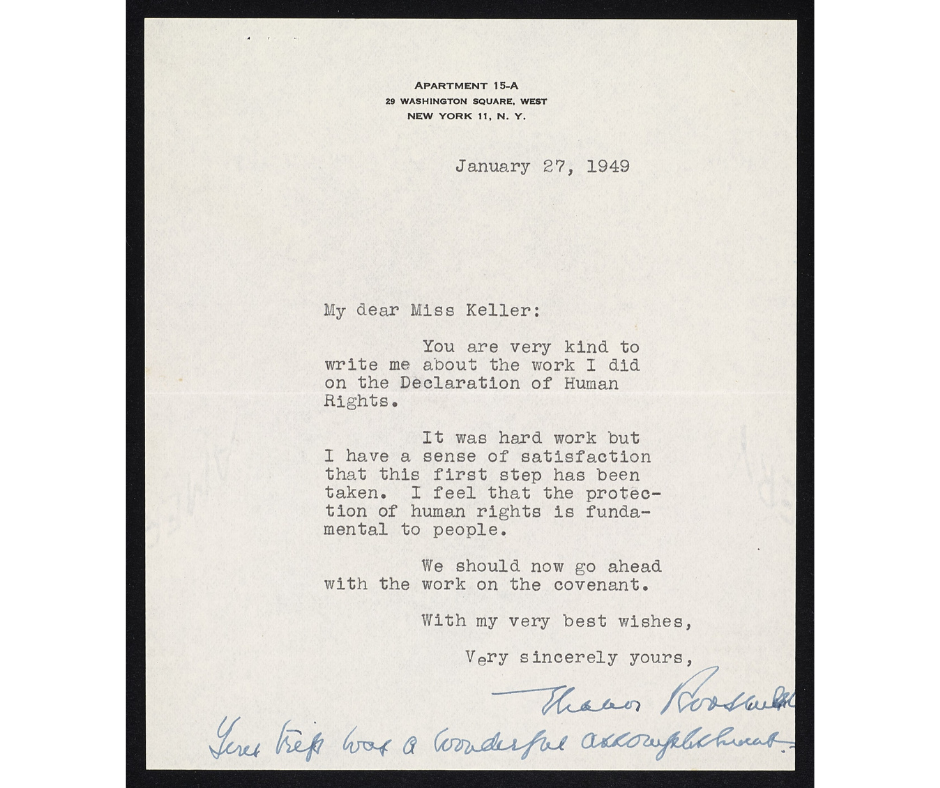 APARTMENT 1 5-A
29 WASHINGTON SQUARE,
WEST NEW YORK 11, N. Y.
January 27, 1949
My dear Miss Keller: You are very kind to write me about the work I did on the Declaration of Human Rights.
It was hard work but I have a sense of satisfaction that this first step has been taken. I feel that the protection of human rights is fundamental to people. We should now go ahead with the work on the covenant.
With my very best wishes,
Very sincerely yours,
[handwritten] Eleanor Roosevelt Your trip was a wonderful accomplishment.
---
Letter from Eleanor Roosevelt to Polly Thomson wishing her good health. March 12, 1958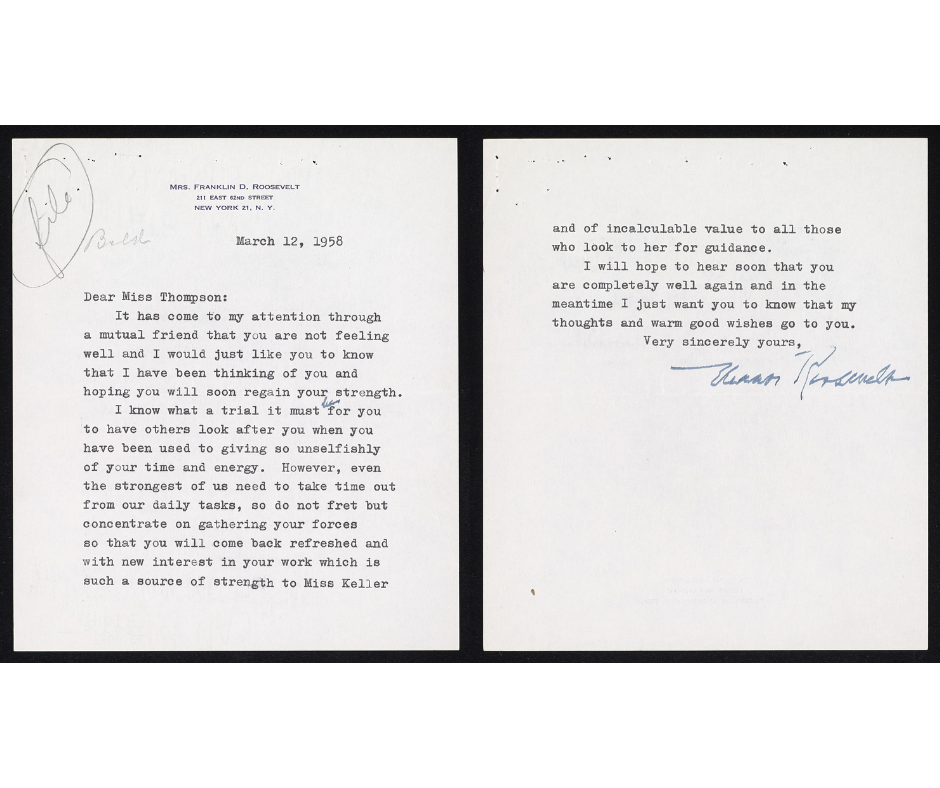 Mrs. Franklin D. Roosevelt
211 EAST 62ND STREET
NEW YORK 21, N. Y.
March 12, 1958
Dear Miss Thompson: It has come to my attention through a mutual friend that you are not feeling well and I would just like you to know that I have "been thinking of you and hoping you will soon regain your strength. I know what a trial it must for you to have others look after you when you have been used to giving so unselfishly of your time and energy. However, even the strongest of us need to take time out from our daily tasks, so do not fret but concentrate on gathering your forces so that you will come back refreshed and with new interest in your work which is such a source of strength to Miss Keller and of incalculable value to all those who look to her for guidance. I will hope to hear soon that you are completely well again and in the meantime I just want you to know that my thoughts and warm good wishes go to you.
Very sincerely yours, [handwritten signature] Eleanor Roosevelt
---
Form letter from Eleanor Roosevelt, NYC advocating for the Helen Keller World Crusade for the Blind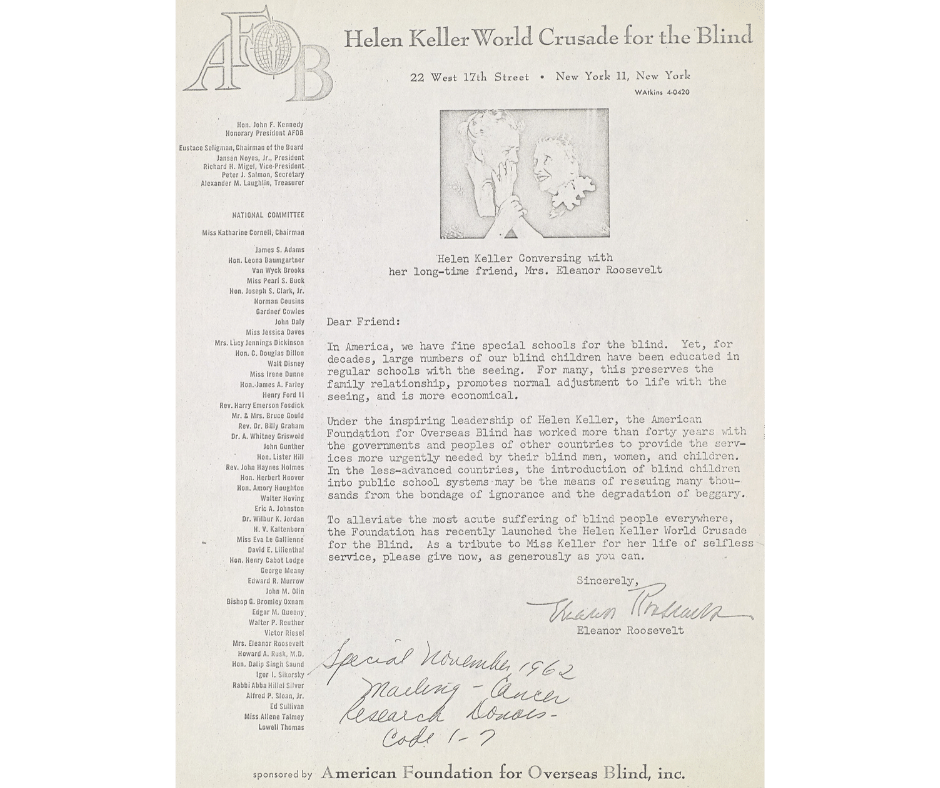 Dear Friend:
In America, we have fine special schools for the blind. Yet, for decades, large numbers of our blind children have been educated in regular schools with the seeing. For many, this preserves the family relationship, promotes normal adjustment to life with the seeing, and is more economical. Under the inspiring leadership of Helen Keller, the American Foundation for Overseas Blind has worked more than forty years with the governments and peoples of other countries to provide the services more urgently needed by their blind men, women, and children. In the less-advanced countries, the introduction of blind children into public school systems may be the means of rescuing many thousands from the bondage of ignorance and the degradation of beggary. To alleviate the most acute suffering of blind people everywhere, the Foundation has recently launched the Helen Keller World Crusade for the Blind. As a tribute to Miss Keller for her life of selfless service, please give now, as generously as you can.
Sincerely,
Eleanor Roosevelt
[Margin of form letter]
Hon. John F. Kennedy Honorary President AFOB
Eustace Seligman, Chairman of the Board
Jansen Noyes, Jr., President
Richard H. Migel, Vice-President
Peter J. Salmon, Secretary
Alexander M. Laughlin, Treasurer
NATIONAL COMMITTEE
Miss Katharine Cornell, Chairman
James S. Adams
Hon. Leona Baumgartner
Van Wyck Brooks
Miss Pearl S. Buck
Hon. Joseph S. Clark, Jr.
Norman Cousins
Gardner Cowles
John Daly Miss
Jessica Daves
Mrs. Lucy Jennings Dickinson
Hon. C. Douglas Dillon
Walt Disney
Miss Irene Dunne
Hon. James A. Farley
Henry Ford II
Rev. Harry Emerson Fosdick
Mr. E. Mrs. Bruce Gould
Rev. Dr. Billy Graham
Dr. A. Whitney Griswold
John Gunther
Hon. Lister Hill
Rev. John Haynes Holmes
Hon. Herbert Hoover
Hon. Amory Houghton Walter Moving
Eric A. Johnston
Dr. Wilbur K. Jordan
H. V. Kaltenborn
Miss Eva Le Galliennc
David E. Lilienthal
Hon. Henry Cabot Lodge
George Meany
Edward R. Murrow
John M. Olin
Bishop G. Bromley Oxnam
Edgar M. Queeny
Walter P. Reuther
Victor Riesel
Mrs. Eleanor Roosevelt
Howard A. Rusk, M.D.
Hon. Dalip Singh Saund
Igor I. Sikorsky
Rabbi Abba Hillel Silver
Alfred P. Sloan, Jr.
Ed Sullivan
Miss Allene Talmey
Lowell Thomas