06/15/2020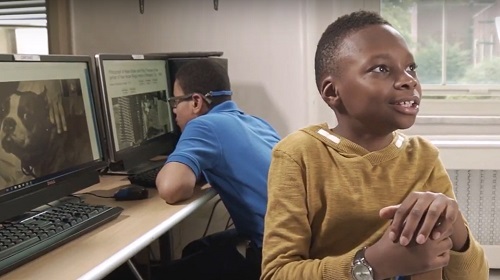 "Education should train the child to use his brains, to make for himself a place in the world and maintain his rights even when it seems that society would shove him into the scrap-heap."
-Helen Keller, "Going Back to School," The Home Magazine, September 1934
As AFB's archivist since 2002, I have had the honor to lead the charge to organize, preserve, and digitize Helen Keller's massive archive, and to make the collection freely available around the globe. The digital Helen Keller Archive is pioneering — it is the most accessible archive currently available and is used by visitors who are blind, deaf, deafblind and hard of hearing, as well as those who can see and hear.
No one radiates joy and resilience like Helen Keller. And during these difficult times, requests for information about her extraordinary life and legacy have risen significantly. It is now that Helen Keller's archival collection, and the over 186,000 digital images that it contains, has an even greater role to play as a powerful and meaningful educational tool.
In 2019, we began developing curricula to teach middle and high school students about Helen Keller's life, disability history, and the use, function, and value of digital archival collections. We are proud to launch the first two lesson plans in this series: Introduction to Digital and Physical Archives and Primary and Secondary Sources. Using the digital Helen Keller Archive, students are challenged to consider what an archive is, the value of historical materials, the differences between physical and digital archival collections, and how to analyze a document. Students learn how to use the Browse and Search functions and to independently dig among fascinating primary sources. Throughout all these tasks, students learn about Keller's extraordinary life as a leading advocate for those with vision loss, a fighter for women's rights, and her battles for social and civic equality — and her many pet dogs!
Since early 2020, the COVID-19 pandemic has brought a spotlight on the need for distance learning materials for school children, and in particular the scarcity of fully accessible resources for students with disabilities. The digital archive and these new lesson plans enable students with disabilities to see themselves in history, and to shape that history through unmediated, independent research. And equally, children who can see and hear have the opportunity to learn about the achievements of people with disabilities. Now more than ever parents and educators are searching for materials that teach about the past and help us better understand the present – and that inspire optimism and determination.
Disseminating the jewels and wisdom contained in Keller's archive is a privilege and a responsibility — Keller's unique collection can inspire school children to become activists and future leaders. Her extraordinary story can inspire future generations to create a more inclusive and compassionate world.
We are grateful to the teachers and students at M.S.447 in Brooklyn, New York for test-running the first lesson Introduction to Digital and Physical Archives. I encourage educators, parents and students to contact me with your thoughts and suggestions on how to improve the lesson plans and website as a whole.