10/15/2020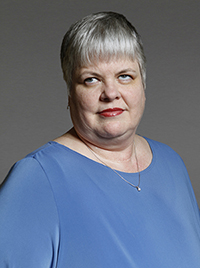 On October 14, Texas Governor Greg Abbott appointed ten individuals to the Task Force on Disaster Issues Affecting Persons who are Elderly and Persons with Disabilities; among its members is AFB's National Aging and Vision Loss Specialist Neva Fairchild.
The Task Force on Disaster Issues Affecting Persons Who Are Elderly and Persons Who Are Disabled will study methods to more effectively accommodate persons who are elderly and persons with disabilities before, during, and after a disaster or emergency evacuation. Neva's term on the task force runs through February 2023.
Neva has been with AFB since 2008. She has almost 30 years of professional experience in blindness rehabilitation and a lifetime of experience living with low vision. She was diagnosed at an early age with cone rod degeneration, a rare genetic eye condition.
Prior to joining AFB, Neva was a Vocational Rehabilitation Counselor and Employment Assistance Specialist with the Texas Department of Assistive and Rehabilitative Services, and a Vocational Evaluator with the Dallas Lighthouse for the Blind.
In August 2020, Neva became the new president of the Association for Education and Rehabilitation of the Blind and Visually Impaired (AER) after having served on its board of directors since 2018. She has also served with the National Rehabilitation Association and was appointed by Governor Abbott to the Rehabilitation Council of Texas, serving as chair in 2017 and 2018.
Neva holds a bachelor's in rehabilitation science and a master's in rehabilitation counseling psychology from the University of Texas Southwestern Medical Center at Dallas.