07/30/2020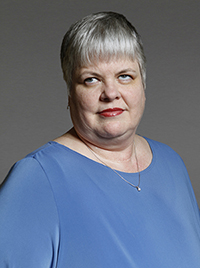 On August 1, AFB's National Aging and Vision Loss Specialist Neva Fairchild becomes the new president of the Association for Education and Rehabilitation of the Blind and Visually Impaired (AER) after having served on its board of directors since 2018. Neva takes over for Emily Coleman, Superintendent at Texas School for the Blind and Visually Impaired.
AER is a professional membership organization dedicated exclusively to professionals who provide services to persons with vision loss, with the goal of promoting and supporting the professions by advocating for evidence-based practices, high quality standards, value-added resources, and giving voice to issues of critical importance. AER provides professional development via conferences, virtual offerings, and publications to strengthen the knowledge, skills, and abilities of professionals within the field. The organization also provides networking, mentoring, connectivity, awards, and scholarships for professionals to advance excellence within the field. AER's mission is to serve and empower professionals to deliver standards-based practices that lead to improved educational and rehabilitative outcomes for individuals with visual impairment and blindness.
Neva has been with AFB since 2008. She has almost 30 years of professional experience in blindness rehabilitation and a lifetime of experience living with low vision. She was diagnosed at an early age with cone rod degeneration, a rare genetic eye condition.
Prior to joining AFB, Neva was a Vocational Rehabilitation Counselor and Employment Assistance Specialist with the Texas Department of Assistive and Rehabilitative Services, and a Vocational Evaluator with the Dallas Lighthouse for the Blind.
Neva is no stranger to leadership roles in the blindness field; in addition to her new role with AER, she has also served with the National Rehabilitation Association and was appointed by the Governor of Texas to the Rehabilitation Council of Texas, serving as chair in 2017 and 2018.
Neva holds a bachelor's in rehabilitation science and a master's in rehabilitation counseling psychology from the University of Texas Southwestern Medical Center at Dallas.
The American Foundation for the Blind congratulates Neva on her new and important role with AER!