07/01/2022
The Blind Leaders Development Program was created in 2019 and produced its first graduating class in 2021. Since then, the program has seen a steady rise in both applicants as well as fellows and mentors. The third cohort begins this summer, and the positive results of the program are already being realized.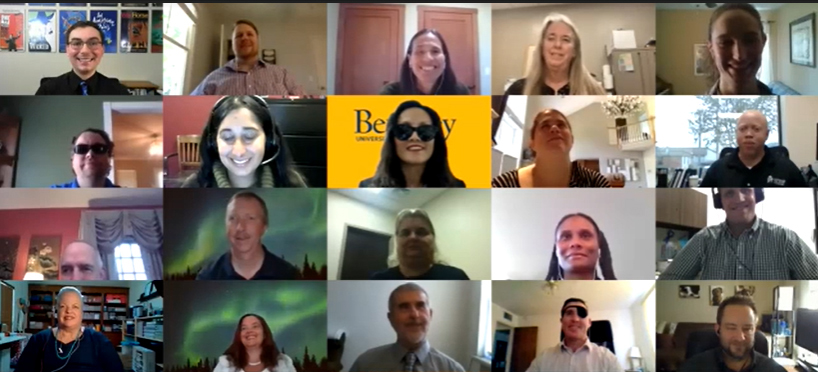 "I see so much promise in this incoming class, our largest group thus far," said Neva Fairchild, who oversees the program. "The personal and professional growth we expect in each individual, in their workplace, in their community, and in the world at large is invigorating, and we look forward to the more inclusive professional settings we expect to result from the program."
The Blind Leaders Development Program is designed to increase upward mobility and create meaningful leadership experiences for individuals who are blind or have low vision, and in the early or middle stages of their careers.
Through 2022 and 2023, 25 Fellows who are blind or have low vision will receive extensive training in leadership, networking, communication, and other key skills to advance in their careers and to improve their effectiveness as leaders while they achieve higher levels of authority and influence. The group will follow the Leadership Challenge curriculum, attend a leadership seminar at the 2023 AFB Leadership Conference, attend webinars twice per month, and be paired with a successful blind or visually impaired mentor who will provide them with honest advice and feedback about what it takes to succeed in the workforce.
This third Blind Leaders Development Program cohort includes six male and 18 female fellows (one chose not to identify), in employment areas that span corporate, government, and non-profit sectors. The ages of the fellows range from 28 to 64 years old, with an average age of 42. Among these 25, 10 hold a bachelor's degree, nine hold a master's degree, two hold a doctorate, two have high school diplomas with some college, one holds a GED, and one chose not to disclose. States represented by the fellows include Washington, Texas, California, North Carolina, New Jersey, Minnesota, Ohio, Florida, Arizona, Kansas, Nevada, Massachusetts, Indiana, and New York.
Studies suggest such benefits of hiring people with disabilities as improvements in profitability (profits/cost-effectiveness, turnover/retention, reliability/punctuality, employee loyalty/company image), competitive advantage (diverse customers, customer loyalty and satisfaction, innovation, productivity, work ethic, safety), and an inclusive work culture. Yet, few blind and visually impaired Americans are in top levels of leadership in the workforce. The Blind Leaders Development Program is designed to increase upward mobility and create meaningful leadership experiences for talented individuals who are blind or have low vision.
The new cohort fellows and mentors include:
Fellows
Kirsten French
Montreece Hardy
Sarah Harris
Bradley Blair
Brianna Murray
Chantha Sok
Sarah McManic
Bernadetta King
Marissa Miara
Goddest Johnson
Alice Loma
Larry Woodard
Michael Schwartz
Sofia Pavajeau
LaKenya Pitchford
Roshunda Holt
Rebecca Jayakumar
Michelle Poncik
Jane Flower
Katherine Crocker
Joshua Pearson
Raymond Montgomery
Roger Walker-Harris
Vanessa Pruitt
Markita Lane

Mentors
Tanner Gers
Heather Tuck
Kenneth Meeker
Richard Rueda
Nathaniel Trela
Anthony DiPonio
Timothy Tegge
William Adams
Darren Gresham
Raymond Hepper
Quanterrio Leysath
Mika Pyyhkala
Cheryl Rayburn
Jason Martin
Jason Mandarino
Stephanie Hurd
Issac Beavers
Courtney Mazzola
Candice Jordan
William Boules
Satauna Howery
Dorene Cornwell
Ted Shelly
Judy Dixon
Jessica Loomer

The Blind Leaders Development Program is supported in part by the Llura Gund Workforce Inclusion Fund. AFB supporters can contribute to the program by visiting the Blind Leaders Development Program support page. To learn more about the Blind Leaders Development Program, please visit AFB.org/BlindLeaders.