Voting
I believe electronic voting is extremely necessary and wise. We are living in the 21st century; we have the available technology to make voting easy, simple, straightforward, and, most importantly, accessible to all whether or not they're able to get to some physical location to vote.
—Congenitally VI White other gender, aged 18 to 24 years, with additional disabilities
The study sample had a high rate of voter registration, with 1,625 (91%) of 1,790 participants reporting they were registered voters and 165 (9%) indicating they were not. Of the 1,614 participants who reported how they typically vote, 665 (41%) went to a polling location and voted with an accessible ballot-marking system; 445 (28%) voted by mail; 287 (18%) went to a polling location and voted with assistance from a family member, friend, or other individual; 152 (9%) went to a polling location and voted with no assistance; and 65 (4%) typically did not vote.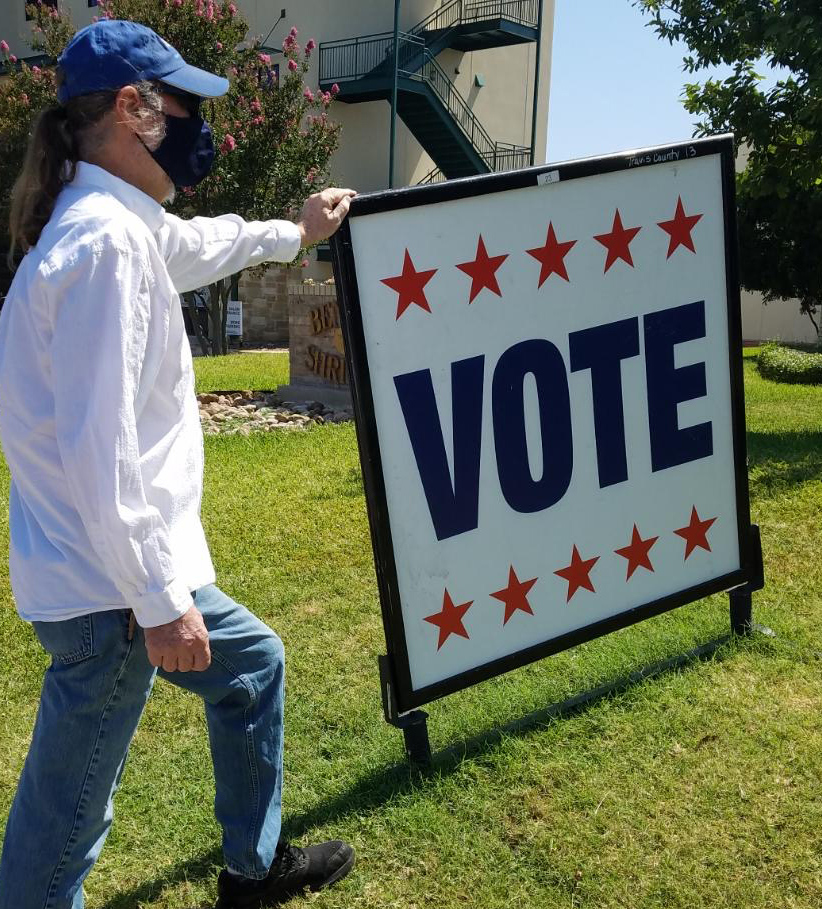 When asked about voting or caucusing for the 2020 U.S. primaries, 631 (43%) of 1,461 participants indicated that prior to the COVID-19 pandemic, they had voted or caucused, 375 (26%) did not vote or were already planning not to vote or caucus, 273 (19%) reported their state had postponed voting or caucusing due to the COVID-19 pandemic, 111 (7%) reported their state had moved to a mail-in ballot only, and 71 (5%) reported that although they had planned to go the polls in person, because of the COVID-19 pandemic, they completed a mail-in ballot.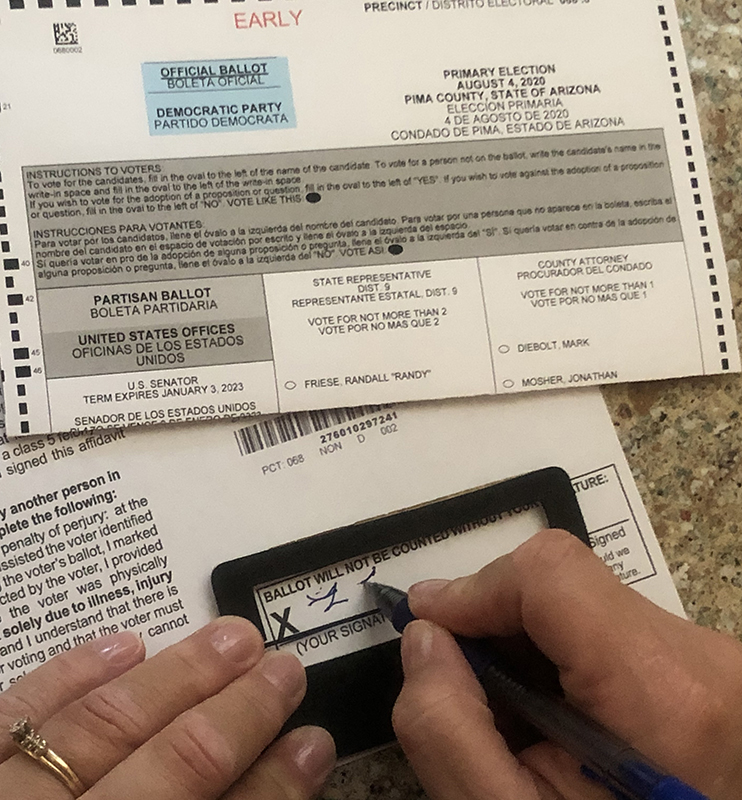 Voting and Accessibility
The participants were asked if they had an accessible way to mark their ballot, such as an accessible online delivery system. There were 616 (39%) of 1,565 participants who were unsure if they had an accessible system, 444 (28%) who had an accessible system, 355 (23%) who reported they did not have an accessible system, and 150 (10%) who chose that the question was not applicable to them. It is concerning that just over 25% of participants knew whether they had an accessible system for voting. Although approximately 1 of 10 participants who responded to the polling questions reported they had voted without assistance, there is still a discrepancy that indicates there may be adults with visual impairments who could benefit from an accessible voting system but are unsure if one is available.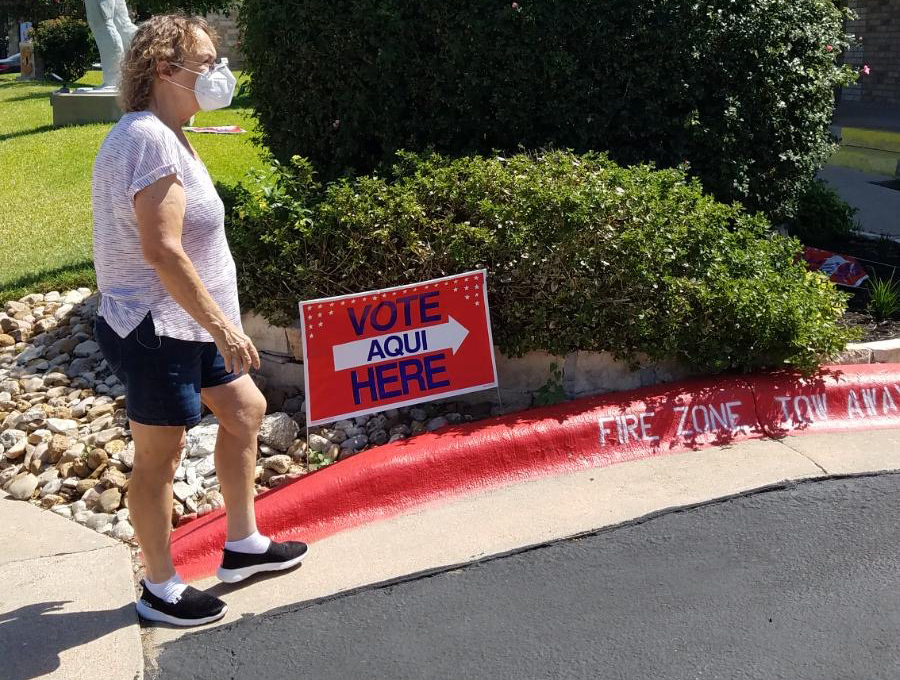 At a physical polling location, there is no guarantee of accessibility. It is imperative that all voters have access to the physical space and the ballot. There were a few participants who shared their experience having difficulty obtaining physical access at the polling location.
[In a southwestern state] I voted in the primaries, but the polling place did not have a ramp, and though they offered to bring the portable voting booth out, they would only do that if you parked your car in the designated spot. Since we got dropped off by Lyft, we did not have a car. So, two citizens from the voting line outside had to help lift my wheelchair up the curb.
—Congenitally VI White male, aged 65 to 74, with additional disabilities
Other participants discussed their experiences and difficulties with accessing the ballot at a polling location.
The poll volunteers and managers at my typical polling station almost always have trouble getting the accessible voting interface to work. It takes a lot of time to try to figure it out, but ... typically they eventually get it to work. The time for that interface to transpire is unacceptable and, in this environment, it's not healthy. I voted in the primary on March 3, when the coronavirus concerns were really ramping up. The poll workers had troubles with the machines and had me switch locations a few times. Eventually, we gave up, and I had to have my wife assist me to vote. The entire thing inappropriately extended our exposure to a risky environment while my civil liberties were being transgressed.
—Adult-onset VI White male, aged 55 to 64 years, with no additional disabilities
There are states that are considering or have moved to offering mail-in-ballots. For those with visual impairments, mail-in-ballots can present a challenge if the ballots are not accessible or if the individual cannot access or complete the ballot. This lack of access will require sighted assistance to vote, which precludes one's ability to vote independently and privately.
My state has the option of going in person or mail-in ballot. I will not go in person due to COVID, and I do not have the help needed at home to fill out the mail-in ballot.
—Congenitally VI Hispanic female, aged 25 to 34 years, with no additional disabilities
Recommendations
Many participants in this study were registered voters and had experience voting prior to COVID-19. Some participants had familiarity with accessible voting options, whereas others were not aware if there were options they could use. Mail-in-voting was a concern to some participants who didn't have a private way to access and mark their ballot.
Accessibility when voting is paramount. Voters need options that allow them to access and return their ballots independently and privately, at the polls or at home.
At the polls, accessible voting machines must be functioning and cleaned between use and operated by someone who is familiar with the accessibility features of the machine. The poll worker must be able to provide instruction in the machine's use. Training for poll workers and ready accessibility is particularly important if poll workers are in short supply due the COVID-19 pandemic.
When voting takes place at a polling location, communities must plan for transportation for those who need a ride in order to vote.
Remote voting options must be secure, accessible, usable, and widely available. Planning for electronic and remote voting procedures must ensure that security provisions do not disenfranchise voters with disabilities.
Polling places must meet their legal obligations to be fully accessible, and practices for providing alternative assistance, such as curbside voting, must not be dependent on a voter having a vehicle when at a polling station.
All additional voting operations must also be accessible, including registration, requesting and checking the status of mail-in ballots, and identifying polling places and changes in voting procedures as a result of the health emergency.