"My company is massive, and they have onboarded blind people before. Most important though was the culture of enthusiastic continued learning. Everyone just wanted to know more about what they could do, if something didn't work, and how we could fix things together. This allows me to have an open channel of communication with the IT folks, where I document software issues with narrated screen recordings for them, and with HR, for the rare situations when my blindness affects my employment in human-related ways." —White female in her 20s who is congenitally visually impaired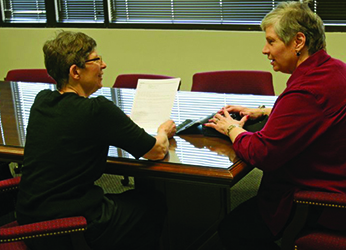 The recommendations in this report are limited to the areas investigated in this study and researchers' understanding of survey responses and interviews. Therefore, the recommendations may not present a comprehensive list of actions required to achieve full inclusion in the use of technology in the workplace. Most of the recommendations reflect well-established and widely accepted practices that, nonetheless, have not been fully and broadly implemented, as demonstrated in this report. The recommendations are organized by job function, but readers may find benefit from the recommendations offered to all groups.
"If employers hired more people with disabilities, they would automatically have the tools we need. We should not be the 'odd' one. We should be the norm!" —White male in his 50s who is congenitally visually impaired
Human Resources
HR staff are often the first point of contact for a potential employee and play a role in employee onboarding, training, and support as well as in which processes and tools an organization uses. Having knowledge of the rights of people with disabilities and reasonable accommodations is imperative. It is important that HR staff support all potential and current employees through each step of the employment process by having policies in place that address the needs of all individuals who seek or obtain employment.
Make all HR materials – including websites, applications, automated screening systems, forms, manuals, electronic documents, training materials, and paper materials – fully accessible to and usable by those who use assistive technology, such as screen reader software. Implement accessible forms with e-signatures to reduce the reliance on paper forms. Refer to the Web Content Accessibility Guidelines for recommendations on how to prepare digital materials in accessible format.
Ensure employee training programs are fully accessible to employees with disabilities and assistive technology users. Procure accessible products and platforms, provide appropriate accommodations before and during trainings, and require presenters to use accessible meeting and presentation practices.
Implement an accommodations policy that is visible on the employer's website and referenced in relevant documents used throughout the application process, hiring, onboarding, and employment. The accommodations policy should standardize requesting and fulfilling accommodations, only require pertinent disability documentation, ensure employees benefit from an interactive process, result in timely action, offer appeal procedures, and allow for changes when the disability or technology changes. The procedures should be communicated to and employed by managers, HR professionals, and all other staff who play a role in providing accommodations and an accessible workforce.
Create a centralized accommodations process, including a centralized budget that will cover any costs of needed accommodations (e.g., screen reader software, adjustable monitor arm, accessible VoIP phone). Centralizing the accommodation process reduces department-level disincentives to provide accommodations.
Grant accommodations during the application and hiring process. For example, when asked to demonstrate their skills (e.g., a typing test), some potential employees may request accommodations, such as to use their own equipment or to make modifications to the employer's equipment or workspace (e.g., moving a monitor closer to them). When accommodations are granted, potential employees can accurately showcase their skills.
Implement an accessibility policy that requires all documents, tools, procedures, and procurement to be accessible, usable, and compatible with assistive technology. Seek feedback from employees with disabilities on the accessibility of new procedures and tools and ensure that procuring and implementing new technologies accounts for the accessibility, technical support, and training needs of employees with disabilities.
Establish a policy that maximizes how visual interpreting services, such as Be My Eyes or Aira, can be used in the workplace without compromising sensitive information. For example, an employee may be allowed to use a visual interpreting service to access a copy machine that has a touchscreen input. Yet, the employee may not be allowed to use a visual interpreting service to review patient health records due to patient privacy concerns. In the latter case, the accessibility of patient records should be assessed and improved to work with other assistive technology.
Create a disability-focused Employee Resource Group, an Assistive Technology Users Group, or other discussion groups as appropriate. These communications channels allow HR staff and other employees to hear firsthand from employees who have accommodation needs. All employees should know about the group, its purpose, and how to share ideas with the group. The group should be supported by senior management and empowered to engage a wide audience, share information, and inform decision making.
Create employee engagement opportunities and actively support diversity, equity, and inclusion efforts for people with disabilities.
Create opportunities for employees to meet regularly with HR staff and supervisors to build mutual respect and understanding, ultimately leading to increased employee productivity.
Establish relationships with vocational rehabilitation agencies (VR). Depending on the state, VR may assist employers with recruitment of people with disabilities, accommodation requests by applicants, finding assistive technology contractors/ consultants, disability awareness training, assessment of workplace and job barriers, and resources for training opportunities. Although some services require fees, the training and support translates to a more inclusive, productive workplace.
Respect employee decisions to disclose their disability. Individuals who have a disability must only disclose their disability when seeking accommodations. Employers and other employees alike should respect the decision whether to disclose. However, employers can encourage voluntary disclosure after an offer has been made and subsequent requests for needed accommodations by creating a more accessible, diverse, and inclusive workplace; demonstrating a commitment to meeting employee needs; and by clarifying and publicizing how to make a request.
IT Staff
IT staff vary in their understanding of the impact of a disability on one's technology use, in addition to their knowledge of assistive technology. When IT staff are willing to listen to employees, to take the extra time to educate themselves, and to work with manufacturers or consultants to solve IT-related issues for AT users, both the employee who needs accommodations and the IT staff will have a more positive experience.
Actively collaborate with and understand the needs of employees with disabilities, their assistive technology, and their accommodations requests.
Attend trainings and develop internal expertise on assistive technology to support employees with accommodation needs. Maintain up-to-date industry knowledge about technology that is accessible to and usable by people with disabilities and compatible with assistive technology.
Consider hiring external consultants to support procurement, to troubleshoot, and to offer training on assistive technology accommodations to ensure employees are fully supported and are maximizing their productivity.
"[E]very computer science, IT studies student etc., should have their screen and mouse taken away for a week and have to use screen reading or other adaptive software so that accessibility is taken seriously. Resources need to be made available to both end users and software developers so that accessibility is hopefully built in from the beginning, maintained as an absolute priority instead of an afterthought or convenience and end users have immediate support to troubleshoot problems when they arise instead of hearing that nobody else has that problem except you or maybe we'll fix that in the next update." —White male in his 30s who is congenitally visually impaired
Participate in and support an Employee Resource Group or Assistive Technology User Group that identifies accessibility barriers and areas for improving IT policies, procedures, and tools.
Procure and implement only technology tools and platforms that are accessible to and usable by employees with disabilities. Develop a policy governing accessibility in procurement. Ask vendors about the products' accessibility and the process for resolving issues. Incorporate a commitment to remediate accessibility issues into contracts.
Solicit feedback from assistive technology users prior to purchasing new tools. If the users do not find that the technology is accessible, IT professionals can work with the employee and vendor to address concerns or select alternative products.
Incorporate the needs of employees with disabilities, including those who are blind or have low vision, from the beginning when implementing any new technology. IT staff may need to include employees with disabilities in procurement decisions, develop accessible training with assistive technology, troubleshoot issues, provide accessible documentation, and ensure help desk staff are knowledgeable about the interface between assistive technology and the new product.
Offer dedicated assistive technology training for employees when implementing new technology solutions. Provide opportunities for one-on-one or small group support.
Document accessibility issues and contact vendors to report issues and initiate help desk requests.
Allow exceptions for employees using assistive technology to run updates on a timeline that accounts for the frequent incompatibility between assistive technology and mainstream technology updates. Many assistive technology users prefer to delay updates, rather than to receive them automatically. Consider requests made by employees who want to have the ability to control when and if updates are completed and who may need administrative rights to do so.
Ensure the employer has a standardized policy for implementing technology accommodations. A centralized accommodations process may clarify how employees request an accommodation and how to pay for new purchases. Work collaboratively with employees to meet accommodation requests effectively and efficiently.
Work with the employee, HR staff, and others to find a solution to provide the employee access to necessary visual information, such as by providing a visual interpreting service like Aira or Be My Eyes.
Supervisors and Managers
Supervisors often play an important role in receiving and responding to requests for accommodations. While employers should create an organizational policy for handling accommodations, employees are most likely to succeed when their supervisors are open to and supportive of employees' requests for accommodations and concerns about workplace accessibility.
Become familiar with all employer policies regarding procurement, accessibility, and accommodations for people with disabilities as well as diversity, equity, and inclusion practices and policies. If your employer does not have policies, advocate for the creation of policies, so that there are clear guidelines and practices for all to follow.
Meet with employees who are blind, have low vision, or deafblind to learn about the accommodations, if any, they need in order to complete their assigned work tasks. Advocate with them, as necessary, to get these accommodations in place in a timely manner.
Recognize that an individual's need for accommodations may change as a result of changes to their visual impairment, other disabilities, or the work tasks they are assigned. Work together to examine their needs and ensure they can complete work tasks. For example, over time an employee may need different accommodations, training to use specific assistive technology, or to be released from some job tasks and assigned different ones in place.
"[Requesting accommodations is a] very uncomfortable conversation for me to have with my boss. The money and the fact that I need this help…I know I have to deal with it, but it seems that employers are not even aware that this type of technology exists… Seems that it's the supervisor's 'decision' [to approve the purchase of AT] and it just seems that there should be some training [provided] to employers/supervisors of this possible need." —Hispanic/Latinx female in her 50s who became visually impaired
in childhood
Explore team job-sharing arrangements to maximize the productivity of all employees. For example, an employee who is blind may take on extra editing responsibilities in exchange for having other coworkers handle the graphical aspects of a report.
Identify challenges early and communicate frequently with employees to ensure that the requested accommodations are effective and comprehensive enough to complete essential job functions and meet production standards. If you observe that an employee is not performing to the standards you expect, ask them to show you how they are doing certain aspects of their job and address accessibility barriers, such as a required form that may be inaccessible. Work together to find solutions, coordinating with other teams and departments, as necessary.
Model inclusive practices, such as requiring meetings and presentations to be fully accessible and incorporating document accessibility into the team's workflow.
Seek out opportunities for professional development on creating accessible, inclusive workplaces. Encourage other employees to develop similar knowledge and practices, regardless of whether an employee with a disability is currently on the team.
"My office is full of people who regularly help each other out. I never mind asking for help. It is a very collegial environment. Someone might help me out with an accessibility issue, I might help them out with editing their work. It all averages out in the end." —White female in her 30s who is congenitally visually impaired
Product, Website, and App Developers
When products, websites, and apps are developed and maintained with principles of universal design in mind, companies do not later need to retrofit them for accessibility for people who use assistive technologies, including screen reader software, screen magnification software, voice input software, or the built-in accessibility features of their preferred device.
"Universal design — don't treat assistive technology as something 'special' that is only targeted for users with disabilities. Accessibility should be the standard which can benefit everyone." —White female in her 40s who is congenitally visually impaired
Develop a corporate commitment to creating accessible products, offering accessibility support to users, and providing accessible sales and technical documentation.
Create products that conform to the Web Content Accessibility Guidelines and other technology accessibility standards where appropriate. Ensure product updates maintain and increase accessibility, especially when an update is critical or required.
Hire individuals who are blind, have low vision, and are deafblind to test products, services, and documentation for accessibility and usability and to provide feedback about the user experience on an ongoing basis. Test products with a variety of screen reader, magnifier, color contrast, braille display, and voice input systems.
Develop in-house expertise in the use of assistive technologies for product design and development as well as for any customer support functions.
Document reported accessibility issues with products and create a workflow to address them quickly. Take advantage of opportunities for innovation and invention, including for the barriers documented in this report.
Assistive Technology Developers
AT developers are in a unique position to support increased productivity of employees who use their products. They can do this through training and support, working with mainstream and proprietary companies, and developing innovative products.
"Like when Mac upgraded their operating system and ZoomText refused, that HUGELY impacted my life because it made my Mac completely inaccessible to me." —White male in his 30s who is congenitally visually impaired
Make documentation and training materials available in multiple formats that are accessible to a wide array of users with a spectrum of skills, preferences, and accessibility needs. Create a variety of ways for users to build skills with new products or updates, such as written manuals, podcasts, webinars, and support groups.
Ensure assistive technology products remain compatible with workplace technologies as they evolve, and new updates are issued. Establish relationships with key technology companies to synchronize updates and releases for seamless compatibility between assistive technology and mainstream technology products.
Communicate issues and information about product updates and training in a format that is digestible to a typical consumer with a busy schedule.
Engage in outreach to employer and information technology professional groups to create opportunities for knowledge building and documenting accessibility issues.
Innovate ways to improve access to particularly difficult-to-access visual content, such as screen sharing during video conferences.
"Being one's own advocate should be one of the first lessons visually impaired people learn right up there with mobility training. I believe this is a skill that needs to be taken more seriously with the vocational rehabilitation organizations." —White female in her 50s who is congenitally visually impaired