What Does No Limits Employment Look Like?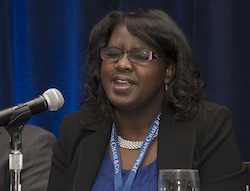 Denna Lambert is what you call a "go-getter." The fact that she has been blind since birth has never stood in the way of her dreams.
When she was making plans for life after college, she wasn't getting any traction with her job search. So Denna took the initiative and spoke at a conference for students with disabilities, where she was asked by someone at NASA if she'd be interested in joining their organization. She's been working for NASA ever since she graduated.
"It's about being able to adapt to a lot of different circumstances," she says. "I may be the only person with a disability in the room—let alone the only woman or the only person of color—so I've had to learn over time."
Today, Denna is a program manager at the Goddard Information and Collaboration Center, which she helped develop and launch.
Because NASA's mission is focused on discovery, Denna says there have always been opportunities to learn and grow. That's something she's valued since she was a young girl in Arkansas.
"Growing up in a really tough neighborhood, it could easily be said, 'It isn't possible' or 'Don't expect too much,'" Denna says. "If you start allowing limitations and low expectations to creep in, then you know what your life experience is going to give you. But until you embrace the idea of no limits, you don't know what might be possible."
Next
AFB Blind Leaders Development Program