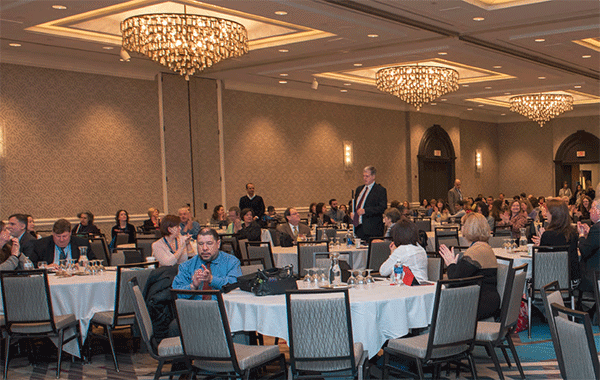 Help Shape the Future: Attend the 2018 AFB Leadership Conference
The AFB Leadership Conference (AFBLC) is an essential event for leaders committed to creating an inclusive, accessible society for people with vision loss — and the 2018 AFBLC promises to be the most engaging, informative conference yet.
Established and emerging leaders will gather April 5-7 in Oakland, California, for this year's conference. New this year, the conference will kick off with AFB's annual Helen Keller Achievement Awards dinner and ceremony on April 4, followed by the three-day conference.
Nationally known thought leaders, writers, researchers, and others will lead interactive sessions and discuss the most pressing, relevant topics in the blindness field today. This year's conference will emphasize three of AFB's top priorities — education, employment, and aging — with insights from the best and brightest minds in the field about how we can achieve our vision of a world with no limits. As always, the conference will be an opportunity for attendees to share ideas for improving the quality of programs and services to people who are blind or visually impaired, and earn continuing education credits in the process.
Among the general session highlights will be a technology panel moderated by Jennison Asuncion of LinkedIn, featuring panelists from the largest technology companies, and a panel on employment moderated by Russell Shaffer of Walmart, the new chair of AFB's Board of Trustees. This discussion will focus on the hiring and promotion of people who are visually impaired in corporate America. In addition to the general sessions, there will be five concurrent session tracks: Leadership (sponsored by Hewlett Packard Enterprise), the 21st Century Agenda on Aging and Vision Loss (sponsored in part by Mississippi State University), Technology, Employment, and Education.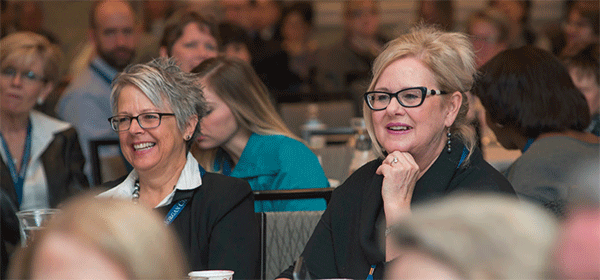 Nearly 450 people from 41 states and seven countries attended the 2017 AFBLC, and there's a good chance this year's conference will exceed that record-breaking figure. Attendees will include technology experts, corporate representatives, university professors, teachers of students who are blind or visually impaired, orientation and mobility instructors, visual rehabilitation therapists and counselors, parents, and others from diverse backgrounds spanning the public and private sectors.
Presented by AFB, in conjunction with San Francisco's LightHouse for the Blind and Visually Impaired and the Northern California chapter of the Association for the Education and Rehabilitation of the Blind and Visually Impaired (AER), the 2018 AFBLC will be held at the Oakland Marriott City Center.
Don't miss your chance to learn from leaders in the field, make new connections, and reunite with old friends. For more details, including the session tracks and registration, visit www.afb.org/afblc.
Sponsors for this year's events are JPMorgan Chase, Hewlett Packard Enterprise, Google, Delta Gamma Foundation, Facebook, Lee Hecht Harrison, the J. Willard and Alice S. Marriott Foundation, Vanda, Microsoft, American Printing House for the Blind, Sprint, Mississippi State University, UPS, Anthem, AT&T, Canon, Oath, Mercer, National Industries for the Blind, T-Mobile, Willis Towers Watson, HumanWare, and Eyemed.
Visit AFB's website, www.afb.org, for more information.
Join AFB for the Education and Advocacy Summit
Sharpen your advocacy skills and show support for the Cogswell-Macy Act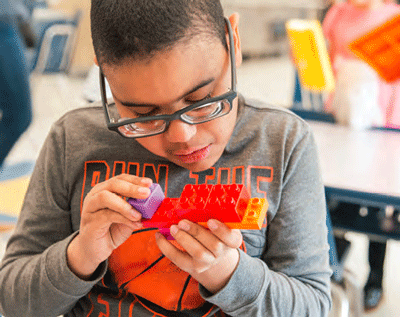 The Alice Cogswell and Anne Sullivan Macy Act achieved its most significant legislative milestone yet last fall, with the introduction of a Senate version of the bill that was previously introduced in the House. Getting bipartisan support on both sides of Capitol Hill represents major progress in passing this legislation, which would transform America's special education system for students with sensory disabilities.
On February 27 and 28, advocates will take another historic step forward when a variety of sensory disability communities will gather in Washington, D.C., for an Education and Advocacy Summit. The free summit is for advocates, such as parents, and education professionals concerned about education for students who are deaf, blind, and deafblind, as well as high school students in those communities.
"This is the first time our three communities — blindness, deafness, and deafblindness — are bringing youth with sensory disabilities, their parents and the professionals who serve them together for leadership training and to make our voices heard on Capitol Hill," says Mark Richert, AFB's Director of Public Policy.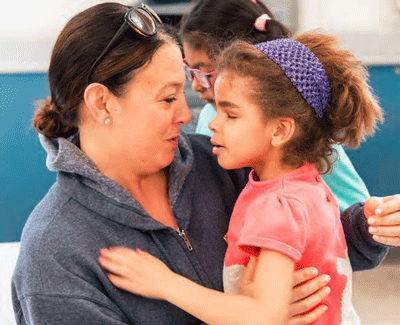 The first day of the summit will be held at Gallaudet University, and will feature workshops for parents and education professionals about policy, best practices, and innovation. There will also be workshops for high school students in advocacy and leadership. The first day is strictly educational.
On the second day, participants will visit Capitol Hill for a legislative briefing on advocacy issues, followed by meetings with Congressional representatives to urge their support for the Cogswell-Macy Act. The second day is sponsored by AFB, the Conference of Educational Administrators of Schools and Programs of the Deaf, and the National Association of the Deaf. AFB has been engaging its supporters in advocacy for the Cogswell-Macy Act since it was first introduced in the House in 2014, including a national call-in day last November after the legislation was introduced in the Senate.
The Cogswell-Macy Act will ensure that students who are blind, visually impaired, deafblind, deaf, or hard of hearing, including those with additional disabilities, will receive the specialized instruction necessary to live as independently as possible as adults. The Cogswell-Macy Act would also increase the availability of services and resources by ensuring that all students with sensory disabilities are counted and that states and school districts are accountable for monitoring their progress. "The bipartisan support we have in both the House and Senate is essential to moving this legislation forward," Richert says. "Now we need as many people as possible to show up and call on their legislators to support this important legislation."
To learn more or register for any portion of the summit, visit afb.org/AdvocacySummit.
Priorities for Creating a World of No Limits
AFB's current areas of emphasis for driving meaningful change
With the introduction of our new strategic direction last year, AFB has been identifying the most significant issues to address in our efforts to create a world of no limits. We've identified three current priorities that are pivotal to transforming systems and beliefs that currently hold back people who are blind or visually impaired. Many of our initiatives moving forward will center around one or more of these priorities.
Education is essential to preparing people for success in adulthood. But today's schools are not equipped to help children who are blind or visually impaired, not to mention those who are deafblind or have additional disabilities. All students need appropriate resources, instruction, and educational tools to develop to their full potential while they're in school so they can be confident, fulfilled, and independent members of society for a lifetime. Legislation and educational policies that support students who are blind or visually impaired and their teachers — such as the Alice Cogswell and Anne Sullivan Macy Act — are critical to students' educational success. (See related story.) AFB is focused on transforming education policies and practices, and continuing to provide educators and advocates with the specialized training, support, and skills they need to help their students succeed.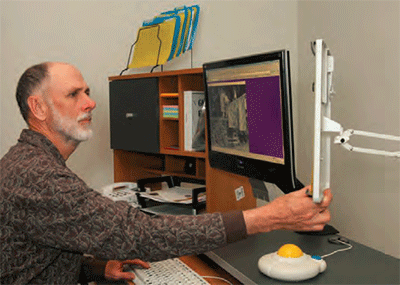 Employment is a stubborn challenge that needs urgent attention. Just 35% of working-age Americans who are blind or visually impaired are employed, far below the overall employment rate of 63%. Barriers to landing a job are very real, because of factors including a lack of training, limited access to successfully employed role models, and too many misperceptions among employers about hiring people who are blind or visually impaired. Employers often overlook the valuable contributions people with disabilities can make to the workforce and the company culture. Plus, employers don't fully understand or provide necessary accommodations — most of which are free or inexpensive solutions — to help people with vision loss succeed in the workplace. AFB is determined to transform employment practices and public opinion to help people who are blind or visually impaired pursue their professional dreams.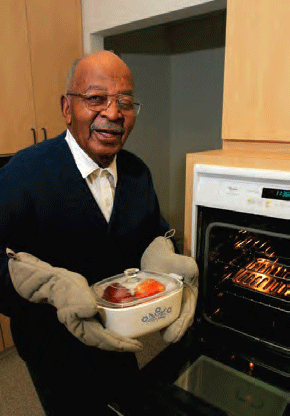 Aging and vision loss is an issue that's only going to become more pressing in the years to come. Americans are living longer than ever, and as people get older they're more likely to develop age-related eye diseases that can cause vision loss. As the population ages — especially the Baby Boomer generation, which currently accounts for nearly 75 million Americans — the need to provide services and support to older adults is more critical than ever. However, America is woefully unprepared to respond effectively to these trends. It's estimated that only 2% of older people who need specialized training in independent living currently receive it. AFB is working to change that, especially as the number of adults over age 60 with vision loss is expected to skyrocket in the decades to come. We'll mobilize our unparalleled experience and track record as a creative catalyst for systems change, and leverage partnerships with key stakeholders in the corporate, community, philanthropic, and public sectors.
In upcoming issues of FOCUS, we'll explore each of these priorities — and the evidence-based actions AFB is taking to address them, such as continuing to ensure that the latest technology is accessible to people with vision loss — in more detail.
A Voice of Experience
Welcoming Russell Shaffer as AFB's new board chair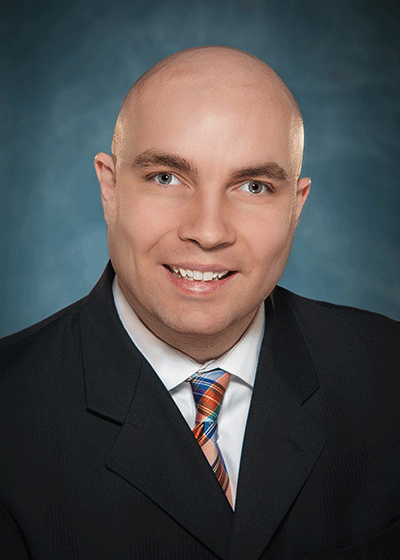 "I've made a personal commitment to do whatever I can to make it easier for the next generation of people with disabilities that comes up behind me." —Russel Shaffer
Russell Shaffer has a unique perspective on AFB's mission to create a world with no limits. After all, much of his career has centered around diversity and inclusion — and he's never let vision loss stop him from pursuing his personal goals.
Diagnosed with retinitis pigmentosa at age 10 and legally blind by his late 20s, Shaffer forged a successful career in communications that eventually led him to the corporate offices of Walmart, where he has held roles managing global internal communications and benefits communications, in addition to overseeing corporate strategy and stakeholder relations for the people with disabilities and aging constituencies. Today, he's Director of Global Culture, Diversity & Inclusion, and is responsible for brand strategy, outreach, and benchmarking.
In November 2017, Shaffer was elected as the new chair of the AFB Board of Trustees, giving him an opportunity to share his experience to benefit the vision loss field. "I've made a personal commitment to do whatever I can to make it easier for the next generation of people with disabilities that comes up behind me," he says. "Being able to serve AFB is a natural opportunity to do that in a really meaningful way, with an organization that has a strong reputation for being there at every milestone in the blindness community's history."
Shaffer, who joined the AFB Board of Trustees in 2015, values that AFB includes people who are blind or low vision in its leadership. He's enthusiastic about AFB's new strategic direction, particularly AFB's emphasis on employment systems change to position people who are blind or low vision as part of the workforce of the future. "If we want people with disabilities to have the same opportunities for life, liberty, and the pursuit of happiness that are promised to all Americans," he says, "we need to create an infrastructure and a system where they have the same type of upward mobility to grow and advance through a career and build a better life for themselves and their families."
In addition to improving aspects of employment such as digital inclusion and accessibility, Shaffer wants to help businesses recognize disability and blindness as simply another facet of human diversity that fits into the business case for diversity and inclusion being a driver of innovation.
Like AFB, Shaffer knows it's going to take a multi-pronged approach to improve employment opportunities for people who are blind and low vision, but he's confident AFB is up to the task.
"As evidenced by the new strategic plan, AFB has constantly evolved and repositioned itself to stay relevant while never wavering from its core mission of inclusion," Shaffer says. "It's an honor and a privilege to be associated with an organization with such tremendous leadership that's committed to doing amazing, innovative work."
AFB Net Notes
Facebook, Microsoft, and Haben Girma to Receive 2018 Helen Keller Achievement Awards
AFB's 2018 Helen Keller Achievement Awards will take place on Wednesday, April 4, at the Oakland Marriott City Center in Oakland, Calif. The 2018 recipients are Haben Girma, a disability rights lawyer and the first deafblind graduate of Harvard Law School, and the tech giants Facebook and Microsoft. This special event brings together leaders from the business, government, health care, and entertainment sectors to celebrate organizations and individuals committed to accessibility and inclusion. Tickets and tables are available by contacting Suzette Williams at events@afb.net or visiting www.afb.org/hkaa.
Register Today for the AFB Leadership Conference
Be sure to register today for the AFB Leadership Conference, which will take place April 5-7 at the Oakland Marriott City Center. Rates go up in March, so don't delay!
Attendees will receive a special group rate of $175/night at the hotel through our dedicated reservations page. If you prefer to speak with a reservations specialist, please call 888-236-2427 and reference our conference to get the group rate. We have a limited number of rooms at the special rate, so reserve your room as soon as possible for the best selection. Conference registration and hotel reservation pages can be found at www.afb.org/afblc.
Join AFB's Advocacy Network
AFB's Policy Center recently launched the AFB Advocacy Network, a dynamic community of advocates who have a passion for systems change and for improving the lives of individuals who are blind or visually impaired. As part of the Network, you'll get all the details and resources you'll need to effectively advocate for the issues we all care about most. Join us at www.afb.org/AdvocacyNetwork.
Next
Focus on AFB: Spring 2017