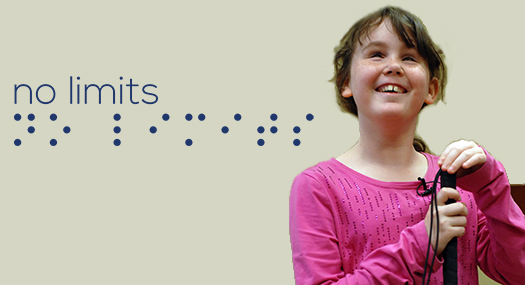 My Daughter the Alpha
Child's Confidence Inspires Father to Help Others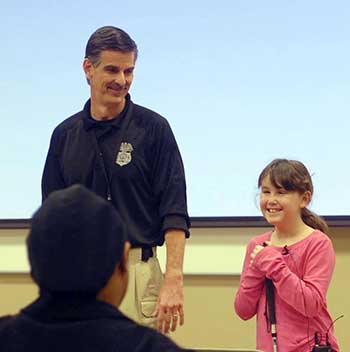 Meet Rachel Hyche, age 12.
Rachel is blind, although you might not realize it at first. It's not that she tries to fool anyone. On the contrary, young Rachel simply refuses to focus on life's limitations. Her mantra is "no limits."
"I have learned not to decide for her what she can and can't do, or what she will or won't like," says David, Rachel's father. "She likes to try to ride a bike and go to movies, and I would not have thought that would be something a blind child would want to do. She thinks she can do anything, so I let her decide what she can and can't do, within the realm of safety."
Rachel was born at 27 weeks with retinopathy of prematurity. One of her retinas is still partially attached, so she has light perception, but no vision.
David and Kim, Rachel's mom, knew they had to come to terms with their daughter's blindness early on. "I had a lot of misconceptions about what it meant to be blind — I had never known a blind person," David says. "I thought it was the end of the world and I pictured her sitting in a chair in her room for the rest of her life, doing nothing."
A local school for the blind put the couple in touch with other parents who helped educate them. The experience inspired David to help others. He became active with the Alabama Association for Parents of Children with Visual Impairments (AAPVI) and served as the group's president for a time.
He remembers one of the first families he counseled. Their child had been born without eyes. During a visit to David and Kim's home, it was then three-year- old Rachel who gave the family hope.
"She came running into the room and wanted to know who was there, and you could just see the burden lifted off their shoulders," David says of the family. "I realized the most important thing was for parents to see how well-adjusted kids who are blind can be."
David credits the American Foundation for the Blind (AFB) as a great resource. As president of AAPVI, he used the FamilyConnect.org website frequently to find and contact other families who might need support and still uses the FamilyConnect Facebook page to do the same when he sees people looking for help.
"I contacted a lady who had questions about her daughter's use of technology. I told her Rachel might be able to help her daughter and the two girls talk now. Technology opens a lot of windows for young people. Anything we can do to improve their ability to communicate and learn is important."
Rachel is fluent in the latest technology. She uses an iPhone synced to a 16-character braille display, a BrailleNote, and an electric brailler. David is a fan of AFB's AccessWorld® and uses its evaluations to find the right technology solutions for Rachel. He admits, though, that he just forwards AccessWorld® on to Rachel and her teacher when it arrives.
"I let Rachel handle it now," David says. "She knows 10 times more about technology than I do."
"If that sounds like your typical teenager, well, that's Rachel," David says. Indeed, Rachel's challenges are more likely to stem from her own strong personality than the fact that she happens to be blind.
"She likes to be the alpha dog and do what she likes," David says. "She's a bold little girl who wants to try new things and isn't afraid. I've learned a lot from her."
AFB Takes the Hill for Education Access
Bipartisan Support Advances Cogswell-Macy Legislation in Congress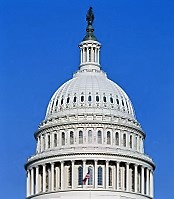 At a time when partisan politics seems to dominate Washington, potentially historic legislation that would improve education for students with disabilities advanced a crucial step toward passage by Congress — thanks to bipartisan support.
In February, the Alice Cogswell and Anne Sullivan Macy Act (HR 1120), named for the first deaf girl to be formally educated in the United States and for Helen Keller's teacher, respectively, was re-introduced into the House of Representatives by Reps. Matt Cartwright (D-PA) and David McKinley (R-WV). AFB led a coalition of advocates representing the sensory disability community to Capitol Hill on March 1, to urge swift action on the measure.
"The Cogswell-Macy Act is the most comprehensive federal legislation in the last 40 years intended to ensure children who are blind, visually impaired, deaf, hard-of- hearing, or deafblind receive an education worthy of their tremendous potential," said AFB Public Policy Director Mark Richert. "Once enacted, the law will keep the promise of the Individuals with Disabilities Education Act by making sure these students have access to the teachers, tools, and techniques they need to be successful in the classroom."
Encouraged by the bipartisan cooperation that has helped advance the bill thus far, Richert pledged continued vigilance. "We've waited for more than 40 years for our special education system to do right by our kids. The time to act is now."
Read more about the Cogswell-Macy Act at www.afb.org/cogswellmacyact.
Foundations of Education Refreshed
The First and Last Word in Blindness Education Gets a 21st-Century Upgrade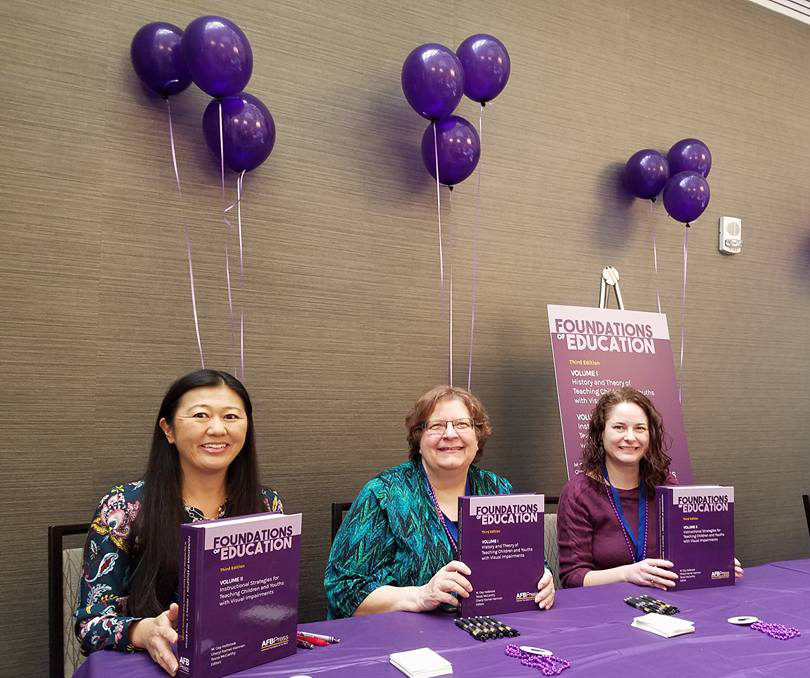 After many years of intensive work, the widely acknowledged "bible" for educators of students with visual impairments has arrived with a multimedia 21st-century makeover. In March, AFB Press released the eagerly awaited third edition of Foundations of Education, edited by noted professors M. Cay Holbrook, Cheryl Kamei-Hannan, and Tessa McCarthy.
Extremely detailed and comprehensive in scope, Foundations of Education is the only reference of its kind — the "go-to" authority on cutting-edge teaching practices for professionals working with students who are blind or visually impaired, from pre-K children to young adults.
"This was a massive undertaking," explained AFB Press Director George Abbott. "We are talking about two volumes comprising 45 chapters — more than 1,600 pages of material — produced by 70 contributors working with three editors, representing the very best in the blindness field. The vetting and peer-review processes were very comprehensive." Getting it right was a necessity. Foundations of Education is a tool that the entirety of the blindness field refers to and depends upon.
"Teaching children and adults who are blind and visually impaired is both a very specialized field and a rapidly evolving one," said Abbott, noting that methods and practices in the classroom continuously adapt to new technologies, improved research, and shifting job skills required by employers. "The last 10 years alone have yielded dramatic changes in blindness education and, consequently, created intense demand for a revised Foundations of Education text," he said.
Volume I, History and Theory of Teaching Children and Youths with Visual Impairments, provides fresh perspectives on educational systems. Volume II, Instructional Strategies for Teaching Children and Youths with Visual Impairments, covers classroom planning and supports for students with visual impairments in general education classrooms.
Among the many timely revisions made to the text in this printing, Abbott highlighted the increased emphasis on science, technology, engineering, and math (STEM) education. "STEM instruction is a crucial part of preparing students for the employment landscape of tomorrow. Its inclusion in Foundations of Education will help ensure that young people with visual impairments will be prepared to participate and be competitive."
This latest edition reflects advancements not only in content, but also in form. For the first time, the published version is supplemented and enhanced by an exclusive, online Learning Center. Readers will find icons throughout the book directing them to a variety of web- based content, including audio introductions, chapter overviews, learning activities, resource lists, and downloadable study aids. "One of the most impactful additions," said Abbott, "is that users can tap into over three dozen video clips that demonstrate teaching techniques in everything from braille instruction to teaching math problems."
The updated Foundations of Education is now available in print, e-book, and online subscription in the AFB Press store.
AFB Leadership Conference Breaks Attendance Record
Forward-Looking Agenda on Technology and Education Draws the Best in Blindness Field
The recent 2017 AFB Leadership Conference, held jointly with the Virginia Association for Education and Rehabilitation for the Blind and Visually Impaired (AER), was the largest in AFB's history.
The Crystal Gateway Marriott near Washington, D.C., was the site of the three-day event for the second consecutive year, drawing a record 440 attendees from 41 states and seven countries. Among them, leaders from all sectors of the blindness field, including technology experts, educators, university presidents, and heads of advocacy groups and not-for-profits focused on veterans, older adults, and others living with disabilities.
Attending exhibitors also broke conference records, with 40 companies on deck. The list of event sponsors included JPMorgan Chase, Delta Gamma Foundation, Google, and Sprint.
AFB Communications Manager Amanda Kolling credits the increasing popularity of the conference to the consistent quality and up-to-date currency of the sessions and presentations, which was certainly the case this year.
"The AccessWorld Magazine Tech Summit brought representatives of the Federal Communications Commission to update us on accessibility requirements for televisions and set-top boxes, while Verizon, Sprint, and other tech companies showcased their latest offerings and previewed pending advances in accessible technology," said Kolling. She also noted the popularity of this year's education sessions, including a timely look at issues related to teaching children with multiple disabilities, including autism.
"A major focus of AFB today is the rapidly growing population of older Americans facing age-related vision loss — another pressing topic at the Leadership Conference," she said. Other sessions focused on helping individuals with vision loss make essential transitions — to the classroom, to the workplace, and to living independent lives.
Additional highlights of the 2017 conference:
An inspiring keynote address was given by Patricia Walsh, a Paralympics and Iron Man triathlete, award-winning engineer, and author of the autobiography Blind Ambition.
The 2017 Access Awards ceremony honored the year's accessibility innovators and champions Bridge Multimedia, Computers for the Blind, and United Airlines.
The 2017 Migel Medal, the highest honor in the blindness field, was presented to Rebecca (Becky) Coakley, director of the Children's Vision Rehabilitation Program, and to AFB's CEO emeritus, Carl R. Augusto.
Noting the positive feedback she's gotten from attendees, Kolling described this year's Leadership Conference as a turning point regarding the event's growth and its importance to the blindness community.
"The conference is unique in the way we've been able to target such a specific audience and provide direct access to information and expertise from across the blindness field," she said. "It's the one place where members of the vision loss community can network with and learn from colleagues from across the country, as well as the leaders who are driving progress and positive change."
The 2018 AFB Leadership Conference will take place at the Oakland City Center Marriott, April 5-7.
AFB Announces 2017 Helen Keller Achievement Award Honorees
Architect Chris Downey (AIA), Google, and Netflix received the 2017 Helen Keller Achievement Award at the organization's 21st anniversary gala in New York City on June 15. The Achievement Awards are presented annually by AFB to individuals and organizations for their extraordinary contributions to improving the quality of life of people with vision loss.
"The theme of this year's achievement awards is 'No Limits,'" said AFB President and CEO Kirk Adams. "Each of our honorees has opened fresh avenues to independence, social mobility, and a fuller, more rewarding quality of life for people who are blind or living with limited vision. We are proud to recognize their efforts."
The honorees and their accomplishments include:
Related Links
Watch the keynote address of Patricia Walsh, Ironman Triathlete, at AFB's 2017 Leadership Conference.
Learn how the National Endowment for the Humanities is making AFB's Helen Keller Archives accessible to the world, and to everyone with a disability.
AFB President and CEO Kirk Adams is profiled in Whitman College's alumni magazine. Read all about it!
Next
Focus on AFB: Spring 2016