A Letter from the President
Dear Friend,
It has been two months since I took over the reins at AFB -- and what an incredible two months it has been.
I now see on a daily basis what a wonderful, vital organization this is. My conviction about the critical nature of our work has been consolidated after visits to our offices in Dallas, Atlanta, Huntington, WV and Washington, DC.
I have just returned from the American Council of the Blind's conference in Minneapolis and the National Federation of the Blind's Convention in Orlando where I was reminded again of the critical role AFB plays in the blindness and disability communities.
We are able to bring together a wide spectrum of organizations and interests, strengthen collaboration and help influence the national agenda for ensuring access to quality education for young people with blindness, employment opportunities for those who seek work, and greater independence for seniors.
It is our continuing goal to dream big, set the bar high, and do all we can to realize our mission of expanding possibilities.
Thank you for helping ensure that AFB continues to be a leader in making our world more accessible and inclusive for people with vision loss.
With best wishes for an enjoyable summer.
Sincerely,

Kirk Adams
President & CEO
"Daredevil" Charlie Cox is a Real-Life Super Hero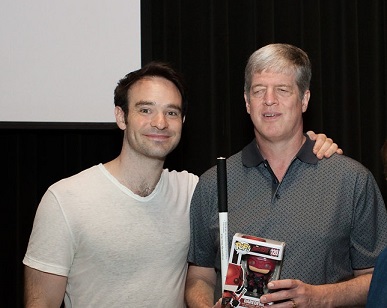 Charlie Cox, a Helen Keller Achievement Award winner (2015) and star of "Marvel's Daredevil" with AFB President & CEO Kirk Adams during a recent visit to the New York Institute for Special Education in Bronx, NY. Charlie spent some time chatting and autographing Daredevil bobbleheads to the delight of students and faculty. Thanks Charlie, you are a true champion!
Exploring the Big Apple while Blind
When Kirk Adams, AFB's new President and CEO, arrived in New York City in May, he knew there would be a learning curve.
"I had visited the city numerous times over the years, so I knew there would be an adjustment period," he said.
New York ranks among the most livable places for people with vision loss because of its extensive public transportation network.
"Getting around is fairly easy once you've mastered the subway system, and there is always a taxi, and now Uber, for those days when it is too overwhelming," he said.
After the initial shock over housing prices in Manhattan, Kirk and his wife Roslyn chose to rent in charming Park Slope, Brooklyn.
"We were attracted to the friendly atmosphere, and a lot of shops and restaurants within walking distance. It felt more like what we were used to in Seattle," he said.
Kirk was born and raised in Washington State but is willing to call New York home, at least for the foreseeable future. But, he assures all who ask, he will never become a Yankees fan.
Meet Pat Leader: Teacher, Trustee, Innovator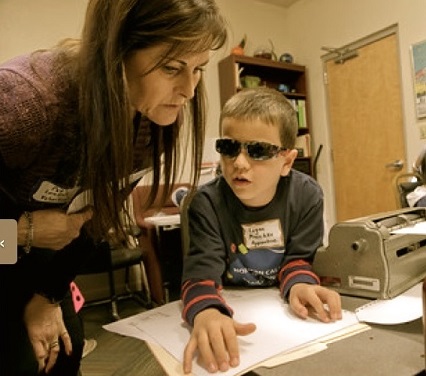 In May, AFB celebrated Teacher Appreciation Month and the role of teachers in helping people with vision loss lead lives of limitless possibilities. One of our favorites is AFB Trustee Patricia Leader who is a teacher of the visually impaired for the Cupertino School District in California. Pat also teaches braille at San Francisco State University and is a leading test developer and proctor for the annual National Braille Challenge.
AFB: You have been a teacher of the visually impaired for over 35 years. What are some of the most important takeaways so far?
Pat Leader: I have taught mainly in the San Francisco Bay Area, teaching students with visual impairments, for vision services and orientation and mobility, ranging from preschool through post-secondary. The main thing is to be unafraid to move ahead and advocate for change or make those changes yourself whenever possible.
AFB: Can you give an example of a change you implemented?
Pat Leader: A few years after I started teaching, it really bothered me that students with visual impairments did not have tactile illustrations to the same extent that their sighted peers had photos and graphs. So, I started to produce them myself.
AFB: What has been your greatest satisfaction over your career?
Pat Leader: Seeing my students become independent, lifelong learners is the greatest. One former student, who is now a graduate student at Stanford University, told me what a difference it made to have my tactile pictures and how my encouragement got him really motivated to aim higher in life. I also received the Teacher of the Year Award from the Braille Institute in 2015, and that was a great honor.
AFB: You have taken on a number of leadership roles in the blindness field over the years, can you tell us about that?
Pat Leader: I became actively involved in the Association for Education and Rehabilitation of the Blind and Visually Impaired (AERBVI) in 1993, serving on the local board and then the international board, from 2000 through 2014. I served as International President of AERBVI from 2010- 2012.
AFB: As a national Trustee of the American Foundation for the Blind, what would you say is AFB's most important contribution to the blindness field?
Pat Leader: AFB supports teachers, and the families and adults with vision loss who they serve. I feel as if AFB is the glue that holds the field together, and will continue to do so well into the future.
2016 Helen Keller Achievement Awards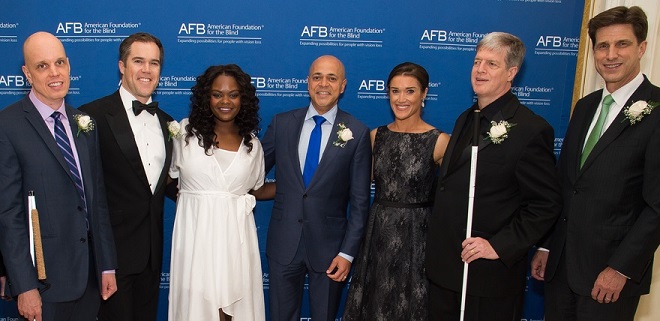 CONGRATULATIONS 2016 Helen Keller Achievement Award Winners!
At a stellar gala at the JW Marriott Essex House New York in June, AFB bestowed its prestigious Helen Keller Achievement Award on three accomplished honorees: Comcast NBCUniversal, JPMorgan Chase & Co., and therapist/athlete/author Rebecca Alexander who is deaf and blind. Photo (L-R)- Tom Wlodkowski for Comcast, Peter Alexander, NBC News; Shanice Williams, star of "The Wiz Live!" for NBCUniversal; David Ushery, News 4 New York Anchor and M.C.; Rebecca Alexander; Kirk Adams; and Dana Deasy for JPMorgan Chase & Co.
SAVE THE DATE
November 3, 2016 - AFB Fall Gala in Huntington, WV – join us as we honor Cathy Burns, Joan Weisberg, and The James H. & Alice Teubert Charitable Trust for an evening of inspiration, fun, and fabulous food. Contact: Diane Wright, dwright@afb.net, (304) 710-3025
March 2-4, 2017 - AFB Leadership Conference in Washington, DC – our annual conference brings together experts in areas such as technology, aging, disability rights, rehabilitation, and higher education. Contact: Amanda Kolling, akolling@afb.net, (304) 710-3031.
Next
Focus on AFB: Fall 2016