Important Update: Over the last few weeks, we have been closely monitoring the evolving situation with the COVID-19 outbreak to ensure we are taking every precaution to look after our community. After careful consideration and out of an abundance of caution, we've decided to cancel the in-person events scheduled for March 25-27. For up-to-date details, please visit our FAQ page.
AFB Launches Blind Leaders Development Program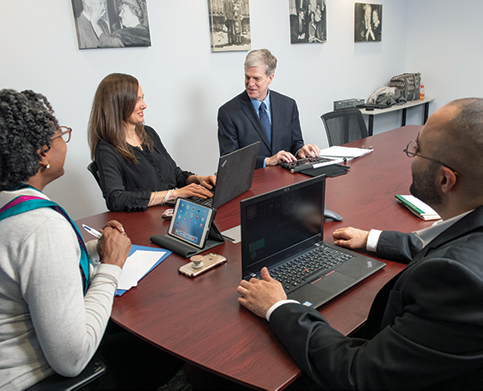 Yearlong program prepares people who are visually impaired to lead businesses and communities—now and in the future.
One of AFB's key focus areas for creating a world of no limits is employment, which includes preparing people who are blind or visually impaired (BVI) to take the helm of corporations, nonprofits, entrepreneurial ventures, or whatever they dream of doing. Although people who are BVI do hold leadership positions today—such as AFB President and CEO Kirk Adams or Russell Shaffer, director of global culture, diversity & inclusion at Walmart, a member of AFB's Board of Trustees, and its most recent chairman—examples like these are still too rare. That's why AFB created the Blind Leaders Development Program.
"People who are blind have so many capabilities, but we're just not seeing them in positions of leadership within their workplace or the community at large," says Megan Aragon, AFB's director of knowledge advancement programs. "AFB asked the question, 'How can we change that—and how can we make sure that helps future generations, too?'"
The Blind Leaders Development Program is the answer to that question. After a selection process that weighed a wide range of criteria, AFB recently announced the first cohort of 16 mentors and 16 fellows, a unique one-to-one structure that pairs mentors and fellows based on specific connections, such as similar industries, interests, or goals.
The first cohort begins working together in March, with a two-day workshop before the AFB Leadership Conference (AFBLC). The workshop will provide mentors with training in mentorship and give all fellows a chance to get to know each other. They'll also attend a kick-off event with AFB's senior leadership team and board members. [Please note: these plans have been delayed due to COVID-19, but we plan to reschedule the BLDP kickoff events to take place within the next six months. Cancellation FAQ.]
After the AFBLC, the yearlong program includes webinars every other month, during which the fellows will receive training in interpersonal and communication skills, such as giving presentations and networking, all tailored to people who are visually impaired. During the alternating months, fellows are responsible for scheduling a meeting with their mentor and setting an agenda based on their learning and development needs, or questions they may have about the webinars or the program's curriculum.
The curriculum for the Blind Leaders Development Program is built from The Leadership Challenge, developed by highly respected academics Jim Kouzes and Barry Posner based on 30 years of research. It centers around five practices common among effective leaders, validated with data collected from nearly 1.3 million respondents that shows the model helps build effective, committed, engaged leaders.
"The theory is there are specific behaviors that, when done frequently by people, encourage others to recognize them as leaders and follow them," Aragon says. "The idea is that leaders are not born—you can change your behavior and become a better leader."
Throughout the year, AFB will measure the impact of the program, which will conclude with a graduation ceremony in the Spring of 2021.
"Ultimately, the purpose of the program is to make sure we're creating a future generation of individuals who are BVI who have the capacity and opportunity to succeed in higher levels of leadership and influence," Aragon says. "And it's not just about creating opportunities, but imparting that wisdom and knowledge to those who follow them, so over the years they will be developing and building people who come up behind them."
AFB Is Driving Changes in Transportation Policy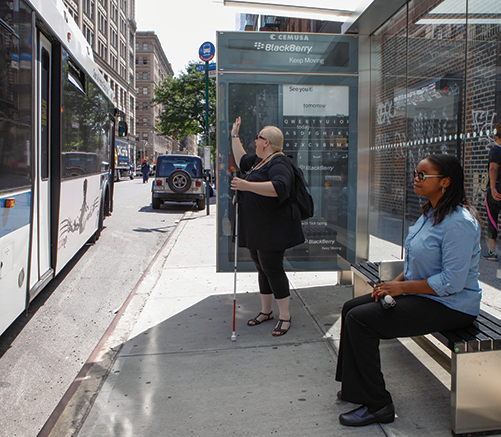 Initiatives will improve mobility and opportunity for people who are visually impaired.
Transportation is more than just a way to get from point A to point B. It's essential to getting and keeping a good job and, for older adults, continuing to live independently. But for people who are blind or visually impaired (BVI), a lack of reliable, affordable transportation is one of the biggest barriers to employment, a pressing issue considering the current employment rate for BVI individuals is just 44% (compare that to 74% for those without disabilities). It's also one of the main reasons older adults with vision loss move into assisted living facilities—not because they want to, but because they can't get around on their own anymore.
"I've heard so many people say, 'I'm tired of living on SSI benefits and I don't want to live in poverty—I want to work, but I have no way of getting there,'" says Stacy Cervenka, AFB director of public policy.
AFB is working to change all that, with several initiatives.
One of these is an ongoing project supported by the Volkswagen Group of America's Future Center California, called Project VISITOR, which is studying transportation options available to older people with vision loss. There's also a push on the legislative front specific to paratransit providers, which are federally funded agencies required to provide transportation to people with disabilities. Few agencies provide services that are flexible and comprehensive enough to meet the real-world needs of people who are visually impaired.
For example, riders generally can't make a stop on the way to a final destination or schedule rides less than 90 minutes apart. Cervenka knows firsthand the challenges this creates, as she and her husband are both visually impaired.
"Our daughter can't be dropped off at preschool before 7:30, but my husband needs to be at work at 8:00," she explains. "So, it would be impossible to drop her off and then use paratransit, because he'd have to wait at least 90 minutes, and he'd be late for work."
Countless stories like these are why AFB is talking to legislators about the upcoming federal surface transportation bill. This legislation presents an opportunity to encourage agencies to allow riders to make stops for specific, essential needs and eliminate some red tape.
"The intention is to incrementally move the paratransit regulations toward being person centered rather than institution centered," explains Sarah Malaier, AFB public policy and research advisor. "We want paratransit to work for everyday living and true inclusion and integration into the community."
Moving forward, AFB will continue educating policymakers on this issue and looking for more opportunities to partner with paratransit companies, rideshare companies, taxi companies, and others to explore alternative transportation solutions.
"Transportation is a means to education and jobs and participating in your community, such as voting," Cervenka says. "Without transportation, you can't participate in most of the activities in life."
Donor Corner: A Generous Spirit Inspired by a Life Well Lived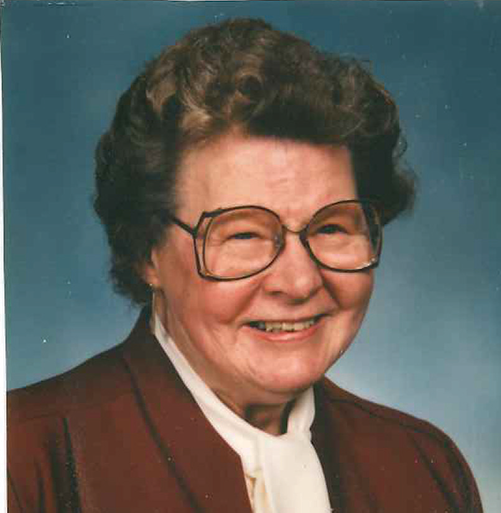 With this issue, we begin a periodic series highlighting donors who have made meaningful contributions to AFB.
Ruth Stank had a curious mind and an adventurous spirit. Born in 1919, she worked as a nurse and a teacher, was an avid reader and needleworker, and loved taking car trips with her husband, Lester, to visit America's national parks.
When Stank passed away in 2018 at the age of 99, the Ruth Stank Estate informed AFB of the extremely generous planned gift she'd made to the organization: $96,482.
Her niece, Ruth Smith, indicates that her aunt would have chosen AFB as a beneficiary judiciously, prompted by her personal experience with vision loss. Stank's husband had diabetes-related glaucoma and, later in life, Stank developed macular degeneration. She never completely lost her sight, but eventually had to give up driving. As her sight deteriorated, it became increasingly challenging to read or do the needlework she loved but Stank found ways to continue enjoying favorite pastimes, such as getting a big-screen TV so she could watch baseball games, another of her passions.
"My aunt was very aware of what it takes for people to go ahead under difficulty, but that they can do it if given the opportunity," Smith says. "I think it's in that spirit that her interests in AFB emerged."
Before she was married, Stank trained as a surgical nurse at Bethesda Hospital in Cincinnati, Ohio, and passed the state boards in 1943. She was never called into service during World War II, instead quickly becoming the head surgical nurse at Bethesda.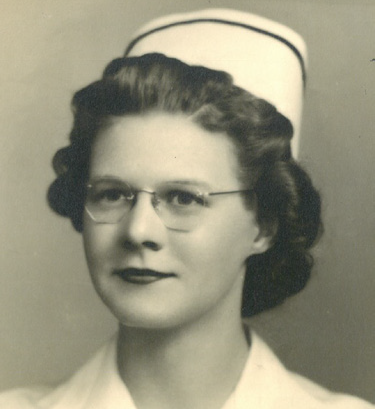 "She loved her work," Smith says. "She liked the precision and the care for the patients. She was also very interested in research and attended all kinds of surgeries. Whatever she did, she became interested in an active way."
After the war, Stank returned to her then home state of Wisconsin and taught at Marquette University while also on the surgical staff at Columbia Hospital. It was during her years as a teacher that Stank met her husband, who was studying to become a dentist. Once they married, Kenosha, Wisconsin, became their shared home. She worked briefly as an emergency room nurse before helping Lester establish and operate an independent dental practice.
After he passed away in 1980, Stank joined in a University of Wisconsin educational travel program, visiting Russia, China, Egypt, Brazil, and Australia. She continued her involvement with her local church, Habitat for Humanity, and often attended concerts because she loved music.
"Even for all of the loss, she appreciated having those interests as part of her life," Smith says. "The donation she made to AFB belongs to a picture of her whole life—she would never see herself as just one thing. That makes it all the more important that people with vision loss aren't limited by it."
What Does the World Look Like to You?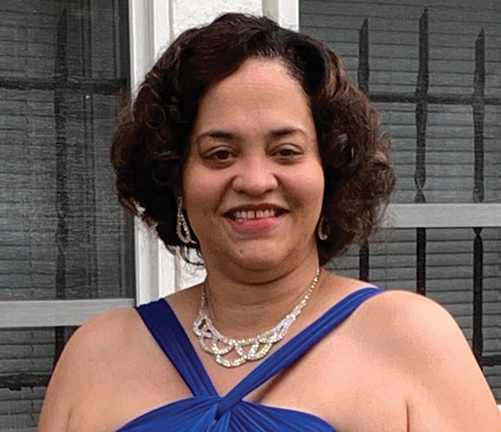 We continue our series asking people who are blind or visually impaired to share their real-world experiences and career paths.
Stephanie Kaye Jones is the director of sales and marketing for Menus4ALL, a website launched in October 2019 that provides accessible restaurant menus for people who are blind or visually impaired. Menus4ALL has 50,000 restaurants and counting using the service, which provides menus that meet or exceed current web accessibility standards, including low-vision friendly graphics, so that users can take advantage of the screen reader capabilities on their Android and Apple devices, or use their own refreshable braille devices to read the menus in braille. Stephanie also teaches blind and visually impaired adults and is the mother of five children.
When did you first experience vision loss?
I have a condition called pseudotumor cerebri that was treated using a shunt (which decreases pressure in the brain caused by the condition). The shunt malfunctioned 13 years ago and unfortunately, it was misdiagnosed, which caused me to lose my vision.
What surprises people about your life?
People ask if I pray for my sight to come back, but I don't. Sometimes this journey has been hard, but I've never been so blessed. I didn't come home from the hospital in a box—I have a life that's worth living and I live it to the fullest. I get to work with other people with vision loss and help them realize all the things they can do by themselves. I have a fulfilling job and a wonderful family. I'm active at my children's school, and I sing in a choir and a band.
Have you ever been in a situation where people tried to put limits on your aspirations because of your visual impairment? How did you have to advocate for yourself?
Unfortunately, it happens a lot. I was recently touring a facility and the security guard was trying to show me where to go and asked why I didn't go where he was pointing, even though I had my white cane. I was so taken aback that even then I had to explain that I'm blind. So in a way, every time we interact with others, we're advocating for ourselves and others with vision loss—and for me, part of that is making sure that people see Stephanie and not just the fact that I'm blind. That isn't the sum of who I am.
What do you wish more people understood about what it means to be blind or visually impaired?
That I have plenty of abilities, just like any person who is visually impaired. For example, when I need to go to the grocery store for my kids, I don't wait for someone to take me—I just go, and then I love to cook for them. We all have different abilities. Wouldn't the world be boring if we were all the same?
What advice would you give people who are blind or visually impaired about living with no limits?
Everyone's time on earth is limited, so do what you want with it—enjoy it. Don't put limits on yourself or let anyone else limit you. There's so much more technology today than there was when I first lost my vision, which I think is allowing people like me to fit more easily into society and do all the things we love—like going to a restaurant and being able to have a current menu we can read using whatever technology we want. Do the things that make you happy.
Net Notes
2020 AFB Leadership Conference Canceled Amid Coronavirus Concerns
Over the last few weeks, we have been closely monitoring the evolving situation with the COVID-19 outbreak to ensure we are taking every precaution to look after our community. The health and safety of our staff, supporters, attendees, and the public at large is our primary concern. After careful consideration, we've decided to:
Cancel the in-person elements of the AFB Leadership Conference scheduled for March 25-27, 2020
Postpone the Helen Keller Achievement Awards Gala until 2021
Reschedule the Blind Leaders Development Program kickoff within 6 months
This decision was not made lightly, and we regret this missed opportunity to connect with you in person. Ultimately, we were guided by our values, which is to put the health and safety of staff and the community above all else. And while nothing can take the place of in-person interactions, we are exploring ways to make some of the sessions available online. Please bookmark our FAQ page -- we will be updating it regularly.
We hope to see all of you next year, as we reconvene at the Hyatt Regency Crystal City, April 14-16, for our centennial celebration, where we will also honor this year's Helen Keller Achievement Award honorees. If you have any additional questions, please contact us at afblc@afb.org.
Gearing Up to Celebrate 100 Years of No Limits
AFB was founded in 1921, making 2021 our 100th year of making the world a more inclusive place for people who are blind or visually impaired. We're planning a yearlong celebration of our 100th anniversary, simultaneously honoring our history and looking forward to our future. Watch for special features on our website, social media, in this newsletter—and much more—as we celebrate AFB's centennial. Share your story of living with no limits, or what your vision of a world with no limits looks like. We can't wait to hear your thoughts!
Next
Focus on AFB: January 2020