As we enter our second century, AFB is here to champion the rights of everyone living with vision loss. They may be born with a visual impairment, like Matthew Whitaker (the acclaimed musician who has been blind since birth) or lose their vision in adulthood, like Amir Rahimi (our AFB colleague, who lost his vision at age 25), or they may be one of the millions of older Americans who are first experiencing low vision later in life. Helen Keller famously and fearlessly showed the world what a blind and deaf woman could achieve. The people and the programs featured in FOCUS on AFB show how far we've come.
Matthew Whitaker Exemplifies No Limits by Playing His Own Way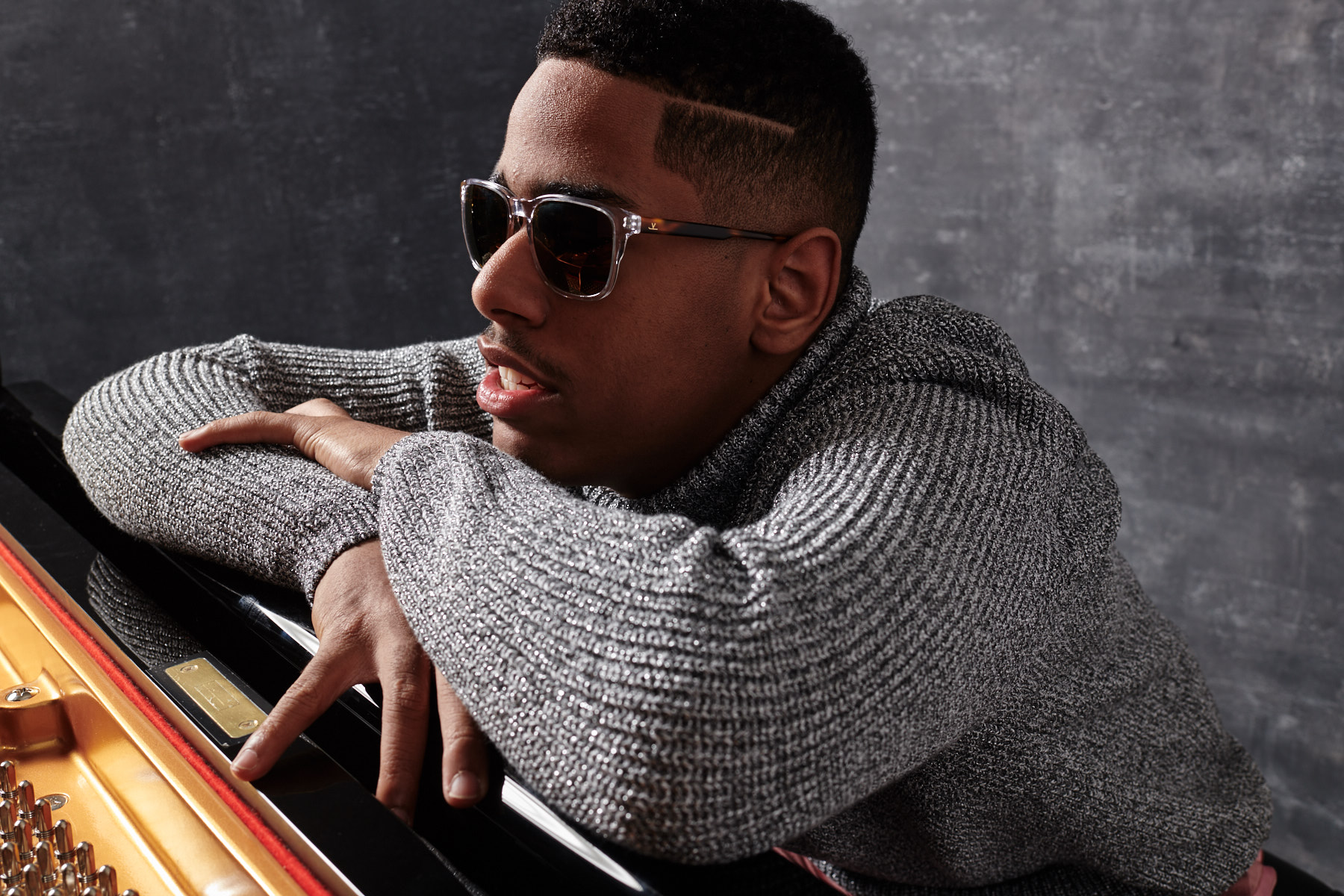 The Art of Inclusion gala headliner makes every song his own with his wide-ranging musical skills.
To call Matthew Whitaker a prodigy is true, but also an understatement. Just shy of 20 years old, this jazz pianist, multi-instrumentalist, and composer has achieved more than most musical artists would dream of doing in a lifetime.
Blind since birth due to retinopathy of prematurity, Whitaker grew up surrounded by music. At age 3, his grandfather gave him a small Yamaha keyboard, which Whitaker immediately started teaching himself to play. As his parents noted in his 60 Minutes profile, this wasn't simply plunking out some notes. He was playing songs with both hands — remarkable for a beginner, but especially for one so young.
After mastering the piano, he taught himself to play the Hammond B3 organ, earning him the honor at age 13 of being the youngest artist to be endorsed by Hammond in its more than 80-year history. Two years later, he was named a Yamaha Artist, the youngest musician to join that remarkable group of jazz pianists.
There's no question his musicianship is extraordinary — Whitaker can hear a song and play it back nearly note for note. But his love of jazz typically inspires him to improvise his own unique take on it. In addition to teaching himself to play keyboard and percussion instruments, he also started taking classical piano lessons starting at age 5. He learned to read braille music, and soon after, began studying jazz. After attending many excellent music schools, he's now the first student in the jazz studies program at the prestigious Juilliard School who is visually impaired.
"I always find ways to accomplish the same goals other students are achieving," he says of his classes. "I may do it differently, but I'm still achieving the same thing."
Despite all his well-deserved accolades — performing his first overseas concert in Japan at age 11 and touring the world ever since, performing with many acclaimed musicians, and releasing two albums — chances are if you ask Whitaker, he'll tell you it's just all about having fun. "My parents have been supportive of me all along, and they always tell me, 'Have fun and be yourself,' so that's what I do," he says.
Yet what he does — his unique style of playing — is so intriguing that a neuroscientist did an MRI scan to see how music impacts Whitaker's brain, as explained in the 60 Minutes piece. What they found was that regular speech didn't light up any unusual parts of his brain, but music actually lit up his visual cortex, the part of the brain used for sight.
"It's not that I can see the music," Whitaker says. "But it's engaging my entire brain."
He has no plans to slow down or stop expanding his music skills. In the future, he hopes to continue composing, arranging, and producing music, as well as trying his hand at film scoring and more music directing.
Whitaker was delighted to be invited to perform at AFB's centennial gala. "AFB is all about inclusion and living with no limits and using it to help other people," he says. "I was glad to be part of that." Check out his performances for our Art of Inclusion gala.
You can learn more about Whitaker and hear some of his music at matthewwhitaker.net.
AFB's Inform & Connect Podcast Delivers What It Promises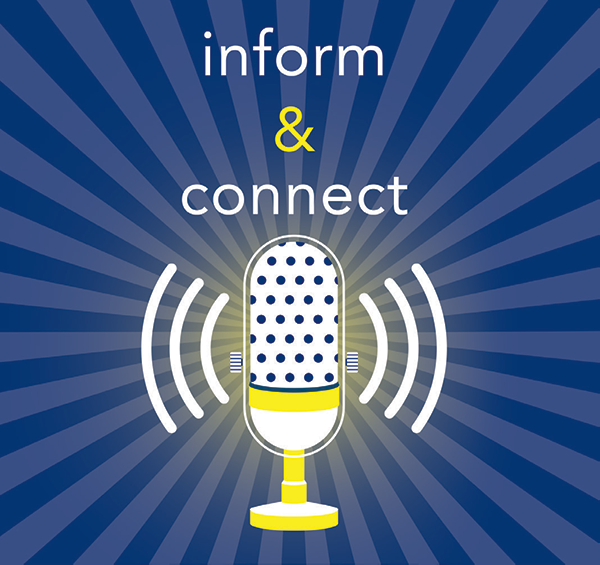 With a wide range of guests, the podcast creates a space for educational, inspiring conversations.
It all began as a way to keep people connected at the beginning of the COVID-19 pandemic in the spring of 2020. The team at AFB was brainstorming about ways to pivot in the new environment everyone was living in — not just to cope, but to foster a sense of community.
"We wanted to bring people together just to get their minds off this trauma we were all going through," says Melody Goodspeed, a major gifts specialist at AFB and host of the podcast. "I thought interviewing people over Zoom could be interesting, and some people I reached out to agreed it was a good idea, so we figured we'd just wing it."
Sometimes, "winging it" can lead to exciting new ventures. The initial broadcasts were live Zoom interviews, which Goodspeed thought would run their course after four or five episodes. But as it turns out, the idea blossomed into a bona fide podcast that hosted 35 guests in 2020, some individually and some joining together for conversations about ideas and inspiration.
"I received so many notes from people who appreciated the break from the news and their daily routines, so we just kept going," Goodspeed says. "By word of mouth, it kept growing and we now have a solid base of followers who tune in every other Wednesday. Then it really started blowing up when I began getting suggestions for people who would make great guests."
All the episodes are now broadcast and archived in the podcast format with accessible transcripts.
As for the name of the podcast, Goodspeed says it reflects its ultimate objective. "We're really informing people in some episodes — like the one we've done about our research work, which listeners can use in tangible ways to make their own voices heard in their communities. And we're always connecting people, whether with our listeners or with the guests who have these incredible stories of advocacy that cover the gamut from sports to fashion. We're really showing that people who are blind and visually impaired are truly innovative and creative."
The show is a true labor of love for Goodspeed, who says she learns from every episode, such as the one featuring Catherine Harrison, a professional commercial print and fitness model who is blind.
"She said it's important to let people see you fall but then see you get back up again and find your power," Goodspeed says. "That really spoke to me."
Goodspeed has also shared episodes with donors to demonstrate exactly how their support changes people's lives for the better.
"I look forward to it every time," she says. "I'm honored that I get to sit with these people who give so much of themselves on the podcast and to provide a space for them to showcase their talents, viewpoints, and unique selves."
Inform & Connect airs biweekly. You can listen to the podcast, including all past episodes, at afb.org/InformConnect or subscribe through your favorite podcast platform, including iTunes, Google, Anchor, and Spotify. If you have suggestions for future guests, email Melody Goodspeed at mgoodspeed@afb.org.
Research Roundup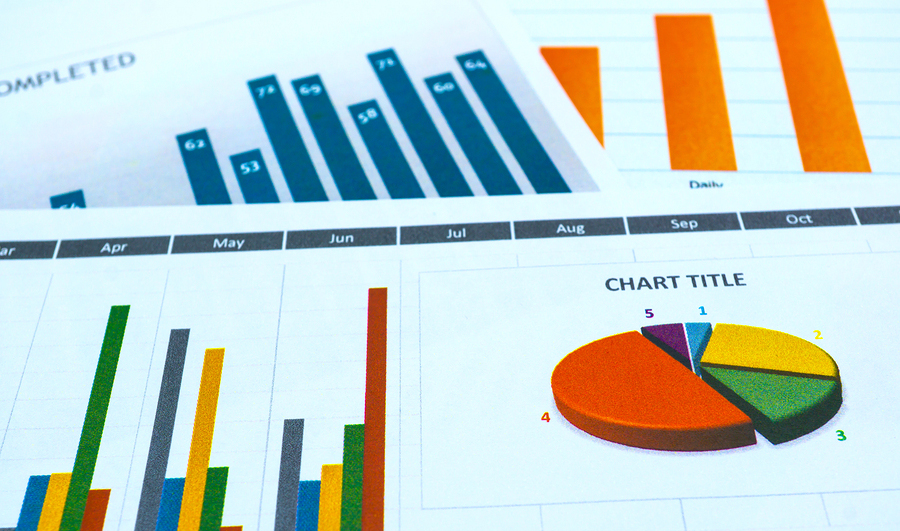 AFB's new research projects provide the data to drive advocacy and policies to create a world of no limits.
Guide Dogs for the Blind
In October 2020, AFB began a 21-month study to answer one big question: Why hasn't the number of guide dog users in North America increased over the last couple of decades compared to Europe?
The research team began with a short survey, which was answered by 533 people, to understand what tools people who are blind or have low vision are using, such as white canes, smartphones, or guide dogs. Of the respondents, 53% were guide dog users and 76% used white canes for travel. When AFB pursued the question further among those who did not use a guide dog, 33% of respondents had thought about getting a guide dog but had not pursued getting one and 11% said they'd never thought about it. The number-one reason for not using a guide dog was worrying about the responsibility of having a guide dog, followed by the financial cost, physical exertion, not needing help with travel, and uncertainty as to whether their level of vision qualified them for a guide dog.
"We want to understand more about how we can help people think through their concerns — including caring for a dog, financial resources, and visual requirements — to create a plan for Guide Dogs for the Blind to help potential guide dog users understand the nuances of the application process and the responsibilities of guide dog ownership," says L. Penny Rosenblum, Ph.D., AFB's director of research.
Ultimately, she adds, the goal is to reach people who have not embraced the guide dog lifestyle, because guide dogs can be an important tool for independence and productivity. The next phase of the research is to conduct interviews to better understand the guide dog experience from multiple perspectives.
Workplace Technology Study
In October and November 2020, Dr. Rosenblum and Elizabeth Bolander, a doctoral student at New Mexico State University, conducted nine focus groups to learn how sighted people and people who are visually impaired are using mainstream and assistive technology in the workplace. In February, they began digging deeper with an online survey. The primary long-term goal of the project is to help employers understand the assistive technology needs of employees who are visually impaired, as well as accommodations they may use in the workplace, and the role of IT professionals and HR departments in ensuring a successful setup for the employee. To learn more, listen to AFB's Inform & Connect podcast episode featuring Dr. Rosenblum at afb.org/ICWorkplaceTech.
What Does the World Look Like to You?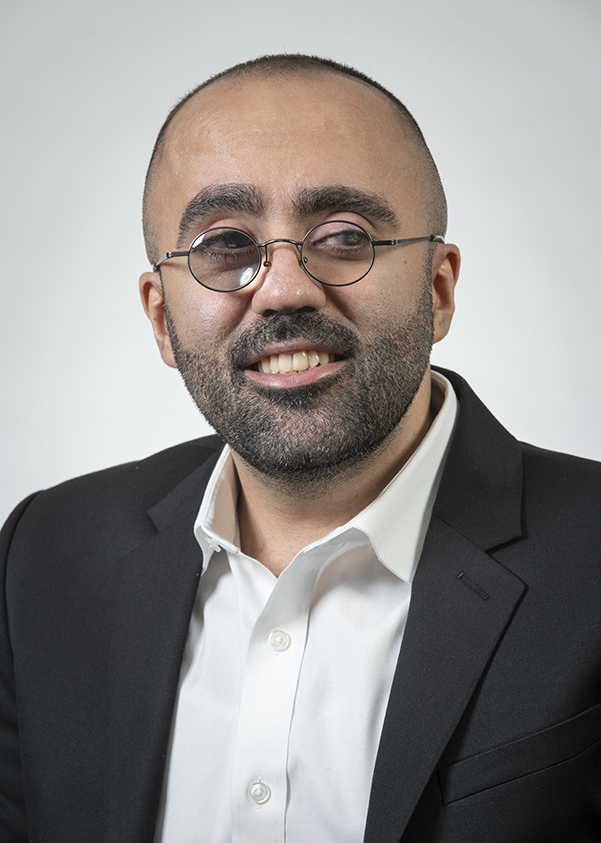 We continue our series asking people who are blind or visually impaired to share their real-world experiences.
Amir Rahimi joined AFB in August 2019 as a major gifts specialist. He chose the job, in part, because after losing his vision at age 25, it was AFB that gave him the confidence to pursue a fulfilling life after a period of depression. AFB's CareerConnect website (now stewarded by American Printing House for the Blind at aphcareerconnect.org) paired Amir with a mentor who was also blind and who inspired him to get the training he needed to live independently and find the right career. After a few years in communications, he began working in fundraising and discovered a passion for it — especially when it centered on helping people with disabilities, and particularly those with visual impairments. When the job opened up at AFB, Amir knew it was the perfect fit: He would be working for the organization that helped him and assisting others in living a life of no limits.
When did you first experience vision loss?
It was 11 years ago. I was rushing to get out the door and my right eye collided with the edge of a wooden box in my room and I ruptured my cornea. I had more surgeries that year than I'd like to count, and my other eye was affected, so I ended up losing most of my sight.
What surprises people about your life?
The fact that I'm fully independent. They're surprised I live alone, have a job, and can cook and clean for myself, go to the grocery store alone — or even that I can read and write.
Have you ever been in a situation where people tried to put limits on your aspirations because of your visual impairment? How did you have to advocate for yourself?
There was a major public relations firm I wanted to work for, and I went to an internship job fair where I just got the vibe that they didn't take my application seriously because I was blind. After not hearing back, I tracked down the company's CEO and sent an email asking to meet. He agreed and a week later I was called in for the interview and ended up interning for them.
What do you wish more people understood about what it means to be blind or visually impaired?
People need to know that people who are blind or visually impaired can do anything a sighted person can do. I want sighted people to know they shouldn't write us off for a job because we have a cane or a guide dog. Don't be afraid to ask me what I can do. I'll be happy to tell you about everything I have to offer. Have an open mind and an open heart about our abilities.
What would true inclusion look like to you?
To me, true inclusion would be that every person in this world — whether you have a disability or are a different gender or race — would have the same exact opportunities. It's not that hard to make websites and buildings fully accessible to everyone. I really believe that equal opportunity is inclusion.
AFB Notes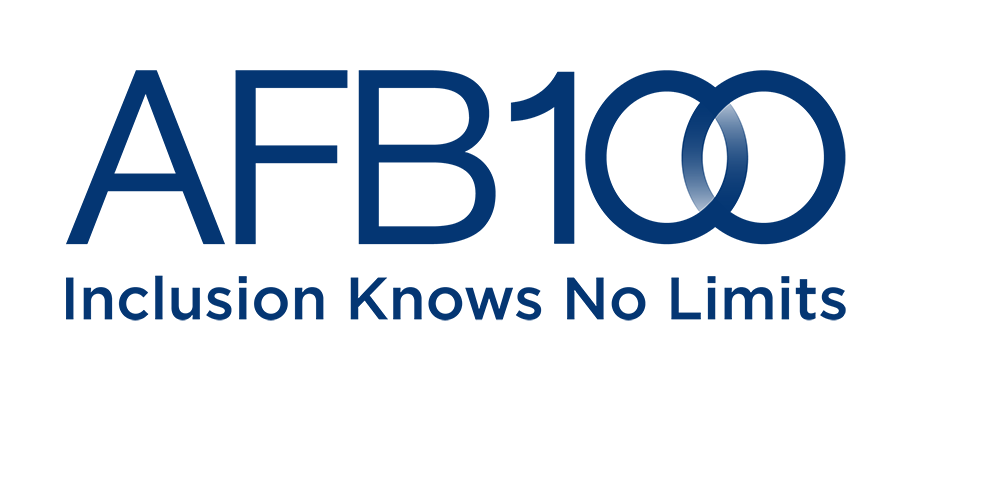 The Celebration of the Century
AFB's first century, that is. We kicked off our year-long series of events to commemorate our centennial in February with a conversation with MasterChef winner, restaurateur, and cookbook author Christina Ha; chemist, entrepreneur, and wine expert Hoby Wedler, Ph.D.; and jazz pianist and composer Marcus Roberts. Attendees could participate virtually in this celebration of the senses, community, and the power of inclusion by making dishes from the menu and enjoying the wine choices and custom playlist — all curated by the special guests. On March 4, we hosted our big event: The Art of Inclusion: AFB100 Concert & Celebration. The virtual gala was co-hosted by disability rights activist and best-selling author Haben Girma, featuring music from Grammy-nominated musician Marcus Roberts, pianist Matthew Whitaker, Grammy-award nominated duo Amadou & Miriam, and Tony-nominated Broadway star Sean Allan Krill.
And there's more to come! The celebration continues with Centennial Conversations, a series of curated webinars about key issues and topics of interest to people who are visually impaired, pairing prominent speakers with younger voices. For more details, visit afb.org/100, and invite your friends to join you!
Be a Friend: Host a Social Media Fundraiser for AFB
If you're on Facebook, you've undoubtedly seen your friends raising money for good causes by running a Facebook fundraiser — or what we like to think of as a "friendraiser." It's easy to set one up. Just go to the Facebook Fundraisers page, choose AFB as your non-profit, and set a dollar amount as your goal. Friendraisers are especially effective if you host them around your birthday or a special occasion, or have a personal connection to someone who is blind — including yourself — and explain how AFB is creating a world of no limits. Once you set it up, the money automatically goes to AFB. And remember: Every dollar we raise makes a difference. Thank you!
Next
Focus on AFB: December 2020