---
Developing Technology That Works for Everyone
AFB Consulting helps organizations embrace digital inclusion, one client at a time.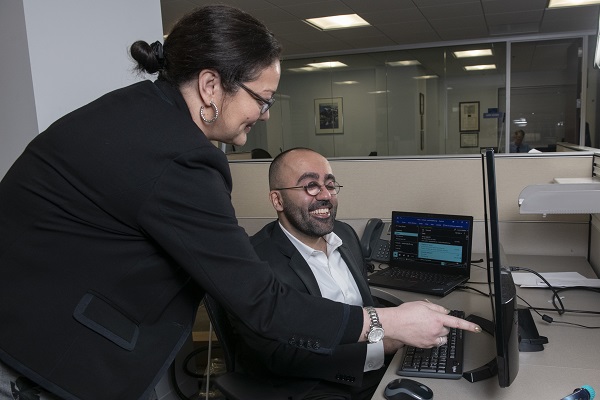 Founded by AFB in 2003, AFB Consulting offers a wide array of services to help organizations make their technology as user-friendly as possible for everyone. In fact, all of AFB Consulting's work revolves around a single mission: digital inclusion.
"Our goal is to partner with clients and organizations that are creating digital or technical properties, to make sure that anyone who might identify as a person with a disability can use these technologies to the fullest extent," explains Kalib Watson, accessibility engineer. "We want to make sure everything being produced can reach the entire population, regardless of someone's circumstance."
AFB Consulting services run the gamut from usability and conformance testing of mobile apps, websites, and devices by people with disabilities, to remote and in-person training on digital accessibility, as well as a wide range of employment solutions, such as testing and evaluation of digital work environments, and more. ''
According to Matthew Janusauskas, AFB's chief technology officer, AFB Consulting's work is not focused exclusively on people who are visually impaired.
"For a person who is blind, one of the most important criteria is that they need to be able to interact using only a keyboard," he explains. "But that crosses over into other disabilities, such as someone with motor impairments who might not be able to use a mouse, either."
Many firms simply scan websites and mobile apps to make sure they comply with accessibility laws and regulations. But AFB Consulting wants to "turn the process on its head," Janusauskas says.
Of course, conforming with standards is important. But AFB Consulting prefers to take a 100 percent user-based approach. The team digs deep, talking to users and drawing on their feedback about the top changes they feel are needed, as well as conducting user research. It's important to hear from both the clients and the end users, because the needs they identify aren't always the same.
Digital inclusion works best when clients build it into their software and devices from the start and keep it updated. One example is Samsung, which Watson says has worked with AFB Consulting for many years and is attentive to building accessibility tools into its development process.
There are plenty of details on AFB Consulting's work with Samsung at afb.org/CaseStudies. However, AFB Consulting also signs confidentiality agreements with clients upon request.
In early 2020, AFB Consulting went through a restructuring that creates more flexibility for AFB's internal information technology support team and AFB Consulting to work together as needed, creating an agile, cross-functional team.
"The depth of our talent and experience in inclusion policy development and workplace accommodation spaces really sets us apart," Janusauskas says. "We can simply offer consulting, or we can sit side-by-side, teaching developers best practices in coding their software, which is a unique level of engagement."
Ultimately, the entire team at AFB Consulting is committed to making digital inclusion something companies think of from the start.
Donor Corner: Grateful Grandfather Has a Long History of Giving
We continue our periodic series highlighting donors who support AFB's work.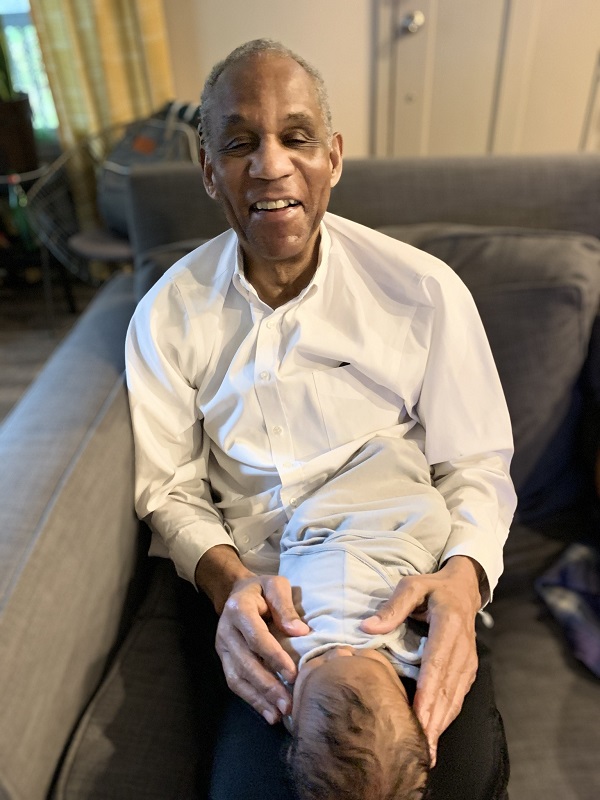 MacArthur Darby has always believed in giving to causes he cares about. The 74-year-old, who lives in Kentucky, feels very fortunate that he is able not only to take care of himself, but to help others, too.
Darby began losing his vision to glaucoma in the 1980s and has been totally blind since 2008. He admits it took him some time to get used to his vision loss, but he considers himself well adjusted now.
One of his favorite pastimes is reading, so he takes advantage of the collections available from the Kentucky Talking Book Library and the National Federation of the Blind. That's where he discovered AFB's magazine, AccessWorld — and he's been an avid reader ever since.
"There are technologies for the blind in almost every issue," he says. "Recently there was a review of a microwave that's paired with Alexa, so all I have to do is put something in the microwave and say, 'Alexa, microwave for three minutes.'"
AccessWorld is also where Darby discovered what he calls the most accessible phone he's come in contact with: The BlindShell Classic. He uses it not only for making phone calls, but also for sending emails and setting alarms. But
AccessWorld magazine gives Darby even more than great tech tips.
"Some of the people who are featured in AccessWorld are blind and they are making all kinds of contributions and achievements — it's inspirational," he says. "It makes it easier to appreciate that blind people can do all the things sighted people think we can't do."
AccessWorld was Darby's first introduction to AFB, but when he learned about the organization's emphasis on research — something he thinks is crucial in addressing situations faced by humankind — he became a sustaining donor in September 2019, sending $22 a month. Why $22? It's his way of keeping track of his donations, because he gives to many other charitable organizations, including the National Federation of the Blind, Southern Poverty Law Center, Equal Justice Initiative, St. Joseph Children's Home, and more. Every organization receives a slightly different amount — $19 here, $26 there — so he can keep them all straight without having to call his bank.
"I've been a longtime supporter of the Southern Poverty Law Center because racial discrimination is a major problem," he says. "But in general, I give to organizations that help those whose lives have been made more difficult, including people who are disabled or women and children who have been abused."
Unsurprisingly, someone as generous of heart as Darby has a circle of close friends who look out for him, in addition to two daughters, and a grandson who will turn one this fall. "I'm so proud of them," he says, "and very grateful to have them in my life."
Studying How COVID-19 Is Affecting Adults With Vision Loss
The findings reveal significant gaps in accessibility and resources that won't end when the pandemic does.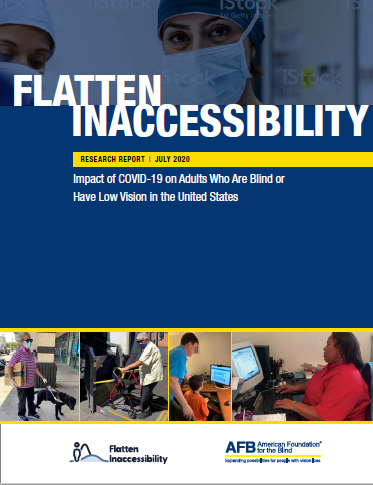 COVID-19 has forced the entire world to adjust the way we work and live. But the challenges are exacerbated for people who are blind or have low vision. Recognizing an opportunity to study the impact of a crisis like this — which also has ramifications for other scenarios, such as natural disasters, office emergency planning, and more — AFB took the lead in analyzing the Flatten Inaccessibility survey findings. We joined forces with 15 organizations and companies that share AFB's concern about the effects of COVID-19 on adults who are visually impaired in the United States.
Nearly 2,000 surveys returned in April 2020 were analyzed, and AFB will release a report of the findings by the end of September, which is available at www.afb.org/FlattenInaccessibility. Although AFB has made a commitment to reach a more diverse group of respondents in future research, the sample size was large enough to identify some significant issues.
"Even when we started the survey, we could see the impacts on people with vision loss, but all of this has gone on much longer than we expected," says L. Penny Rosenblum, Ph.D., director of research for AFB. "We saw a lot of issues that need to be resolved moving forward, but now we have data we can use to develop solutions."
The survey looked at a number of issues, including employment, transportation, and healthcare, which Dr.
Rosenblum says are often intertwined. Some respondents feared they might lose their jobs if their productivity declined because they didn't have access to essential technology tools — such as screen-reading software or monitors they couldn't bring home when offices closed — or if they struggled with web-conferencing software that isn't fully accessible to those with visual impairments.
For essential workers who couldn't work from home, many found they no longer had reliable access to public transportation, paratransit, or even car pools because of social distancing. Lack of transportation, an ongoing issue for people with vision loss, doesn't only impact work. People who thought they might have COVID-19 or had already tested positive couldn't rely on loved ones to drive them to get care for fear of getting their family or friends sick. However, as one visually impaired respondent with additional disabilities stated, "We keep thinking we can outwit this thing, and that things will 'go back to normal.' Let's overwrite 'normal' and use this opportunity to make it BETTER for us."
That's Dr. Rosenblum's hope, too. "The lessons learned from this data can really serve us as a roadmap going forward, because the systemic issues aren't going away anytime soon unless we all work together," she says.
In a related next step, AFB is preparing to launch a Workplace Tech Study to understand the technology experiences, training tools, required tasks, barriers, and accessibility needs of people in the workforce who are visually impaired. Watch for details on the study coming soon. For more information, sign up at www.afb.org/ResearchUpdates.
What Does the World Look Like to You?
We continue our series asking people who are blind or visually impaired to share their real-world experiences and employment journeys.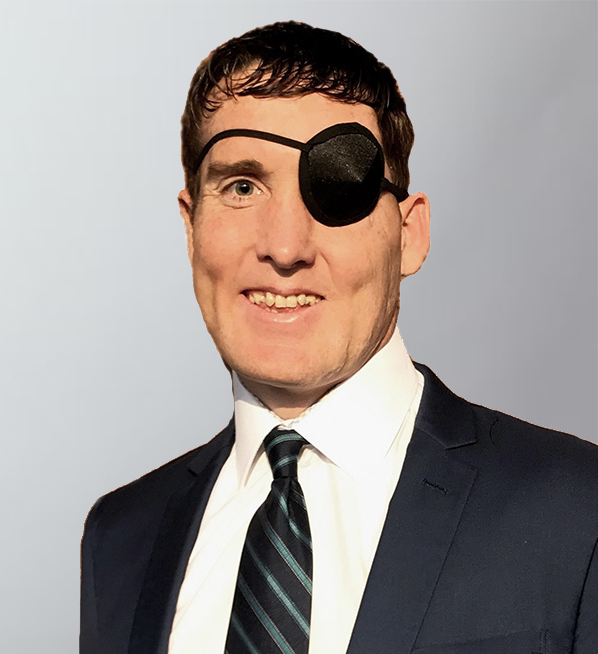 Tanner Gers is the business development and sales lead for AFB Consulting (see cover story), and his journey to rewarding employment has been an interesting one. After losing his sight, he quickly gained new skills and landed a job almost immediately. But after being let go four years later, Gers learned just how challenging it can be for someone who is visually impaired to find a job. He started playing competitive adaptive sports and is a 2011 Parapan American Games gold medalist in the long jump, a 2012 U.S. Paralympian in long jump and 4×100 m relay, and the 2015 and 2016 National Champion in track cycling. It was through the U.S. Olympic and Paralympic Committee that Gers was connected with a new job, and after a series of successful work experiences, he found his way to AFB Consulting in 2019.
When did you first experience vision loss?
I was in a serious car accident in 2004, when I was 21 years old. I sustained a lot of injuries, including losing sight in both eyes. To be honest, I'm lucky to be alive. And that experience really showed me how much time I'd wasted — so now I never miss an opportunity to improve myself and my life.
What surprises people about your life?
A lot of times people don't realize I'm blind. Even though I wear an eye patch, I've gotten really good at tracking with my other eye and work really hard at maintaining eye contact. So that's probably what surprises people the most.
Have you ever been in a situation where people tried to put limits on your aspirations because of your visual impairment? How did you have to advocate for yourself?
When I was looking for a job, I went through a series of phone and in-person interviews for one particular sales job very quickly. But when they went to walk me out onto the floor to meet one of the sales reps and take a test, and I asked the interviewer if I could take him by the elbow, I know that's when my visual impairment started to hit him. And I didn't know then how to find the right time to identify my visual impairment and the technology I could use to get around it. So I definitely learned to manage that process better in future interviews: showing them my capabilities and value first, and then talking about my visual impairment and ways to work around it.
What do you wish more people understood about what it means to be blind or visually impaired?
That people would just see us like any other person. Humans are incredibly diverse. And, I mean, it's 2020 — there are technologies available to help people with disabilities interact with today's environment. Working with AFB Consulting gives me the chance to make a bigger impact on digital inclusion than any of my previous jobs did.
What advice would you give people who are blind or visually impaired about living with no limits?
Live up to your full potential, whatever it takes. Even if I were lucky enough to reach 90 percent of my potential, I would have to keep going. Creating a world of no limits really begins with us, and the preparations, diligence, and discipline we have to show up every day to be our best.
Get Ready to Commemorate 100 Years of AFB
We're deeply proud of our history and many accomplishments since AFB's founding in 1921. And those 100 years of dedicated effort are only the beginning as we continue to create a world of no limits for people who are blind or visually impaired.
Starting with the Winter FOCUS, you'll find highlights from AFB's first 100 years and our ideas and plans for the future, with an emphasis on transformation, creativity, equity, and inclusion. Representation (from the classroom to the boardroom) matters, and we're calling on our corporate partners, legislators, and individuals to join us in opening the doors of opportunity to all.
We're preparing a very special virtual #AFB100 celebration, with more details to come as the programming is developed. But one thing is certain: These are events you will not want to miss!
AFB is building a community to support and share in our centennial — and we want you to be part of it. Stay tuned for more details on how to get involved, but to get started we're seeking corporate sponsors to be Centennial Changemakers. To learn more, contact Amanda Kolling at akolling@afb.org.
To build the future on the foundation AFB established over the past 100 years, please consider becoming an AFB sustaining donor. As MacArthur Darby proves, every dollar adds up. To learn more or to start as a sustaining donor today, visit http://www.afb.org/donate.
Next
Focus on AFB: Summer 2020