AFB Employment Summit Creates Connections, Ideas, and Action Plans
Summit series will focus on eliminating barriers to employment for people with vision loss.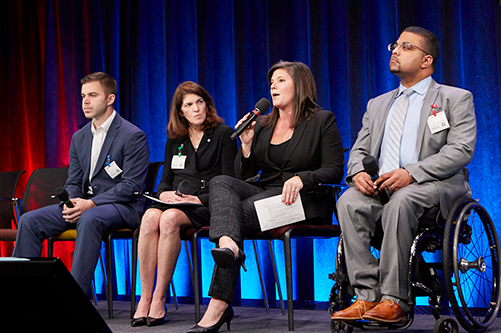 Left to right: Zak Turner, Healthcare Consultant, Medix; Mary Lynn MacKenzie, Global HR, Bank of America; Amanda Gardner, Recruiting Director, PNC; Lesly St. Louis, Inclusion Specialist, Inclusion Programs, Workforce Readiness, Northwell Health
By all accounts, AFB's inaugural Employment Summit in May was a successful day for everyone involved. Held in conjunction with the New York State Commission for the Blind, the summit was generously hosted at Google's offices in New York City.
AFB plans to hold two to four summits each year over the next few years at locations across the United States, with the next scheduled for October in Dallas. The summits will bring together high- level stakeholders, including state vocational rehabilitation agencies, nonprofits involved in career training and placement, corporations with a commitment to disability inclusion, foundations that prioritize disability employment, and leaders with visual impairments who share their journeys to success. The goal is to open conversations and forge meaningful partnerships that will lead to increases in hiring and career advancement opportunities for people who are visually impaired.
At the end of each daylong summit, key actions will be recommended to break down barriers, open recruiting channels, and create employment opportunities. AFB also intends to set up online communication channels, creating a forum for participants to continue sharing resources and solving problems after each summit.
"I believe we achieved the goal set by AFB President and CEO Kirk Adams to 'leave with a commitment to hire'—as well as a commitment to follow up, which will be key to achieving our goals," says Brian S. Daniels, director of the New York State Commission for the Blind.
There were 62 attendees at the event, with 31 having formal speaking roles. During the summit there were eight panel presentations, one roundtable discussion, and a closing action agenda activity. Topics included the future of work, recruitment, career training and placement, and the roles and resources of vocational rehabilitation.
One of the most powerful statements came from Russell Shaffer, director of Global Culture, Diversity, and Inclusion at Walmart, and chairman of AFB's Board of Trustees. He spoke about the work Walmart has done to understand the neurological underpinnings of unconscious bias to address its influence and make more conscious and inclusive hiring decisions.
"That discussion really put some flesh on the bones of what we had in the past referred to as 'employer attitude'—in other words, a leading barrier to workplace inclusion," Daniels says. "That was a really big takeaway for us as something we the commission can address here in our state."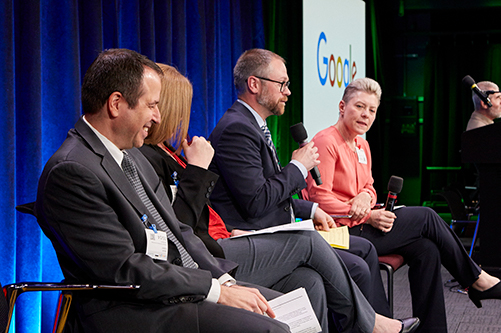 Left to right: Jason Eckert, Downstate Regional Coordinator, New York State Commission for the Blind; Louise Werner, Director Business Enterprise Program, New York State Commission for the Blind; Peter Herrig, Associate Vocational Rehabilitation Counselor, New York State Commission for the Blind; Jane Sullivan, District Manager, New York State Commission for the Blind
Zak Turner, who is visually impaired and works as a healthcare consultant, sat on a discussion panel about recruitment and hiring with sighted human resources personnel — an example of how the summits will bring the voices of people with vision loss into the conversation. "I do interviewing and hiring as part of my job, but I also shared my story of how I was able to continue to be successful after losing my vision," Turner says. "I thought it was a great summit because we need to bring awareness to companies to help people learn and grow in their careers."
AFB's Chief Knowledge Advancement Officer, George Abbott, who coordinated the summit, describes the inaugural event as "a launching pad," both for future summits and for the larger goal of improving employment opportunities for people who are blind or visually impaired.
"We built relationships and trust, and what's key now is to continue connecting the participants to collaborate and take action on the issues we've identified as barriers to hiring and career advancement," he says. "It was really an exhilarating day."
Partnerships Play a Starring Role in AFB's Work
Cross-sector partnerships are pivotal to creating a world of no limits.
It's been said countless times that no man is an island. The same is true of nonprofit organizations like AFB. As it has since 1921, AFB firmly believes that partnerships are vital to creating a world of no limits for people who are visually impaired.
"Effective, large-scale change in the world can best be accomplished through alliances, partnerships, and collaborations," says Kirk Adams, president and CEO of AFB. "As Helen Keller once said, 'Alone we can do so little. Together we can do so much.'"
That's why AFB continues to look for every opportunity to collaborate with partners, not only in the field of blindness, but in the government and corporate sectors. AFB's supporters, including funders and individual donors, are considered valuable partners, too.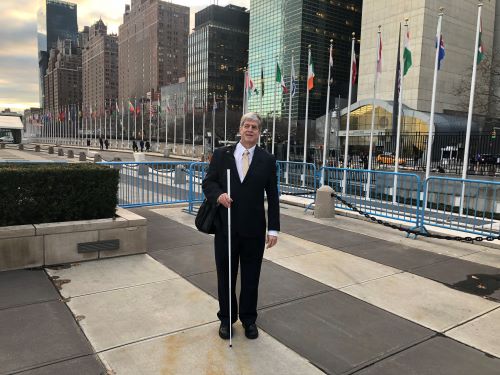 Throughout the year, AFB plays an active role in conferences and meetings, such as the Consumer Electronic Show and Disability:IN, and even with the United Nations. In addition to attending these meetings, Adams and other AFB leaders often deliver remarks or serve on panels. At the annual American Council of the Blind conference, AFB hosts a breakfast to provide updates on its work and to hear from others in the field. And, of course, AFB hosts its annual Leadership Conference to bring the best and brightest minds in the field together.
"As a thought leader, AFB needs to be out there listening, and learning about the next challenge or opportunity that's just around the corner," says AFB's Chief Community Engagement Officer, Adrianna Montague.
It's about much more than conferences, though. Consider AFB's partnership with American Printing House for the Blind, to whom AFB has entrusted the stewardship of longstanding programs such as VisionAware, FamilyConnect, and CareerConnect.
AFB also works closely with government agencies—its new relationship with AbilityOne being a prime example—and relies on the partnership of corporate benefactors, such as the American Express Foundation, which supported the digitization of the Helen Keller Archive. JPMorgan Chase, Google, and Microsoft are among the other corporations that make significant contributions to AFB's work, either through direct contributions, representation on AFB's Board of Directors, or both. What's more, AFB Consulting works with businesses and other organizations to help them advance their accessibility and disability-inclusion goals, engagements that help support AFB's other programs.
"We greatly value cross-sector partnerships," Montague says. "Every partnership AFB is part of strengthens the ability of everyone involved to achieve our shared goal of making our world more accessible and inclusive for everyone."
A Passion for Policy
Stacy Cervenka believes people who are visually impaired should have every opportunity.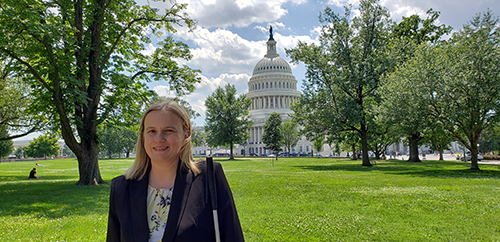 During high school and even when she started college, Stacy Cervenka, AFB's new director of public policy, admits she didn't really follow politics or public policy. But that all changed during her freshman year of college, when she was invited to attend a lobbying and advocacy seminar run by the National Federation of the Blind in Washington, DC.
"It really impressed me, that as a college student from rural Minnesota, I could meet with my elected officials and talk to them about issues that were important to me," Cervenka says.
She decided to pursue a career that would allow her to do just that, and in the summer of 2004, through the American Association of People with Disabilities' internship program, she was placed in the office of Kansas Senator Sam Brownback. The experience sparked a passion that continues to this day. After graduation, Cervenka was hired by the senator's office, where she worked her way up to serving in an advisor capacity as a legislative assistant.
"When you're working for a senator, you handle a wide variety of issues, and that's when I realized that I really wanted to focus on disability rights and particularly on disability employment policy and vocational rehabilitation," explains Cervenka, who has been blind since birth due to optic nerve hypoplasia.
When you consider the career path Cervenka chose, it's not surprising she decided to join AFB in May 2019.
"I want to expand opportunities for people who are blind and low vision to be economically self sufficient and active in their communities and in the workforce, and the work AFB is doing is a perfect fit," she says.
Cervenka has a particular interest in transportation issues, a key area of focus for AFB. In parts of the country with insufficient public transportation, it can be difficult, if not impossible, for people who are visually impaired to get to and from work.
"Transportation is essential both for working adults and older adults who want to remain in their own home, and a huge number of them do," she says. "We should have options for accessible and affordable transportation that supports both employment and independence as people age."
Reporting to Chief Public Policy and Research Officer Stephanie Enyart, Cervenka will be working to expand and strengthen AFB's relationships with policymakers in Congress, executive branch agencies, and the private and nonprofit sectors to advance AFB's positions on its three priority areas: education, employment, and aging.
As a consumer of education and vocational rehabilitation programs herself, Cervenka hopes to bring the insights she's gained to both professional and personal projects, such as the Blind Travelers' Network, an online travel forum for people who are blind or have low vision, an initiative she's very proud to have established.
"In everything I do," she says, "I just want to support people who are blind or have vision loss being able to live independently in their communities."
What Does the World Look Like to You?
We continue our series asking people who are blind or visually impaired to share their real-world experiences.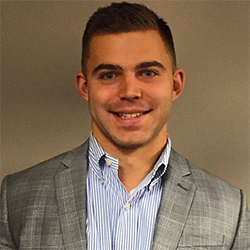 For the first two decades of his life, Zak Turner never had any problems with his health or vision. An athlete who played football in college, he started his career working at a physical therapy clinic as a strength and conditioning coach. Then in 2014, he transitioned to his current job at Medix in New York City. The 29-year-old works as a healthcare consultant, providing career guidance and assistance to hospitals and health plans.
When did you first experience vision loss?
I never had any health or vision problems, but that all changed pretty quickly in 2015 when I was diagnosed with multiple sclerosis and a rare eye disease called Leber's hereditary optic neuropathy. I lost my central vision within about six months, but I still have some peripheral vision, so I'm able to navigate around pretty well, although I do use a white cane to get around New York City.
What surprises people about your life?
People can't believe that even though I'm legally blind, I'm so happy and positive, and that there's no reason I can't do anything I want to do. I am not going to let one circumstance in my life define my life or how I should live. I have a great support system of people in my life, and I'm going to continue to live my life with fulfillment and purpose.
Have you ever been in a situation where people tried to put limits on your aspirations because of your visual impairment? How did you have to advocate for yourself?
When all this first happened, I was nervous I'd be out of a job because it was all new to me and everyone I worked with at Medix. But I was just open and honest about everything, and we explored different technology programs, figuring out how I'd get to work and back home.
We would just try different techniques, and if it didn't work, we'd try something else. I'm really blessed that I'm able to work for them and they knew my work ethic and the value I could provide, so it was really just about adapting to my new situation.
What do you wish more people understood about what it means to be blind or visually impaired?
That being visually impaired doesn't mean I can't do things, but there may also be times when I need a little help. I've found ways to ask random people if I'm on the right subway or about menus at restaurants, which brings people awareness they may not have had about people who are visually impaired. Hopefully it encourages people to ask more questions and we can all learn from each other.
What advice would you give people who are blind or visually impaired about living with no limits?
You can still have the same drive for whatever career path you're passionate about. For example, I loved sports growing up and am still able to compete in various sports because there are adaptive sports. So, push toward your goals. Everything you have within you, you can bring to the table to employers, your family, and friends. You can still provide the same value no matter what your visual ability is.
AFB Net Notes
AFB Launches Blind Leaders Development Program
People who are blind or visually impaired already hold professional leadership positions—every president of AFB since its inception being a notable example. But creating the significant systemic change AFB is pushing for requires improving representation of people with vision loss at the highest levels of leadership, influence, and responsibility. Participants in AFB's Blind Leaders Development Program will have a unique opportunity to develop their leadership effectiveness, expand their networks, learn from blind mentors who are already in leadership positions, and receive one-on-one professional coaching. Applications for both candidates and mentors opened August 1, 2019. Visit Blind Leaders Development Program to learn more.
AFB Receives Grant to Create Best Practices Guide for Hospitals Treating Patients Who Are Blind or Visually Impaired
Together with Cabell Huntington Hospital Foundation, AFB has received a $77,000 grant from the James H. and Alice Teubert Charitable Trust to conduct research on access to quality care for hospital patients who are blind or visually impaired. Cabell Huntington Hospital Foundation will disburse the funds for the program within the hospital system, and AFB will design and execute the program and develop best practices that can improve access and experiences for visually impaired patients in hospital settings. All guidelines will be provided in alternative formats, including braille, large print, and e-text, so patients or hospital staff with vision loss can easily access them.
Next
Focus on AFB: Summer 2019