AFB Prepares to Celebrate 100 Years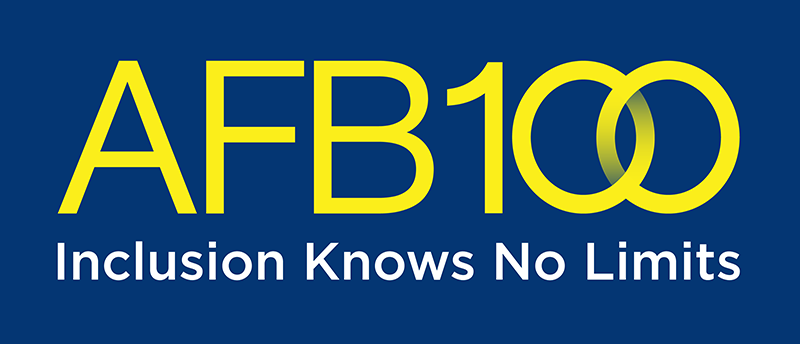 We're creating a series of events to spark joy and honor AFB's work — past, present, and future.
AFB is pulling out all the stops to honor our centennial in 2021, with a series of virtual conversations and special events that celebrate what we've accomplished and where we're headed in the future.
"This significant time in our world's history is an opportunity for everyone to reflect on how we can work toward a more equitable, just world," says Adrianna Montague, AFB's chief community engagement officer. "But especially in the time of COVID, it's underscored the fact that we're all interconnected. We all have a role to play in rebuilding systems so they're inclusive of everyone, including people with disabilities."
The goal of creating a more equitable world led to the theme for AFB's virtual centennial celebration: "Inclusion Knows No Limits." Every centennial event will incorporate this theme to start a dialogue about disability inclusion — including the ways sighted people can be part of the solution.
The AFB100 marquee gala in March will be a star-studded event hosted by disability rights activist Haben Girma. A remarkable woman and inspiring speaker, Girma will be joined by Grammy-nominated artists Amadou & Mariam, award-winning composer and pianist Matthew Whitaker, with other special guests to be announced. And because we are passionate about accessibility for all, we'll be providing captions and audio description so everyone can take part, whether they are deaf, blind, low vision, or hard of hearing.
During the gala, AFB will celebrate where we came from, with a spotlight on Helen Keller's world-changing achievements and our tireless work on disability rights, public policy, and the technological advancements that have opened doors and leveled playing fields for so many. We'll also honor where we are today by celebrating the 2020 Helen Keller Achievement Award winners: The American Printing House for the Blind, Procter & Gamble, and Chieko Asakawa, Ph.D., an IBM Fellow at the T. J. Watson Research Center and IBM Distinguished Service Professor at Carnegie Mellon University.
In addition, we'll showcase AFB's current programs before taking a look at where AFB is headed, spotlighting the ambitious agenda we've set for driving social change. But our AFB100 gala is only one aspect of our celebration. For example, in February we're hosting a virtual fundraiser: A Kitchen Date with Christine Ha. This event will celebrate the power of food and music in fostering a sense of community with a special menu created by Ha.
We'll also be hosting a series of virtual centennial conversations on topics such as the inclusive power of music; blind and low vision women in leadership; inclusion, intersectionality, and the future of work; and the importance of gratitude, courage, and joy.
Even more events will be announced in the weeks and months to come, which you can find on our website. There, you'll also find a series of portraits celebrating our AFB100 Ambassadors, who champion accessibility, equity, and inclusion. The images are being created by artist Angelica Frausto, aka Nerdy Brown Kid, especially for our centennial.
But to pull this off, we need your support. We've created a special category of sponsorships — Centennial Changemakers — but there are a variety of ways to partner with us to support our events and our future work. To learn more, contact Amanda Kolling.
"We have this incredible opportunity ahead of us and I think our world is really ready to create some change and focus on inclusion," Montague says. "But, we need our donors and supporters to rally — it takes every single person participating in the process to make it happen."
Back to top
---
Chef Christine Ha Brings Her Unique Culinary Style to AFB's Centennial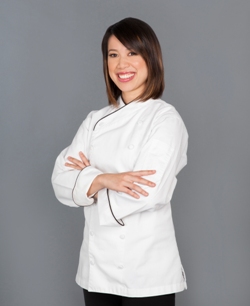 Known as "The Blind Chef," this "MasterChef" winner is cooking up something for our 100-year celebration.
For Christine Ha, learning to cook as a young adult was purely an act of survival. She was studying for a bachelor's degree in business, living in an apartment, and missed the meals of her childhood. Ha's parents were Vietnamese immigrants; her mother passed away when Ha was young, and never taught Ha how to cook. Sadly, Ha's mother didn't leave any recipes behind when she died.
So, Ha bought herself some cookbooks and taught herself how to cook. The rest, as they say, is history.
"The joy in cooking kind of sparked when I was able to cook something good and my friends and roommates would enjoy it," Ha explains. "I was interested in the idea of being able to take raw ingredients and turn them into a delicious meal, kind of a mix of art and science. That fascinated me, and my love for and interest in cooking just grew from there."
But as fate would have it, at about the same time Ha discovered her love of cooking, she was diagnosed with an autoimmune condition called neuromyelitis optica, which affected her optic nerve. As she lost more and more of her sight, she had to learn to adapt in the kitchen, starting with tasks as simple as making a peanut butter and jelly sandwich without getting peanut butter all over the counter. But she adapted quickly — and eventually her friends urged her to audition for "MasterChef," the competitive TV show for home cooks, judged by Gordon Ramsay. She ultimately won season three, which included a large cash prize and a cookbook deal.
Since then, Ha has published Recipes from My Home Kitchen — which became a New York Times bestseller — and opened two restaurants: The Blind Goat, a Vietnamese gastropub, and Xin Chao, a more upscale venue that debuted in September 2020, both in Houston. Ha says although her menus rely heavily on Vietnamese cuisine, various aspects of her life have influenced her culinary style.
"Growing up in Texas and everywhere I've traveled — I'm always interested in what people eat there because you learn so much about a community by what they eat — have all brought different flavors to my creativity in the kitchen," says Ha. "The restaurants are all modern Vietnamese with influences from Texas, America, and all over the world."
A 2014 Helen Keller Achievement Award recipient, Ha is playing a major role in AFB's centennial celebration (and will serve as a Centennial Ambassador).
"I think people miss connecting with each other more than anything right now, so this is an opportunity to connect with me and learn about my food philosophy and how I come up with my dishes," she says. "Plus, since winning 'MasterChef' I feel like I've been given this platform to do what I can for the betterment of society, and part of that is advocating for people like myself. AFB is working to advance the independence and lives of people who have vision loss, so I want to be part of helping with that."
Back to top
---
Research Continues to Drive AFB's Priorities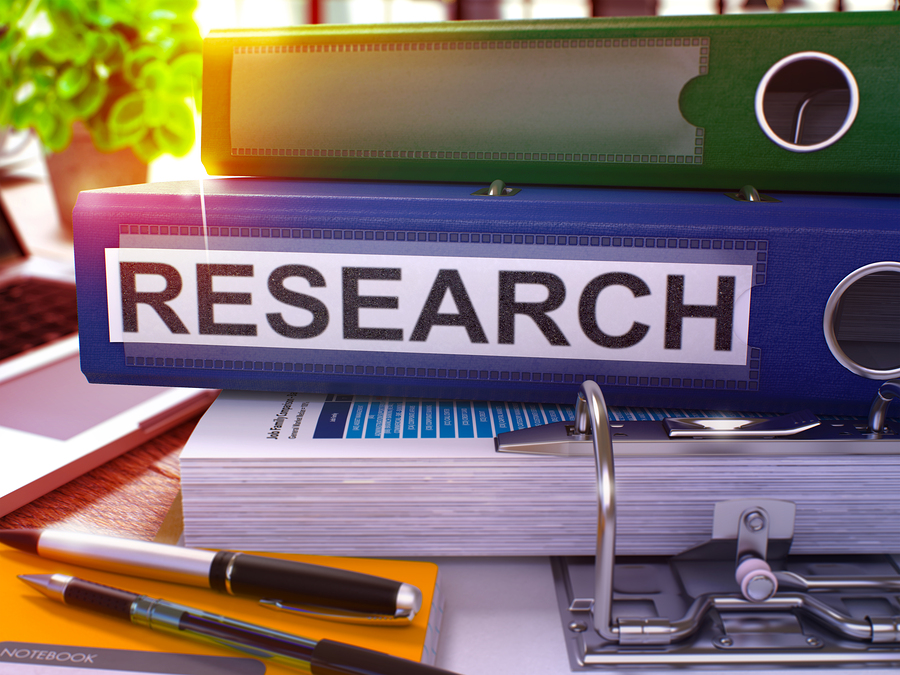 Studies on accessibility in education and employment can help shape the future.
At AFB, we strive to develop research-based solutions to increase inclusion and opportunity for individuals who are blind or have low vision. In addition to our Flatten Inaccessibility Study about the impact of COVID-19 on adults with vision loss, AFB's Access and Engagement Study investigated how the pandemic has affected students. Our research team gathered information from the family members and guardians of children who are blind or have low vision — including those with additional disabilities and deafblindness — as well as the professionals who work with them, such as teachers of students with visual impairments (TVIs) and orientation and mobility (O&M) specialists.
According to L. Penny Rosenblum, Ph.D., AFB's director of research, the results show that a continued lack of in-person education is creating barriers for students who are visually impaired. Of the TVIs who responded, 85% reported they had at least one student who was having accessibility issues.
"Many of the apps and websites both general and special education teachers are using are not accessible to students using screen readers or screen magnification technology," she says. "And for O&M specialists, whose jobs are very hands-on, many are having to develop unique ways to interact with students in a COVID world."
You can download the full report and find presentations from Dr. Rosenblum and AFB on our website, afb.org/AccessEngagement.
AFB also continues working with Cabell Huntington Hospital Foundation, thanks to a grant from the James H. and Alice Teubert Charitable Trust, to conduct research on access to quality care for patients who are visually impaired. Working with West Virginia hospital employees, AFB has conducted focus groups and interviews to examine the challenges people who are visually impaired experience when in hospitals and other healthcare settings. The data will be used to design training and toolkits for healthcare workers starting in mid-2021.
Another important research effort is the Workplace Technology Study, which examines how people who are visually impaired use technology in the workplace, and what barriers they experience that affect their productivity and career opportunities. This study will run through summer 2021.
"We've known for decades that people with vision loss are employed at a lower rate than typically sighted people, and sometimes maintaining employment can be problematic because of technology challenges they face," Dr. Rosenblum says. "This study will help build our knowledge base to consider ways to design mainstream and assistive workplace tools that are more inclusive of all users, including those who are blind or with low vision."
In a related initiative, AFB Consulting is conducting a study in conjunction with Mississippi State University to improve employment outcomes for people who are visually impaired by starting at the very beginning of the process: the application.
According to William Reuschel, director of client services and technical development for AFB Consulting, many companies use online applications, but not all of them are accessible. The research will explore the current state of accessibility and usability, identify the most common issues on these sites — such as unlabeled buttons and lack of alt text — and investigate what the user experience is like for people using assistive technology. The project is scheduled to run through September 2021.
"Through this research, we'll be able to draw conclusions as well as create a report card for each of these companies," Reuschel says. "That's a deliverable we can use to increase their awareness of the issues and let them know AFB Consulting is here to help."
Back to top
---
What Does the World Look Like to You?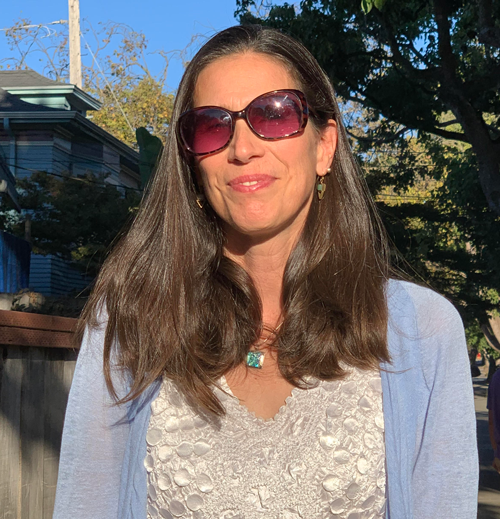 We continue our series asking people who are blind or visually impaired to share their real-world experiences.
Rachel Longan, LMFT, is a licensed marriage and family therapist with a private practice she started in 2015 in Berkeley, CA. She specializes in helping young adults, particularly people who are transgender or live with a disability. She and her wife have a 20-year-old son with an intellectual disability, which influenced her area of practice. She is a fellow in AFB's first cohort of the Blind Leaders Development Program, which she joined to push herself to grow in new directions. She's exploring ideas such as creating a nonprofit or working in policy, with the ultimate goal of filling the gap in support services that exists for people with intellectual disabilities once they graduate from high school.
When did you first experience vision loss?
It was 30 years ago, when I was in my 20s and I had a sudden spell of inflammatory uveitis. I had to stop driving and working at my job as a college admissions counselor, although if I had the skills I have today I wouldn't have had to quit work. Little did I know that my vision was going to get much, much worse, but my ability to deal with life was going to get much, much better.
What surprises people about your life?
That I am still optimistic and have a sense of humor even though I'm almost completely blind. I'm the same person I was before — and this is true for any disability: You're still the same person with the same coping skills, so I see the humor in everyday life experiences.
Have you ever been in a situation where people tried to put limits on your aspirations because of your visual impairment? How did you have to advocate for yourself?
When I decided to become licensed, the gatekeeper institution that administers the exam refused to let me use ZoomText, which is text enlargement software. I fought with them for months before finding a nonprofit that provided an attorney at no charge who found there was precedent: Someone who wanted to use ZoomText to take the bar exam won their case in court. On hearing that, the institution approved me using it.
What do you wish more people understood about what it means to be blind or visually impaired?
I wish people realized there's a spectrum of visual acuity in people with vision loss. I remember before I went blind, I thought everyone who used canes was totally blind, although I now use a cane even though I still have a little bit of vision.
What would true inclusion look like to you?
We are all human beings and have to help each other. I'd like to be able to visit any website I want and not feel like throwing my computer out the window because it's not accessible. I'd like to walk into a store and easily find someone to show me where the orange juice is. We should all have the same access to schools and education and public spaces. When I'm with a group of people looking at a flower, I'd like it to come naturally to them to say, "Rachel, we're looking at a beautiful flower" and describe it in detail — not like I'm a burden to them, but we're just sharing an experience.
Back to top
---
Have You Heard? AFB Now Has Its Own Podcast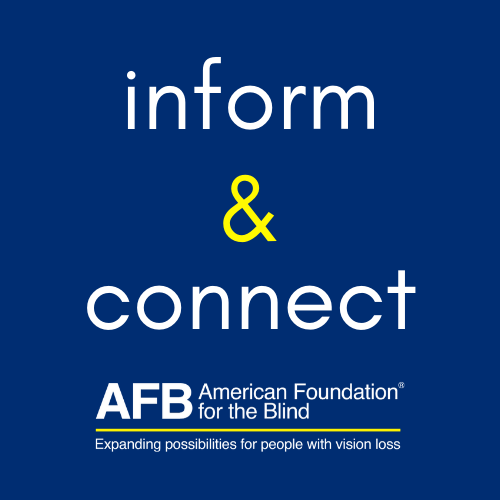 AFB has launched its own podcast, called Inform & Connect, born out of a series of weekly Zoom calls to foster togetherness and camaraderie within the blindness community during COVID-19. As the name suggests, the emphasis has been on learning and connecting through informal storytelling. Each week features a special guest who is blind or low vision, or has ties to the blindness community. Topics include audio description in film, blind entrepreneurs, fashion, poetry, modeling, and more, with many well-known names. You can listen via the AFB website (afb.org/InformConnect) or subscribe through your favorite podcast platform, including iTunes, Google, Anchor, and Spotify.
Back to top
---
The Year in Review: AFB's Annual Report Is Now Available
Although it's been a challenging year for everyone, AFB hasn't stopped working hard to achieve our goal of creating a world of no limits, where inclusion is the expectation — not the exception. As we do each year, we put together an annual report that highlights our key accomplishments, primary objectives, and most compelling stories. You can read a fully accessible version at afb.org/AnnualReport.
Back to top
Next
Focus on AFB: Fall 2020