---
Find out where the field is headed at the AFB Leadership Conference
The AFB Leadership Conference (AFBLC) has always been a priority destination for anyone working in the field of blindness and visual impairment. At the 2019 AFBLC, which runs from February 28 through March 1, attendees will learn about the timeliest topics in blindness from the best and brightest minds in the field and other relevant disciplines.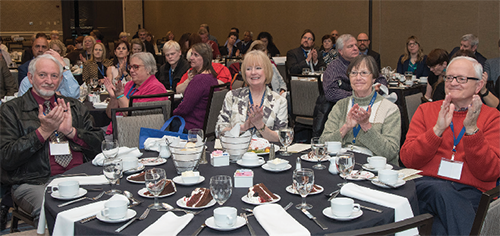 Conference attendees include technology experts, university professors, and researchers from diverse organizations and institutions across both the public and private sectors. Given AFB's focus on expanding employment opportunities for people with vision loss, there will be a more significant corporate presence at the 2019 AFBLC.
With aging and vision loss as another area of emphasis for AFB, there will be a robust agenda on aging, featuring several speakers from outside the field of blindness and visual impairment to address related issues such as dementia and fall prevention.
"As a pivotal gathering for those who want to influence the world of no limits we're creating for people who are blind or visually impaired, we've focused more than ever this year on our priority areas of employment, aging, and education," says Kirk Adams, president and CEO of AFB.
In addition to concurrent session tracks on aging and vision loss, employment, and education, the conference will include tracks on technology and leadership, which ties into AFB's new Blind Leaders Development Program.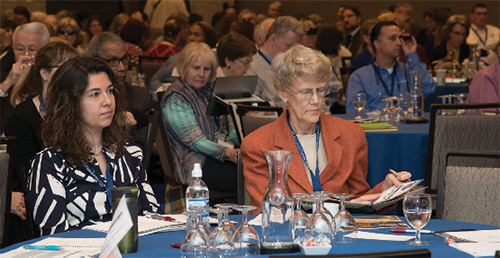 With research being an increasingly central component of AFB's work, AFB is pleased that the National Research and Training Center on Blindness and Low Vision at Mississippi State University will hold its State of the Science Conference on Employment for Individuals with Blindness or Other Visual Impairments during the 2019 AFBLC. The team will present findings from their six current employment-related research projects and lead the AFBLC session track on employment.
"We could have hosted our own conference, but collaborating with the AFB Leadership Conference gives our work a higher profile," says Michele McDonnall, Ph.D., CRC, a research professor and director of the center. "Our research is focused on discovering how we can improve employment opportunities and independent living outcomes for people who are blind or visually impaired, and given AFB's expanded focus on research we saw this as an ideal opportunity."
The general sessions will feature Erik Weihenmayer (see profile), who will talk about his philosophy of a No Barriers life—very much in keeping with AFB's No Limits mission; the presentation of the Corinne Kirchner Research Award; and a closing session featuring representatives of major corporations discussing the realities of recruitment, retention, and the changing workplace culture for people with disabilities.
"AFB is in the midst of a transformation process, and we're excited to share the latest details of where we are and where we're headed," says Adams. "If you want to be part of advancing the agenda for people who are blind or visually impaired, you should join us."
The 2019 AFBLC will be held at the Crystal Gateway Marriott in Arlington, Virginia. Learn more about the 2019 program at www.afb.org/afblc.
---
Honoring Those Creating a World of No Limits
The 2019 Helen Keller Achievement Award winners exemplify a commitment to inclusion.
Since 1994, AFB has recognized exceptional individuals and organizations that are making the world a more welcoming and inclusive place for people who are blind or visually impaired. This is certainly true for the recipients of the 2019 Helen Keller Achievement Award: Amazon, Northrop Grumman, and Washington State Lt. Gov. Cyrus Habib.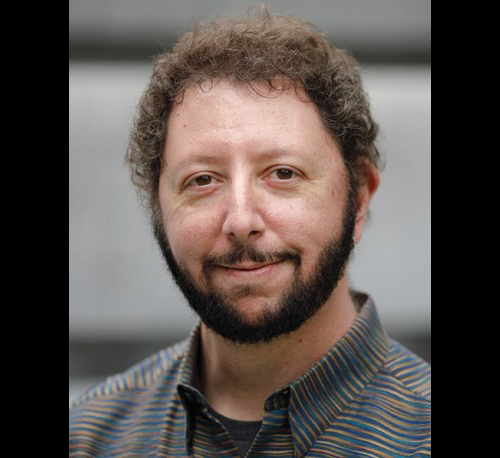 Amazon is being recognized for developing innovative products and services that benefit people of all abilities. Just a few examples include integrating its VoiceView screen reader into Kindle and Fire TV devices—plus integrating VoiceView with braille input and output support in Fire tablets—bringing audio description to hundreds of Prime Video titles, and pioneering audio interfaces with Alexa and the growing family of Echo devices.
"Years ago, we realized that a great many of the things we offered were especially important to customers with disabilities," explains Peter Korn, director of accessibility at Amazon Lab 126. "Well over a billion people around the world have a disability, including hundreds of millions of people with significant vision loss. It is incumbent upon us—and the right thing to do—to earn their business by making great, accessible products and services and experiences that delight them."
Northrop Grumman is being honored for its efforts to foster an environment that values diversity. The global security company has earned numerous awards for its commitment to inclusion, which involves a concerted effort to recruit and develop diverse talent—and encouraging those employees to pursue leadership positions, ensuring an inclusive mindset at every level of the organization.

"Northrop Grumman believes that creating a workforce and a workplace that values diversity and fosters inclusion is pivotal to promoting innovation and increasing productivity and profitability," says Sandra Evers-Manly, Northrop Grumman vice president of global corporate responsibility and president of the Northrop Grumman Foundation. "Enhancing disability inclusion, with an emphasis on accessibility, is essential to employees and also part of our focus. Our company is stronger together when we feel free to contribute diverse ideas, perspectives and talents."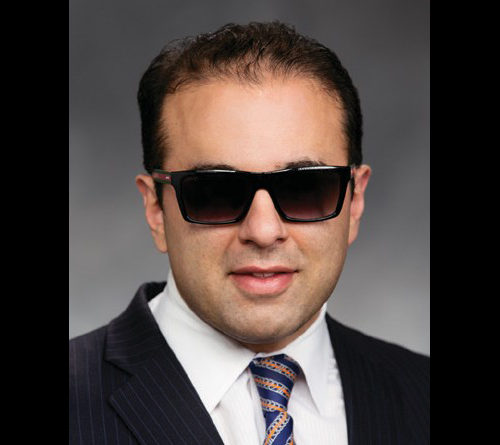 After losing his sight at age eight, Lt. Gov. Cyrus Habib has gone on to build an impressive résumé, including graduating from Yale Law School and working as a lawyer at Perkins Coie. Since beginning his career in public service in the Washington State House of Representatives and State Senate, Lt. Gov. Habib has dedicated his work to creating enriching environments for people with disabilities, with an emphasis on expanding higher education options to all students through greater accessibility.
"I didn't go from 'braille to Yale' on my own. I worked hard, but behind me was a community with the resources to support me," he says. "Unfortunately, there are plenty of people with challenges much greater than my own who don't have that kind of support. That's what moved me to run for public office: the recognition that our society should be an inclusive one, and for that to happen, those who are often left out need an advocate. My goal in public office is to be that advocate."
Congratulations to all the recipients, who will be honored at a special gala on February 27 at the Crystal Gateway Marriott in Arlington, Va. For tickets, visit www.afb.org/hkaa.
---
Reaching for the Summit
Inspiring people to achieve their full potential may be among Erik Weihenmayer's greatest adventures.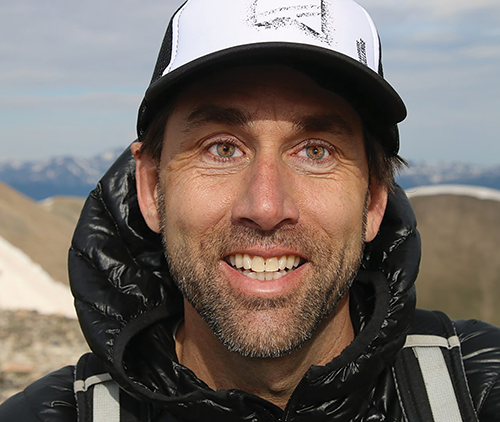 Erik Weihenmayer is many things: a world-class adventurer, best-selling author, film producer, international speaker and the founder of a nonprofit organization called No Barriers. He also happens to be blind—but that's never stopped him from reaching for his goals, including summiting Mt. Everest in 2001, making him the first blind person to do so, and kayaking the Grand Canyon, among many other adventures that have earned him numerous honors, including National Geographic Adventurer of the Year in 2014.
As a presenter at the 2019 AFB Leadership Conference (AFBLC) and the emcee for the 2019 Helen Keller Achievement Awards (which he received in 2003), Weihenmayer will undoubtedly motivate attendees as he does audiences worldwide. This is because he believes people can achieve anything they set their minds to, no matter what their abilities may be.
"There are so many people in the world, especially blind people, that are in 'dark places' they want to climb out of and they just don't know how," he explains. "I think we have to come together and look at challenges as challenges, and there are universal processes we can apply to break through these barriers, especially when we unite to solve each other's problems."
That's the philosophy that led him to establish No Barriers, which provides a variety of initiatives that help people with challenges tap into the human spirit, break through barriers, and contribute to the world. Weihenmayer considers himself fortunate to have been surrounded by people who have encouraged him to pursue his dreams—including organizations like AFB, which has been a part of his life since he was young, when he was featured in public awareness campaigns. He believes everyone can benefit from that kind of support.
Weihenmayer admits it required courage and innovation to achieve his goals, which have included completing the Seven Summits, the highest point on every continent — an accomplishment then shared by only 150 mountaineers.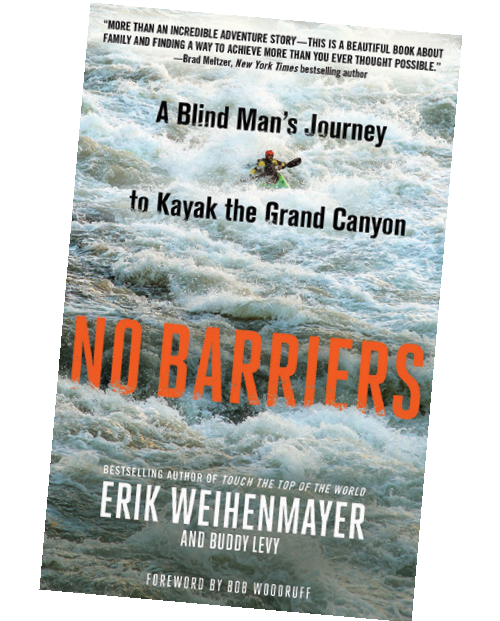 "I think it's a good thing for all of us to remind ourselves to be climbers," he says. "It doesn't mean you're climbing mountains, it just means you're pushing yourself beyond what's comfortable. When you step outside your comfort zone, you'll find that most anything is possible."
In his latest book, "No Barriers," he details the processes required for anyone to achieve something big.
"You have to pioneer things and forward-engineer new things, get the right people around you and connect with people—like the folks you'll meet at the AFB Leadership Conference—who will be major catalysts to your own growth and insights," he says. "I truly believe that if you keep an open heart to possibilities, you can reach for your dreams, whatever they might be."
---
What Does the World Look Like to You?
We continue our series asking people who are blind or visually impaired to share their real-world experiences.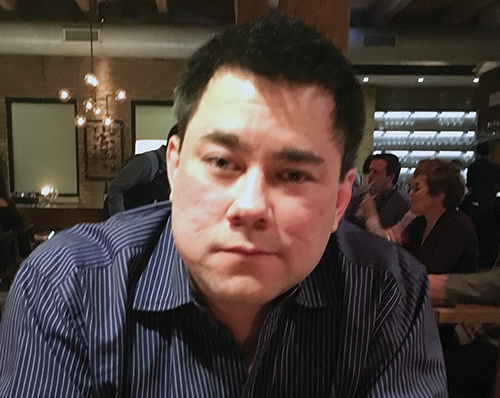 Jim Neitzel is the assistant director for call center planning and analytics at The Chicago Lighthouse. The organization's call centers are staffed by agents—including people who are blind, visually impaired, or have other disabilities—who take calls and handle scheduling and other inquiries for clients such as medical centers and hospitals. Neitzel came to this position with a variety of call center and entrepreneurial experience, including establishing and running a martial arts school and a food delivery business. He is still a martial arts trainer, primarily in Brazilian jiu-jitsu.
When did you first experience vision loss?
My vision loss began at the age of 4 and has progressed throughout my life. I was pronounced legally blind at the age of 36.
What surprises people about your life?
Honestly, the most surprising thing to people is that I can live independently. Using public transit and the assistive technology available today, I'm able to work, live, and travel without almost any assistance from others. It's been a very full life so far. I launched two successful small businesses and competed against fully sighted competitors in international martial arts competitions while dealing with a significant vision impairment. Today, I'm legally blind and overseeing more than half a dozen contact center business units. I travel frequently and use my passport at least once a year. I've especially loved Asia and some of my favorite destinations include Taiwan—where my mother was born —and Singapore.
Have you ever been in a situation where people tried to put limits on your aspirations because of your visual impairment? How did you have to advocate for yourself?
I can't think of any serious aspirations that were limited due to someone's perceptions of my vision impairment, so I consider myself lucky. I do my best to communicate and set expectations early if I feel that there will be a challenge, though. I've found that the more confident you are in your own abilities, the less room there is for uncertainty in others.
What do you wish more people understood about what it means to be blind or visually impaired?
I wish there was a greater understanding in the world about the capabilities of those with vision impairments. As my eyesight has deteriorated, I've seen how my other skills have sharpened. My inability to see clearly has made me a better listener, planner, and problem solver. I've learned to make better decisions in situations where limited information is available. We are missing an opportunity to leverage the skills of those with vision impairments because we cannot see beyond our own prejudgment.
What advice would you give people who are blind or visually impaired about living with no limits?
The world can only impose those limits we choose to accept. A vision impairment can often make tasks more challenging, but if we are willing to put in the work, anything is possible. Just be patient with yourself during this process because you will likely have to deal with your own preconceived notions about how the world actually works. Learn to enjoy the process, and the world will grow a bit larger for you and everyone around you.
---
AFB Net Notes
Coming Soon: A New and Improved AFB Website
This spring, AFB will unveil a redesigned website that will maintain the organization's proud history of accessibility, while making it even easier to find the wealth of information users have come to expect from AFB.org.
AFB was a pioneer in developing accessible websites, long before it was common practice. The new website will carry this tradition forward, using a system that has a working group devoted to developing ongoing accessibility improvements. What's more, the system's structure gives AFB an opportunity to contribute to future accessibility developments, in keeping with its mission of being a leader in creating a world of no limits. In fact, the site's accessibility extends to its back end, which only the developers and staff can see—meaning all the programming and editing functions are accessible to people who are blind or visually impaired.
What visitors to the website will notice is a fresh, clean look that uses high-contrast graphics and adheres to all accessibility guidelines, including functionality for screen readers. The content will be simplified and streamlined, maintaining the rich content users appreciate in the current site while making everything easier to find. Look for an article in the next issue of FOCUS introducing the new website and all its functionality in more detail.
AFB Needs Your Support All Year Long
As a nonprofit organization, AFB relies on donations to fulfill our mission of creating a world of no limits. And did you know that most of AFB's funding comes from individual donors instead of corporate sponsors? Contributions of any size make a difference, so please consider a tax-deductible donation. Learn more at www.afb.org/donate.
Next
Focus on AFB: Fall 2019