---
AFB Leadership Conference Returns in Person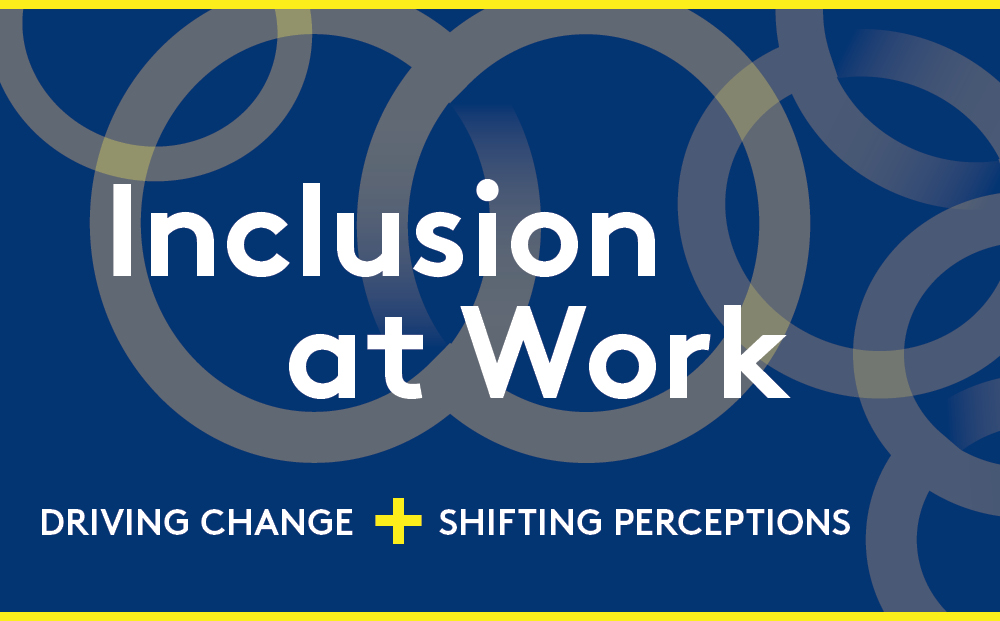 Join us for the high-quality sessions you've come to expect, plus some exciting new additions.
AFB is thrilled to be hosting our annual AFB Leadership Conference (AFBLC) in person for 2022. The conference is set for May 2-3 at the Hyatt Regency Crystal City in Arlington, Virginia.
The theme for the 2022 AFBLC is "Inclusion at Work: Driving Change + Shifting Perceptions," underscoring AFB's commitment to diversity, equity, inclusion, and accessibility. AFB continues to lead the way toward creating a world that recognizes the full potential of people who are blind or have low vision.
"The 2022 AFB Leadership Conference will be different. There will continue to be many opportunities to interact and collaborate," says Sylvia Stinson-Perez, chief programs officer. "But attendees can also look forward to some exciting new conference activities."
As always, the 2022 AFBLC will bring together leaders from a wide range of fields, including research, technology, education, corporations, health, and government organizations. The sessions and networking opportunities will give attendees the chance to learn about the latest best practices, refine their leadership skills, identify inclusion practices that work, and share challenges and solutions.
The Tech for Social Good team from JPMorgan Chase is facilitating an "Idea-athon." This highly interactive activity will give attendees a chance to help AFB focus on goals and action items everyone can work on together to improve inclusion at work, Stinson-Perez says. This year's tracks will focus specifically on diversity, equity, inclusion and accessibility and feature experienced moderators from some of your favorite news publications.
"Our hope is that more open breakout sessions will bring together people from across sectors, because they'll have interest in the topic and be able to figure out how they apply that to their specific work," Stinson-Perez says. "Conference attendees will have the opportunity to find intersections between their work, such as policy and education, digital inclusion and customer service, blindness rehabilitation and employment research. Let's reduce silos and find ways to create real inclusion for all."
The 2022 AFBLC will also feature two stellar keynote speakers: Sachin Pavithran, PhD, executive director at the United States Access Board, and Catarina Rivera, MSEd, MPH, CPACC, a dynamic speaker, trainer, workshop facilitator, and DEI consultant. Dr. Pavithran's keynote will focus on disability rights in and out of the workplace and Ms. Rivera's keynote will be titled "There Is No DEI Without Disability: The Future of Work Must Prioritize Disability Inclusion." The conference will feature many outstanding presenters on panels and in smaller breakout sessions.
In addition, the centennial cohort of the Blind Leaders Development Program will be attending and volunteering at the conference—just one of the many ways the program provides opportunities to build confidence in their leadership and professional networking skills.
Along with networking opportunities and exhibits, the 2022 AFBLC will continue to feature the presentation of AFB's annual awards: the Migel Medal, Corinne Kirchner Research Award, and the new Llura Gund Leadership Award, which recognizes an outstanding leader who has benefited from one of AFB's employment initiatives.
We care about your health and safety. Proof of vaccination is required to attend the AFBLC. It's not too soon to register – and you can stay updated as the conference details unfold, all in one place: afb.org/AFBLC.
Sponsorship opportunities also remain available, offering many terrific benefits. For details, contact Amir Rahimi at arahimi@afb.org.
Don't miss your chance to gather and be part of creating greater inclusion at work.
Donor Corner: Helen Keller Inspires Planned Gift of More than $1 Million
We continue our periodic series highlighting donors who are supporting AFB's work.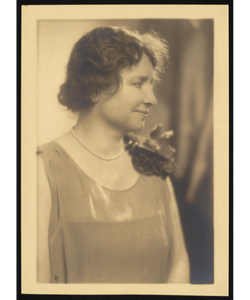 Sometimes, one encounter is enough to change someone's life plan. In 1925, Helen Keller visited Toledo, Ohio, as part of a tour of the United States in 1924 and 1925—one of countless tours she took around the world as an advocate, ambassador, and fundraiser for AFB. During her visit, she met with more than 150 deaf and blind children. She shared stories of how she learned to speak, told them of the beauty in the world, and provided inspiration to everyone she met.
The children weren't the only people moved by Keller. Zorah Bowman, a nurse who lived in Toledo, met Keller during her tour. Bowman later corresponded with Keller, and recalled having the "pleasure" of taking her from the hotel to the theater and back. Bowman went on to write about the experience of meeting Keller and learning of her work with AFB.
"That evening registered the manner in which the work for the blind was being done as very fine and worthwhile and have helped the Foundation as I could ever since," Bowman wrote. "I have been an alone person for many years and have always been especially interested in the handicapped. As I have always been on our District Nurse Board, that has been my special work. Their courage and patience has been of infinite help to me, and you have been an inspiration to the whole world. My property, which the Toledo Trust manages for me, is to pass on in annuities, first to individuals but eventually to tried and true organizations of which the American Foundation for the Blind is one." (Read the full letter in the digital Helen Keller Archive.)
In her trust, written in 1928 and amended over the years, after paying for her own needs and bestowing financial gifts to a long list of relatives, friends, and charitable organizations, Bowman designated a portion of funds to be paid annually on the anniversary of her death to four organizations. One of these was the American Foundation for the Blind, which received one-sixth of these earmarked funds. The first payment from Bowman's estate, received in 1991, was $10,026. Over the years, AFB has received 31 gifts from the estate totaling $1,658,893.15, with another payment in late 2021 of $139,000.
AFB is deeply grateful for this generous donation, which demonstrates the power of planned giving. It gives everyone the opportunity to make what is often the most substantial charitable gift of one's lifetime—even after leaving significant sums and property to family and friends. Bowman established a formal trust, but there are many ways to make a planned gift, including in your will.
By sharing your estate plans and intentions with AFB now, you allow us to celebrate you and your gift while at the same time securing the future of the organization. These gifts are vital to supporting AFB's work to create a world of no limits for people who are blind or visually impaired—work recognized by people like Bowman for 100 years and counting.
To learn more about various ways to establish a planned gift, visit afb.org/PlannedGifts or contact Suzette Williams, Resource Development Coordinator, at (212) 502-7621 or swilliams@afb.org.
AFB's Workplace Technology Study Shows Need for Greater Accessibility
After releasing one of our most significant research studies to date, AFB is now working to share the findings with those who can drive improvements.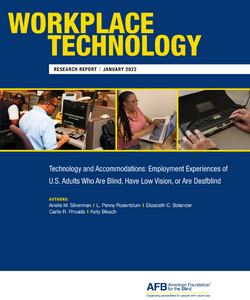 After nearly two years of work from concept through research and completion—and the efforts of many skilled AFB researchers—AFB released our Workplace Technology Study in January 2022. Accessible HTML and PDF versions of the report—Technology and Accommodations: Employment Experiences of U.S. Adults Who Are Blind, Have Low Vision, or Are Deafblind—are available at AFB.org/WTS.
The research study was guided by one overarching question: How does technology and the need for accommodations shape the employment experiences of U.S. adults who are blind or have low vision? The report represents the responses from 323 survey participants who were employed in February 2021, and 25 interviews. Information gathered from the participants included their experiences with technology used for hiring and onboarding, required work-related training, productivity tools, workplace accommodations, interactions with Information Technology (IT) staff, and teleworking.
Unfortunately, many participants reported having significant issues with workplace technology, accessibility, and accommodations. "A rigorous research process provided a window into how people cope with digital exclusion in the workplace context," says Stephanie Enyart, AFB's chief public policy and research officer. "Now we can translate what we learned into actionable steps that can transform and eliminate these barriers."
The recommendations in the report are aimed at three primary audiences: technology developers, IT managers, and Human Resource (HR) managers. Starting with the report release in January, we began releasing a series of blog posts exploring the study's themes, and are working on short videos, action-item lists, and conference presentations featuring strategies to improve accessibility policies and procedures in each area of work.
"So many people understand that diversity, equity, and inclusion is something that needs attention," Enyart says. "But this needs to extend to accessibility and inclusion of people with disabilities."
As AFB works to share the report findings with the three key audiences, we're targeting actionable changes. For example, HR and people managers are responsible for ensuring that all employees are efficient, effective, equipped, and equally compensated throughout the employment experience—from application to onboarding to professional development to benefits navigation.
Both HR and IT managers have a responsibility to uphold Sec. 12112 of the Americans with Disabilities Act (ADA): "No covered entity shall discriminate against a qualified individual on the basis of disability in regard to job application procedures, the hiring, advancement, or discharge of employees, employee compensation, job training, and other terms, conditions, and privileges of employment."
Yet many study participants often had to wait for accessible versions of materials, if they received them at all, or were sometimes even afraid to ask for them—even though it's their right under the law. "HR managers and others should understand that these findings expose important gaps in how current practices measure up to long-standing legal obligations," Enyart says. "We now have evidence that will inform how practices should improve." AFB will also use the findings to push for even stronger legislation to ensure digital inclusion for all.
We are grateful to the companies who helped fund this research, including eSight, Google, Hadley, JPMorgan Chase, LCI Foundation, Microsoft, James H. and Alice Teubert Foundation, and Vispero.
What Does the World Look Like to You?
We continue our series asking people who are blind or visually impaired to share their employment journeys.

Jeff Blair is a mentor in AFB's centennial cohort of the Blind Leaders Development Program (BLPD). He worked at IBM from 1967 to 1997, starting when he was still sighted, leading the risk assessments of large, complex computer installations. As his vision faded, he continued in project leadership and strategic planning positions, ultimately creating his own job descriptions and performance plans, with the approval of his manager, to maximize his contribution to IBM's success. He represented IBM at various health committees and conferences, and in 1997 was appointed by the U.S. House of Representatives to a federal advisory committee that ultimately led to the funding needed to transition the healthcare industry into the information age. He went on to serve as director of Health Informatics at Lovelace Clinic Foundation for six years until his retirement in 2012.
When did you first experience vision loss?
In 1963, when I was 21 years old and in my junior year of engineering school, the vision in my left eye faded away due to glaucoma. I had surgery on both eyes, but it was too late to save the vision in my left eye. However, the vision in my right eye recovered to about 20/40. In the 1980s the vision in my right eye began to fade, and I was totally blind by 1990.
What surprises people about your life?
Probably the most surprising was that I became the project leader of the federal advisory committee that resulted in more than 90% of hospitals using Electronic Health Record Systems today, compared to only 10% when the funding legislation passed.
Have you ever been in a situation where people tried to put limits on your aspirations because of your visual impairment? How did you have to advocate for yourself?
When I finished graduate school and applied to different information systems companies, some turned me down because I was already blind in one eye and they told me it was too big a risk for their insurance companies. But my first-choice company—IBM—did not turn me down. From the beginning I noticed their diversity and commitment to non-discrimination, even if the word "inclusion" wasn't used at the time. When I lost all my vision, everyone including myself wondered if I could continue delivering healthcare presentations as I'd been doing. But I did so successfully over the next 10 years.
What do you wish more people understood about what it means to be blind or visually impaired?
I wish people would relate to blind people as individuals. The blind experience affects every person differently. The blind community is full of many people possessing different skills, strengths, and limitations—just like everyone else. I am very impressed with AFB and the BLDP because they're helping people have the self-confidence to be a leader, which for many blind people is a major limitation to their success.
What would true inclusion look like to you?
When the public, including employers, become more aware that there are some blind people who have already proved they are as productive, or even more productive, than many sighted people. When we remove more barriers to blind employment by providing appropriate accessibility tools, permitting flexibility with job descriptions and performance plans, and considering things like transportation. And when more blind people have the training they need to grow their skills and self-confidence so they can handle more roles and responsibilities, especially when the work environment changes.
News
AFB and Coalition Urge Federal Rule on Digital Accessibility
AFB, along with our colleagues at the American Council of the Blind (ACB), the National Federation of the Blind (NFB), and the National Disability Rights Network (NDRN), urged the Department of Justice to finalize a rule on web and application accessibility before the end of the current administration. In late February, the coalition sent Assistant Attorney General Kristen Clarke a letter signed by 181 organizations from across the disability and civil rights community.
When websites and applications are inaccessible, people with disabilities can't apply for jobs, work efficiently, attend school, access healthcare, schedule a ride, shop, find public health information, apply for public benefits, gather socially, and more.
"The blindness community has long pushed for requirements for businesses to include people with disabilities in their digital workplaces and platforms," says Stephanie Enyart, AFB's chief public policy and research officer. "Our unity in supporting these regulations demonstrates just how critical this effort is for advancing equality and equity for blind and low vision people in a modern, digital society."
Although the U.S. Department of Justice has stated that the Americans with Disabilities Act (ADA) includes websites and other technologies that are essential to accessing a business's or agency's services or facilities, it has not defined when and how they should be accessible. At the same time, the business community has requested clarity on creating accessible websites and meeting its obligations under the ADA. The lack of regulations and guidance has meant ongoing exclusion of people with disabilities from digital spaces. Finalizing a rule on web and application accessibility would allow the millions of Americans with disabilities the same rights as their non-disabled peers.
Next
Focus on AFB: Winter 2021