---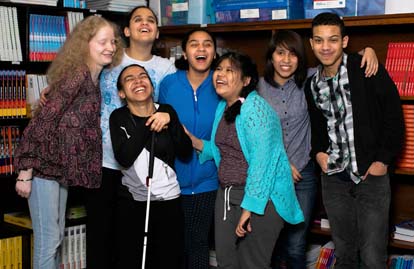 Donations of All Sizes Empower AFB to Create a World of No Limits
A group of middle-school students who donated $333 to AFB from a movie night fundraiser. A planned gift of nearly $96,500 from a woman who had macular degeneration and trained as a surgical nurse during WWII. A new sustaining donor who pledged regular donations because he's blind and has found AccessWorld to be very helpful. A family foundation, which has donated to AFB since 1984, and is named for a physician who started an eye bank for cornea transplant tissue. A gentleman who recently sent in a small donation with a note saying "Lost sight in my right eye when I was 5. Know what loss of vision is all about! Keep up your good work."
These are just a few examples of the many ways people support AFB's important work with gifts both large and small. Organizations like the Delta Gamma Foundation (see story below) and major corporations, like JPMorgan Chase, donate to AFB. But most of AFB's support comes from individual donors, usually in small amounts.
"Every dollar counts," says Adrianna Montague, AFB's chief community engagement officer. "No donation is too small. AFB needs all the support we can get to carry out our work of creating a world of no limits."
So how exactly does AFB use the funds we receive from generous donors? AFB is focused on three areas—employment, aging and vision loss, education—that are essential to making every aspect of the world inclusive for people with vision loss.
"It's our mission to create a world where, if you are blind or visually impaired, you have the same opportunities as people who are sighted," Montague says.
One of AFB's priorities right now is employment. We use some of the funds we receive to research models and programs, and to develop initiatives strategically that will best improve the currently low employment rates for people who are visually impaired.
For example, AFB is launching our Blind Leaders Development Program, which will mentor and train the next generation of leaders who are blind, with support from American Express and others.
"There aren't a lot of people who are blind or visually impaired in leadership positions right now," Montague says, "but studies show that when you have more representation, you create more opportunities for others."
In addition, AFB is hosting a series of Employment Summits, also supported by corporate donations, to bring together cross-sector groups in various areas of the country to develop new approaches to improving employment opportunities.
Plus, donations help support the work of AFB's public policy team, who make regular visits to Capitol Hill to ensure that key legislative decisions are made with the interests of those who are blind and visually impaired in mind. AFB knows transportation is an issue that affects both older adults and working people with vision loss which is why we are building a new transportation initiative.
AFB received funding from Volkswagen Group of America for a research project called Visually Impaired Seniors' Independent Travel Opportunities and Resources (Project VISITOR). Currently in the second of two phases, Project VISITOR is a study to identify current promising practices, challenges, and solutions related to transportation for seniors with vision loss in rural, suburban, exurban and urban areas. AFB is also studying programmatic and legislative changes that could strengthen paratransit programs and improve rider experiences.
"As we approach our 100th anniversary, AFB has already made a tremendous impact on our society thanks to the generosity of our donors," Montague says. "But we still have a really long to-do list to tackle so we can ensure people who are blind or visually impaired are included in the future."
AFB Looks to the Future With 2020 Leadership Conference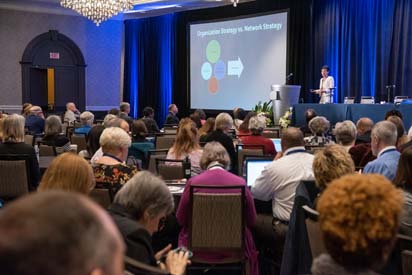 Registration is now open for the can't-miss gathering of the year.
For those working in the field of blindness—from university researchers to nonprofit leaders—as well as those devoted to employment inclusion, working with older adults, accessible technology, and much more, the annual AFB Leadership Conference (AFBLC) is the place to be.
"20/20 Vision Forward" is the theme of AFBLC 2020, which will be held March 26 and 27 at the Crystal Gateway Marriott in Arlington, VA. As it does each year, the conference will cover the most important and topical issues in the field of blindness, attracting established and emerging leaders from diverse organizations and institutions spanning the public and private sectors.
Although program details are still being finalized, George Abbott, AFB's chief knowledge advancement officer, says the 2020 AFBLC will have something to offer every stakeholder group that engages with the field of blindness.
There will be five tracks that align with AFB's strategic focus areas: education; aging and vision loss; leadership; technology; and employment. The AFBLC will include three general sessions, one of which will be led by Joseph E. Hines, Ph.D., the president and CEO of Success Business, Inc., who will speak about the 10 principles of successful leaders.
"I think that's going to be a fantastic keynote speech," Abbott says. "I've seen him conduct workshops on leadership and he's really sharp and engaging."
Dr. Hines will also lead some breakout sessions in the leadership track, which will dive deeper into the values that research has shown are demonstrated by the most effective leaders. This complements AFB's new Blind Leaders Development Program, which is intended to prepare more people who are blind or visually impaired for leadership positions.
In the employment track, there will be a breakout session featuring JPMorgan Chase & Co., where panelists will discuss best practices in creating a corporate culture of disability inclusion.
AFB is also dedicating a breakout session in the aging track to vision loss and dementia. "That was a really popular topic last year and people couldn't get enough of it, so we're bringing it back and devoting even more time to it," Abbott says. "We want to help the professionals who work with people with dementia or vision loss understand how the two professions can collaborate and support each other in providing the excellence and service that's needed."
Returning for the first time in several years, the 2020 AFBLC will include a networking and refreshments reception for all attendees on Thursday night.
Don't miss the chance to learn and enjoy the company of others working to create a world of no limits! For the latest updates to the agenda or to register, visit www.afb.org/afblc.
AFB is Near and Dear to the Delta Gamma Foundation's Heart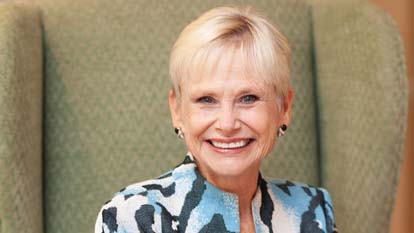 Executive Director Roxanne LaMuth is passionate about the Foundation's dedication to helping others.
Roxanne LaMuth, executive director of the Delta Gamma Foundation, proudly wears her Delta Gamma Anchor badge every day. She has always taken pride in embodying the values that characterize the sisterhood of Delta Gamma, whose motto is "Do Good."
There's no question the Foundation does a great deal of good, especially through its Service for Sight philanthropy. Established as the Foundation's official philanthropy in 1936 by a member who was blind, Service for Sight supports the five schools founded by Delta Gammas for children who are visually impaired and other North American organizations that promote sight preservation and work with people with vision loss.
The Delta Gamma Foundation has been a generous benefactor of AFB since making its first grant of $100 in 1951—a figure that's now grown to more than $500,000 over the years. The Foundation shares AFB's commitment to creating a world of no limits, particularly in AFB's priority area of education.
"There's nothing that gives the Delta Gamma Foundation greater pride than making a difference in the lives of others," says LaMuth, who has been executive director since 2014 and has served in various roles there for over 15 years. "The business of our Foundation is to touch hearts and change lives. And when you consider the beautiful partnership of AFB and Delta Gamma, who are united at the heart, we are doing just that."
One of the most significant contributions the Delta Gamma Foundation makes to AFB and the AFB mission has been ongoing since the AFB Leadership Conference (AFBLC) began. Each year, the Foundation sponsors the attendance of up to 12 Delta Gamma Fellows who are studying in the field of blindness. Universities across the country nominate one outstanding student currently enrolled in a graduate-level program for teachers of people with vision impairment, rehabilitation professionals, researchers, or other blindness-related vocations. The AFB selects the recipients, some of whom are visually impaired themselves. Those who are selected are able to attend the AFBLC accompanied by a faculty member, all at no cost.
"We are thrilled that our support has provided generations of teachers with valuable professional development and networking opportunities, which in turn has strengthened our education system for children who are blind or visually impaired," LaMuth says.
The Service for Sight philanthropy also provides service hours to assist AFB and other organizations in the field. In the 2018-2019 academic year/fiscal year Delta Gamma alumnae and collegians across North America donated more than 240,000 service hours, including volunteering at the AFBLC.
"We are serious when we talk about supporting Service for Sight," LaMuth says, adding that in 2018, the Foundation granted a total of $920,000 to national and local organizations that share the Foundation's mission of advocacy and accessibility for people who are blind or visually impaired. "It's part of our heart and soul."
What Does the World Look Like to You?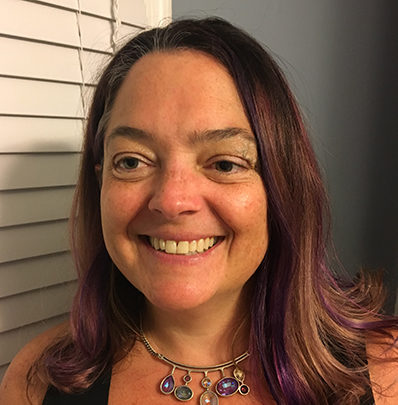 We continue our series asking people who are blind or visually impaired to share their real-world experiences.
Melody Goodspeed is AFB's major gifts specialist. Before starting her career here as the manager of executive office, Melody had a variety of experiences, including teaching grade-school children with special emotional and learning needs. After losing her vision, she moved into contract management but didn't find it fulfilling. She went on to work at National Industries for the Blind (NIB), which led to her meeting AFB President and CEO Kirk Adams and joining our organization.
When did you first experience vision loss?
In 2003, when I was 26 years old, I woke up one morning with pinhole vision. I rushed to the doctor and learned I had an undiagnosed blood clot in my brain, which put pressure on my optic nerves. Despite emergency surgery to relieve the pressure, it was too late. I lost all my vision, even light perception.
What surprises people about your life?
There are many facets of my life that surprise people! Like the fact that I have two children and I'm married to someone without a disability. Or that I have a full-time job and a side business selling jewelry. People don't even have a concept of how I use a phone or could pour hot water into a tea cup, and they don't understand why I have such a passion for life despite being blind
Have you ever been in a situation where people tried to put limits on your aspirations because of your visual impairment? How did you have to advocate for yourself?
As a person who is blind, you are constantly advocating for yourself. You're constantly finding workarounds. I think we're very creative and innovative, because we're always looking at things in different ways to get around or do things. I've had five employers since losing my sight, and it did not come from me just walking in. I had to explain adaptive technology and really advocate for that, except of course at NIB and AFB.
What do you wish more people understood about what it means to be blind or visually impaired?
When I got my first guide dog, a wonderful man in his late 70s said to me, "Do you know what it means to be blind?" I said yes, but he said, "I don't think you do. The only thing it means is that you can't see very well." I wish people understood that. I wish more people would sit down with me and ask questions so they understood that. I also wish they knew that if I need some help, I'll ask. Otherwise, unless I'm about to walk into a wall, know that I'm capable of doing anything.
What advice would you give people who are blind or visually impaired about living with no limits?
Understand that you are a beautiful person who has so much to offer. You can live life with no limits and embrace the creativity that lives inside each one of us. That will open up a world of unlimited vision and we can all be ambassadors for ourselves. That's part of why I'm so excited about the work I'm doing with AFB. They've done so much for me, and I love how we think outside the box about everything that's possible.
Net Notes
U.S. Supreme Court Upholds Website and App Accessibility
On its first day back in session in October, the U.S. Supreme Court declined to hear Domino's Pizza's appeal of a lower court's ruling that it must make its website and app accessible. AFB applauds this common-sense affirmation of long-standing precedent. The Americans with Disabilities Act (ADA) has been the law of the land since 1990, and the Department of Justice first articulated its interpretation that the ADA applies to public accommodations on websites more than 20 years ago. Full participation in American life is increasingly dependent on use of the Internet—and making websites and apps accessible is easier than ever before. AFB is heartened that the U.S. Supreme Court recognizes the importance of the civil rights protections outlined in the ADA. To keep up with the latest news that affects people who are visually impaired, follow AFB on Twitter, Facebook, and LinkedIn.
AFB Makes a Media Splash for National Disability Employment Awareness Month
To raise awareness of employment issues facing people with disabilities, AFB President and CEO Kirk Adams penned an op-ed sharing his personal experience of struggling to find employment as a person who is blind, despite graduating with honors. Adams describes how he ultimately succeeded—and how AFB is working to help others do the same. His story ran in The Seattle Times and you can read it on the AFB website at www.afb.org/Kirk-Adams-Op-Ed. AFB also celebrated others who have achieved similar success with an article that appeared in BuzzFeed entitled "12 Blind Leaders You Should Know (Who Aren't Helen Keller)," which you can also read on the AFB website at www.afb.org/buzzfeed.
Next
Focus on AFB: Winter 2019