The days of writing checks and balancing paper statements may be over…but mostly that's because these days it is ever so much easier to accomplish these tasks using a debit card, along with a growing selection of accessible financial resources available both on your computer and your mobile device.
Accessible ATMs
If you're like most people, it's been awhile since the last time you actually stood in line to speak with a human bank teller. These days most of us choose to use ATMs to do a large portion of our banking.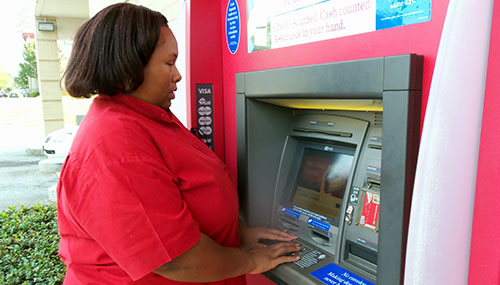 Today, over 100,000 ATMs across the US can be operated using speech. Most major banks, including Bank of America, Wells Fargo, Chase, and Citibank install accessible ATMs exclusively.
To begin an accessible banking session at most Talking ATMs, all you need to do is plug any set of standard, 3.5mm headphones into the jack. The talking ATM will automatically switch to accessibility mode, and prompt you with audio instructions on the keypad layout of the machine and how you can use it to complete various banking transactions privately and securely.
To find a Talking ATM near you, check your bank's website or mobile app, or call their customer service hotline.
Banking Online
Doubtless your bank provides Internet access to all your checking, savings, and credit card accounts. It may also offer both Android and iOS mobile apps you can use to check your balance and perform other banking tasks on the go. Most of these websites and apps are quite accessible, especially those offered by the major financial institutions where a larger customer base provides the economy of scale to hire staff to work on accessibility programming and maintenance. Many banks offer links to their accessibility policies, and special links that will lead to detailed instructions describing how to use their online resources with a screen reader.
If you bank with a smaller institution and have trouble using their website or mobile app, ask customer service for accessibility guidance. If that fails, ask to have your issue escalated to someone more knowledgeable about screen reader access. If they are unable to do this, give serious consideration to switching banks.
Online Bill Pay
Most mortgage and insurance companies, along with others who bill you regularly, offer the ability to have your payment automatically withdrawn from your checking account via bank draft. Other companies let you pay your bill by phone, using the dial pad to enter your checking or credit card account number. This latter option is great for last minute payments to avoid a late fee, but now that you are an accessible computer or mobile device user, there is a much better way to pay your bills: online bill payment.
Nearly every bank and credit union offers online bill payments. If yours does not, change banks immediately. The time and expense you save making payments online or via a mobile app will quickly make up for the inconvenience of moving your accounts.
To use online banking, first you must enter at least one payee. This can be done easily on most bank websites, and on many bank mobile apps. Usually, a searchable list of hundreds of companies you might wish to pay online is provided, with their payment addresses and other information already plugged in. From your local power company to your cell phone service provider, it's likely the only information you will need to enter is your account number, which you may need sighted assistance to find on your latest print bill. If a company whose bill you wish to pay is not already in the bank's payee database, you may also have to enter their billing address and phone number.
Having entered your various payees, it's a simple matter to accessibly pay your bills. You can enter the amount for power bills, credit card payments, and other bills that vary month to month by amount, select the date you want the payment sent, then press the "Pay this bill" or "OK" button. For rent payments, insurance premiums, and other same-amount payments, you can set up a recurring payment plan and have the bank automatically send out the funds monthly, quarterly, the first Friday of every month, or any other time frame you wish. Most bills are paid within two days, though payees you enter yourself may take up to ten days. Bill pay services are usually free, making paying your monthly bills accessible, and saving you time and money for envelopes and stamps to boot.
Want to make your bill paying even more accessible? Check your bank's bill payment page for the ability to accept eBills. You will need your account number, and perhaps a code number printed on your latest paper bill from the payee. Once you've entered this information, your bank will receive copies of all future bills and notify you via text or e-mail when each new bill has arrived. You can take a few minutes to pay it right away, or set auto-pay to instruct your bank to pay this bill automatically.
Even if a particular bill isn't available to your bank via eBill, the chances are excellent that if you create an account on the payees website, you will find instructions on how to change your billing from paper to electronic bills. When you elect to receive electronic bills, the company will stop sending you paper bills, and instead send a bill notice via e-mail, and either your entire statement attached in PDF form, or a link where you can download your statements, current and past.
Accessible Bank and Credit Card Statements
As mentioned, many companies will now send bills and account statements via e-mail or provide a download link from their website. Your bank and credit card statements are also available online. You can accessibly review these statements for fraudulent charges and other errors. Using the website you can stay right on top of transactions in nearly real time, and the monthly statements you download file much easier on your computer than in braille labeled envelopes stuffed full of printed materials you need sighted assistance to review.
In days of yore, when people wrote dozens of checks every month, most people used their monthly bank statement as a reminder to balance their checkbooks. This enabled you to see how much you actually had in your account, since the stated amount did not provide for incorrect entry amounts you added to your check register and any checks you had written and sent, but which had not yet been cashed. Today, with the ubiquitous use of debit cards and online bill pay, you are less likely to have outstanding checks to account for, and since your registry is stored and calculated online, arithmetic errors are nearly nonexistent. Debit and credit card transactions post nearly immediately, and any pending online bill payments can be easily viewed in your bank's upcoming payments section.
Balancing your checkbook is no longer quite the necessity it once was. An occasional quick peek at your bank's website or app is all it takes to stay on top of your financial situation. There are still those who prefer a more hands-on approach to their financial record keeping, however, and if you are one of these individuals, the news is mixed. The most popular finance tracking program, Quicken, has historically suffered from accessibility issues that make it difficult for screen readers to use effectively. There is at least one accessible alternative, however. Money Talks for Windows, available for $39 from the American Printing House, is a self-voicing bank account management application that will enable you to accessibly balance your accounts, label budgeted expenses, and even print checks.
With all of these financial resources available to you on your screen reader enabled computer or mobile device, it would appear that the only financial question left unanswered is, "Is this a $5, $10, or $20 in my hand?" You could create a strategy of different pockets, or different methods of bill folding, to keep your legal tender separate so you can tell one denomination from the other. Or you can read Accessible Identification Systems for People Who Are Blind or Visually Impaired for information on how to distinguish one bill from another without sighted assistance.