As we mentioned earlier, it is difficult these days to search for any consumer product without finding an Amazon link near the very top of your search results. One of the reasons for this state of affairs is that, along with Amazon's own inventory of products, they also allow other merchants to sell their goods, new and used, through the Amazon website, so in effect you are shopping the selection of tens of thousands of large and small online merchants.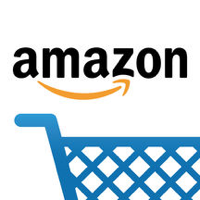 The Amazon website is quite accessible as is, but the company has also extended considerable efforts to make the shopping experience less daunting for screen reader users. Whenever you log onto the main webpage while running a screen reader, you will encounter the following message:
We have recently updated the screen reader optimized website to include headings, landmarks, and new shopping features to improve your experience. Please follow this link or go to www.amazon.com/access.
The standard Amazon webpage can be quite cluttered. It's easy to get lost amid all the extra links touting products similar to the one you searched for, products purchased by people who also purchased the product you searched for, and additional products Amazon thinks you might wish to buy, judging from your search and purchase history. The accessible platform cleans up a lot of this clutter. It also makes it quite easy to navigate and find the links and controls you want using your screen reader's special keyboard commands, such as Find Next Heading, Next Button, Next List, and Next List Item. See your screen reader documentation for a list of these handy keyboard commands.
The Amazon App
You can search and purchase from Amazon using either a computer browser or the browser installed on your mobile device (usually Chrome or Firefox for Android devices and Safari for Apple iOS). But at the top of each product page you will see a link: "View in the Amazon app." Amazon offers apps for both Android and iOS.
These apps are not quite as screen-reader friendly as the accessible website. There are several places where the swiping command does not work and you have to use Explore by Touch to find a button or other control. Nonetheless there are several reasons why you might prefer shopping on one of the Amazon mobile apps:
Each mobile app includes a Voice Search option. Invoke this option and the app will listen as you speak the name of the product you are searching for, then, when you are done, automatically begin a search and then display the results.
The app offers one-button access to your Amazon shopping cart, wish lists, and order history.
You can set up shipping alerts and receive text messages when your order has been shipped, when it reaches your local carrier, and shortly after the order has been delivered to your doorstep.
If there is a problem with your order, or if you have a question, the Contact link will lead you directly to an e-mail link or you can have Amazon call you. Callbacks almost always arrive in just a few seconds.
The Amazon Fire Tablets
Amazon wants you to shop with them so much, they designed an Amazon Fire line of tablets, with extensive integration to Amazon stores and other services. We mentioned the Fire tablets in the reading guide and the entertainment guide.
The Amazon Fire tablets use a slightly modified version of the Android operating system, and they are made voice accessible using a modified version of Talkback. We reviewed the Amazon Fire extensively in the March 2014 issue of AccessWorld.
Subscribe and Save
If there is a product you purchase regularly, such as multivitamins, pet food, or laundry detergent, you can have Amazon automatically deliver that product every month, two months, or any other time frame you wish. Prices on Subscribe and Save items are usually slightly discounted. Subscribe and Save is an excellent way to purchase shelf-stable grocery items, such as canned vegetables and cooking oil. You will receive an e-mail a few days before each order ships that includes a "Skip this delivery" link, in case you still have plenty left. You can subscribe to special deal offer e-mails, and best of all, those groceries will come right to your door—a real treat if your local grocers do not yet offer delivery.
Amazon Prime
Amazon Prime is a membership service that currently costs $99 per year, with a free 30-day trial. Students can receive a free six-month trial.
The marquee feature of Amazon prime is that for millions of items, you will receive free two-day shipping. Overnight shipping costs an extra $4.99. If you become a frequent Amazon customer, the Prime membership will pay for itself in cab fare and shopping-assistant savings.
Prime members also receive access to Amazon Instant Videos (see the entertainment guidefor more information) and a vast Prime members Kindle books lending library (see the reading guide for more on Kindle books).
Next
Accessible Payment Systems for People with Visual Impairments