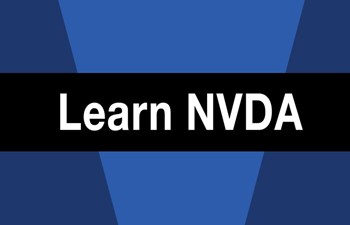 Learning to use a computer with a screen reader doesn't have to be a daunting task! The American Foundation for the Blind is here to help with a set of free tutorials called "Learn NVDA," which provide an easy-to-follow introduction to using Microsoft Windows with Nonvisual Desktop Access (NVDA), a free and fully featured screen reader.
The "Learn NVDA" tutorials have been designed to allow a person who is blind or visually impaired, and entirely new to NVDA, to independently install the program and learn how to use it. Learn NVDA will teach you:
How to install NVDA on your computer
How to navigate Microsoft Windows with NVDA
How to use NVDA Hotkeys
How to install and use the Firefox internet browser
Each tutorial contains step-by-step instructions with audio of a presenter using NVDA and video of the computer screen. The videos are fully transcribed and captioned, and we encourage you to share them! You can get a head start by downloading NVDA.
This is a work in progress! Would you like us to keep you up to date on the latest technology information from AFB, including new tutorials? If so, please join the AFB mailing list for a daily or weekly digest of news.
Thank you to the Consumer Technology Association Foundation for its generous support, which allowed the American Foundation for the Blind (AFB) to create these NVDA tutorials. A special thank you to Lions Clubs International Foundation for its support of AFB's technology literacy programs. Together, we are creating a more accessible, inclusive world for people with vision loss.
Next
Using Google Docs and Drive with NVDA