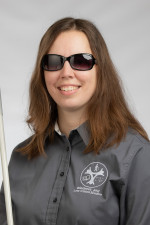 Sarahelizabeth Baguhn, Ph.D. serves as a Research Specialist on AFB's Public Policy and Research team since joining in June 2022. She is responsible for contributing to research design, data collection, analysis, interpretation, and reporting.
Prior to her role at AFB, Dr. Baguhn started her career in Special Education in Wisconsin before transitioning to teaching blindness and low vision skills as a TVI/COMS. She then spent five years at Western Michigan University, focusing on teaching preservice professionals in their TVI, VRT, O&M, and AT blindness and low vision studies programs. She has published peer-reviewed research articles on topics of echoidentification and assessments and has given over 20 presentations at vision conferences in the USA and abroad. Notably, she has presented at conferences such as the International Mobility Conference and the AER International Conference. Dr. Baguhn also serves on the board of directors for ACVREP, the board of directors for the Michigan Blind Athletic Association, on the subject matter expert committee for Assistive Technology with ACVREP, as well as the advisory council for Audio Description.
Dr. Baguhn earned her doctorate from Western Michigan University in 2021, where she studied interdisciplinary health sciences, and worked to develop a valid and reliable assessment for young children's orientation and mobility skills. Her research focused on testing blind children's orientation and mobility skills. She holds a master's in Orientation and Mobility for Children from Western Michigan University, and a bachelor's in Special Education from the University of Wisconsin. Her current research interest includes, barriers faced by workers who are blind or have low vision, and accessibility of digital information.
Next
Stephanie Enyart, Chief Public Policy and Research Officer