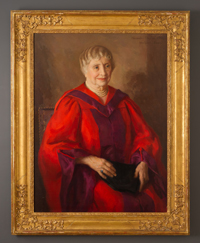 Oil portrait painting by Alexander Clayton of Helen Keller, seated, wearing a red and purple graduation robe and holding a black cap. Westport, Connecticut, 1956.
"I am younger today than I was at twenty-five. Of course the furrows of suffering have been dug deeper, but so have those of understanding sympathy and inner happiness. Whatever age may do to my earthly shell, I shall never grow cynical or indifferent—and one cannot measure the reserve power locked up in that assurance."

Letter to Clare Heineman, July 19, 1943
Using text, photographs, quotations, and film footage, The Helen Keller Kids Museum and the Anne Sullivan Macy: Miracle Worker museum provide a wealth of online information about the lives and legacies of two extraordinary women—Helen Keller, a deafblind woman who changed the perception of what it means to be blind and Anne Sullivan, her teacher, who exemplified modern teaching methods.
Both websites follow the arc of Helen and Anne's lives. The Helen Keller Kids Museum traces Helen Keller's life from her childhood and education under Anne Sullivan, to Helen's subsequent education in New York City and Massachusetts. The museum continues with Helen's early political activism and career as a leading advocate for those with vision loss in the United States and her eventual fame as a leading advocate worldwide.
Anne Sullivan Macy: Miracle Worker focuses on Anne. Using her words, the viewer reads about her difficult childhood as a daughter of poor Irish immigrants in Massachusetts, her years in the Tewksbury Almshouse and subsequent removal to the Perkins School for the Blind in Boston. The viewer reads about her extraordinary success at teaching Helen in Alabama and her continued role as a stalwart supporter of her pupil until Anne Sullivan died, famous in her own right, in 1936.