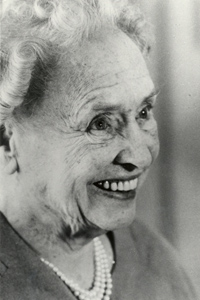 Head and shoulder portrait of a beaming Helen on her 80th birthday, June 1960.
"Smile! Laughter makes even subdued personalities sparkle. No one has a monopoly on achieving fame or fortune. The field is wide open."
Helen Keller was famous from the age of 8 until her death at the age of 87 in 1968. This longevity has provided us with an extraordinary collection of images chronicling her life. The images offer a unique window into the life of a deafblind woman and the rapidly changing world that she lived in.
View photos of Helen Keller spanning over seven decades of her life. Images include photographs taken with her friends and companions Anne S. Macy, Polly Thomson, Alexander G. Bell, and Mark Twain. The photographs depict events in her life including her graduation from Radcliffe College in 1904, and meeting public figures such as US President Calvin Coolidge, to private moments such as Helen writing at her typewriter and playing a game of chess.
Scans of these images are available for use with permission.
Want more information on Helen Keller? Expore the Helen Keller Archive. This fully accessible digital collection from the American Foundation for the Blind is the world's largest repository of letters, speeches, press clippings, scrapbooks, photographs, architectural drawings, artifacts and audio-video materials relating to Helen Keller.
For students and younger children, AFB's Helen Keller Kids Museum features a multimedia timeline for the life of Helen Keller. The Helen Keller Kids Museum also provides resources for sighted and visually impaired children to research and prepare reports on the life of Helen Keller.
Be sure to also visit the Anne Sullivan Macy Museum to learn about Helen Keller's famous, beloved teacher.