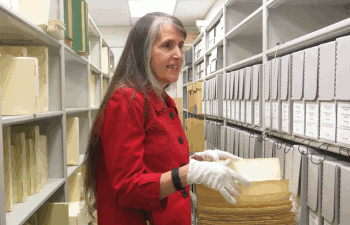 The Helen Keller Archival Collection at the American Foundation for the Blind (AFB) is the world's largest repository of letters, speeches, press clippings, scrapbooks, photographs, architectural drawings, artifacts and audio-video materials relating to Helen Keller.
Explore the Digital Helen Keller Archive
Helen Keller's archival collection is available to researchers and the general public as the first ever fully accessible Digital Helen Keller Archive.
The collection contains detailed biographical information about Helen Keller (1880-1968), as well as a fascinating record of over 80 years of social and political change worldwide. Keller was a feminist, a suffragist, a social activist, and a pacifist, as well as a prolific writer and published author.
Thanks to the enormous generosity of the National Endowment for the Humanities, American Express, and other funders, the digital collection is being made fully accessible to blind, deaf, deafblind, visually impaired, sighted, and hearing audiences alike. Please note that the Digital Helen Keller Archive is constantly evolving and additional accessibility features are being added. The entire digitized collection will contain more than 160,000 images. Here you will find a few sample artifacts from the archive.