AFB-DirectConnect Newsletter, Published 2/12/2015
For further information, contact:
Mark Richert, Esq.
Director, Public Policy, AFB
(202) 469-6833
MRichert@afb.net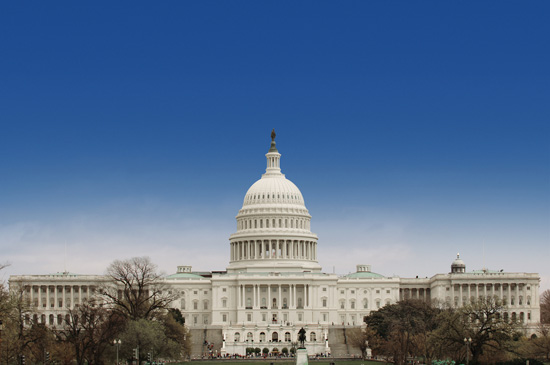 Winter weather isn't slowing down the DC-based staff of AFB's Public Policy Center! In this edition of AFB-DC, do a doubletake at just some of the items on our desks.
Domestic Developments
International Issues
News to Know
Domestic Developments
Low Vision Devices Under Medicare
The AFB Public Policy Center's advocacy for Medicare coverage of low vision devices reached another necessary milestone with the introduction, on February 4, 2015, of H.R. 729, federal legislation to establish a Medicare demonstration project to assess the fiscal impact of permanent Medicare coverage for these critical devices. The bill, sponsored by Reps. Carolyn Maloney (D-NY) and Gus Bilirakis (R-FL), is one of the few pieces of disability-specific federal legislation that has been introduced in the 114th Congress on a bipartisan basis thus far. Efforts to introduce a companion bill in the Senate are ongoing. Once enacted, the bill would make a variety of low vision devices available to Medicare beneficiaries whose eye doctors participate in the five-year demonstration project and prescribe such devices as medically necessary after a clinical evaluation. The legislation incorporates some significant enhancements over the version of the bill introduced in the last Congress. In particular, H.R. 729 does not limit coverage of devices provided under the demonstration project to devices costing $500 or more but rather emphasizes that the demonstration project must yield meaningful data for Congress to assess the fiscal impact of permanent Medicare coverage for the most powerful and function rich devices.
Innovating Special Education for Students with Sensory Disabilities
In the last Congress, the most comprehensive special education legislation for children and youth with vision or hearing loss was introduced, the Alice Cogswell and Anne Sullivan Macy Act. At the conclusion of every Congress, bills that are introduced but not passed by both chambers must be formally reintroduced when a new Congress convenes. The need to reintroduce the Cogswell/Macy bill presents our field with an opportunity to refine the bill even further, and we are excited to add a third Title to the measure, a set of comprehensive provisions to improve results for students who are deaf-blind. Extensive work has been undertaken to develop and reach consensus among parents, professionals and other advocates in the deaf-blindness community, and along with the existing Titles of the Cogswell/Macy Act pertaining to students with other sensory disabilities, especially including those students who have additional, and potentially even more profound disabilities, the bill's reintroduction will be an historic declaration by our three united communities that America's current special education system must innovate dramatically to be truly worthy of the potential of all children and youth who are deaf, hard of hearing, blind, visually impaired, or deaf-blind. Reintroduction of the Cogswell/Macy Act is expected presently.
ESEA: Reminding Congress that Kids with Disabilities are General Education Students Too!
Although the Elementary and Secondary Education Act (ESEA) is usually considered a general education issue, any ESEA changes will affect education for students with disabilities, including students who are blind and visually impaired. Proposed changes related to accountability and assessments are being watched closely by the special education community. Please see the following resources for more information about this important topic:
AFB Appointed to FCC's Newly Established Disability Advisory Committee
In an effort to focus the considerable work of the Federal Communications Commission (FCC) to grapple with a host of current and future telecommunications and video programming matters before the Commission, the FCC has established a new Disability Advisory Committee (DAC). The DAC brings together leading representatives from the advocacy and industry communities, and, along with a number of our partners in the blindness, deafness, deaf-blindness, and broader disability communities, AFB has been named to the Committee. While the FCC has long had a Consumer Advisory Committee (CAC), this disability-related group is widely expected to assume prominence in guiding the Commission's undertakings touching current and emerging technologies within the jurisdiction of the FCC of concern to all people with disabilities. The first meeting of the DAC will be March 17 in Washington, DC. Keep an eye out for future editions of AFB-DC to learn more about the DAC and how you too can participate in its deliberations.
Threats in the Wind to SSDI Benefits
In the opening days of this congress, the House of Representatives adopted procedural rules which could be a significant barrier to Congress's relatively routine practice, known as reallocation, to continue to maintain the solvency of the Social Security Disability Insurance (SSDI) program. It is unclear at this time what the House's action means for congressional action in the near-term which is required in order to avoid substantial cuts in benefits. Reallocation will ensure that SSDI is available to both current and future beneficiaries, including the 7 in 10 SSDI beneficiaries who are age 50 and older. SSDI benefits average just $38 per day for workers with disabilities. Benefits make up the majority of income for 4 out of 5 beneficiaries and provide the sole source of income for 1 in 3 beneficiaries. The impact of any reduction in benefits could be truly devastating.
New Financial Planning Options with the Achieving a Better Life Experience (ABLE) Act
On December 19th, the President signed into law the Achieving a Better Life Experience (ABLE) Act, aimed at reducing financial burdens for people with disabilities and their families by providing them access to tax-saving 529 Education Savings Plans, called 529-ABLE Accounts.
International Issues
The Marrakesh Treaty to Facilitate Access to Published Works for Persons Who Are Blind, Visually Impaired or Otherwise Print Disabled
Efforts to achieve Senate ratification of the treaty are making progress. The Obama administration is communicating that it is preparing to formally send the Treaty to the Senate soon. However, advocates are concerned that the treaty may be bundled with an array of other domestic and international copyright proposals that do not relate directly to the treaty and which are not necessary for the treaty's immediate ratification. In particular, there appears to be some interest from some quarters within the administration to use the call to ratify the treaty to amend the so-called Chafee Amendment, the provisions of existing law that freely allow certain authorized entities to reproduce most literary works in a variety of specialized formats without prior permission from their copyright holders. AFB and a growing chorus of organizations are calling upon the Senate to ratify the Marakesh treaty now without reference to any additional legislation. The time to debate whether and which changes to U.S. copyright law may be necessary and/or desirable should not be linked to treaty ratification.
Convention on the Rights of Persons with Disabilities (CRPD)
Advocates and supporters were unsuccessful in bringing ratification of the CRPD to the Senate floor in the last Congress. Discussions continue about how to play a role in supporting countries which have ratified the CRPD.
AFB Researcher to Co-chair CCD International Task-Force
AFB's Senior Policy Researcher, Rebecca Sheffield, was recently elected to be one of four co-chairs on the International Taskforce for the Consortium for Citizens with Disabilities (CCD). Rebecca brought a special interest in international issues when she joined AFB's Public Policy Center last fall, and she is looking forward to being more involved - and to sharing insights about special education, blindness, and vision loss - with the international disability rights community.
News to Know
2015 White House Conference on Aging
The White House Conference on Aging occurs once every 10 years, providing an opportunity to focus attention on the issues facing older people. In 2015, the Conference will emphasize four key issues: retirement security, healthy aging, long-term services and supports, and elder justice. White House Conference leaders encourage organizations and individuals to lead discussions and listening sessions throughout the country, and AFB will take part in multiple ways during 2015:
AFB's New Research Navigator Series
The AFB Public Policy Center is pleased with the enthusiastic response to our newly launched AFB Research Navigator, an online and e-newsletter series designed to keep researchers and non-researchers alike informed with user-friendly facts and figures and the latest research pertaining to people with vision loss. Our inaugural issue, "Employment of People with Vision Loss," was published in late 2014. Our second edition, "Just how many blind folks are there anyway? Population and Demographic Statistics for Adults who are Blind or Visually Impaired," was released on February 2. These two editions of the Navigator have sparked vital conversation and interest from the policy and research communities and beyond about the meaning and purpose of frequently cited indicators in our field. Future editions in 2015 will take a closer look at data about children with visual impairments as well as changes in demographics and statistics over time.
Diving into Data! Upcoming Free Census Bureau Webinars on the U.S. Population of People with Vision Loss
The AFB Public Policy Center is working closely with the U.S. Census Bureau to plan a series of webinars which will help educators, researchers, and advocates explore a wealth of existing data (from the American Community Survey, the Current Population Survey, and the National Health Interview Survey, just to name a few!). These webinars will be designed and led by Census Bureau experts, and the events will be hosted through their web-based training platform. Using the tools which will be explained in this webinar series, anyone with internet access can perform free, customized data searches to support research, grant-writing, program evaluation, education, and advocacy. We look forward to continuing this webinar series and to learning both from the Census Bureau's experts and from participant questions and feedback. The first webinar will be titled Measuring America: An Overview on Vision Disability Statistics. It will take place at 2:00 pm Eastern time on February 26th, 2015. A recording of the webinar will be posted online at a later date. Please register in advance to receive the log-in and call-in information via email.
Next
ADA Notification Bills