AFB-DirectConnect Newsletter, Published 3/17/2015
An American Foundation for the Blind & U.S. Census Bureau Webinar
Thursday afternoon, March 26, 2015, 2 p.m. - 3:30 p.m. Eastern
For further information, contact:
Rebecca Sheffield, Ph.D.
Senior Policy Researcher, AFB
RSheffield@afb.net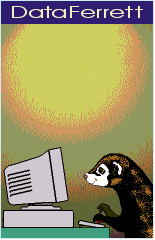 Last month, the AFB Policy Center ramped up our focus on demographics and data with two exciting projects:
our Research Navigator edition, "Just how many blind folks are there anyway?"
in collaboration with the Census Bureau, we presented the first in a series of webinars about exploring existing population data in the field of vision loss (Measuring America: An Overview on Vision Disability Statistics).
Materials and Recording from DataFerrett Webinar
In March we continued our webinar series with a special training on the Census Bureau's DataFerrett tool. Take a peek at DataFerrett online.
Nelson Colon, from the Census Bureau's Outreach and Training team, led the webinar via the Bureau's web-based training platform. He explained how, using DataFerrett, researchers and advocates can search a variety of federal datasets and build customized tables to support research, grant-writing, program evaluation, education, and advocacy. DataFerrett is especially important for answering questions that are not generally found in the Bureau's standard reports. For example, you might want to find out about people with vision loss who are:
employed by state and local government in your state
working in manufacturing/wholesale/retail in the Northeastern U.S.
under 18 and living in a home where English is not the primary spoken language.
A recording of the DataFerrett webinar is now available for viewing from the Census Bureau's website. Activating this link will launch the video.
Download Accessible Materials from the Webinar
Please use the links below to download the handout and other materials from the 3/26 webinar. All images in all documents have been described using captions or alt-tags (in Microsoft Word and PowerPoint). Best practices for accessibility have been applied to all documents. For those who are not familiar with navigating through PowerPoint, we recommend the text-only version of the PowerPoint (a Microsoft Word document). The webinar was presented and recorded using the Census Bureau's WebEx platform.
Note: The handout and PowerPoint files are hosted in DropBox. You do not need to register for DropBox to download/open the files; however, after you follow the links below, you may need to select the "download" link from the website to copy the file to your computer. Use your browser's "back" button to return to this page.
If you missed February's webinar, Measuring America: An Overview on Vision Disability Statistics take a look at the recording online at the Census Bureau's website. Mark your calendars and stay tuned for our third webinar (on the National Health Interview Survey) on April 22 at 2 p.m. Eastern.
More about Data at AFB's Leadership Conference
Also, we are excited about two data-related sessions at AFB's upcoming Leadership Conference in Phoenix, April 9-11:
Research, Policy, and Practice in Visual Impairment and Blindness — What Do We Know? What Do We Need to Know?, 9:30 a.m. - 12:30 p.m on Thursday, April 9
A National Conversation on Aging and Vision Loss: Giving Feedback for the 2015 White House Conference on Aging, 1:30 - 4:30 p.m. on Thursday, April 9
Learn more about the Leadership Conference on our conference webpage.
The Centers for Disease Control and Prevention's Dr. John Crews will be a guest speaker for both sessions, providing insight about a new vision data surveillance system as well as his research on quality of life for older adults with vision loss. We hope you'll join us!
Next
3 Described TV Items: a Call to Make, a Survey to Take, the Future to Shape!