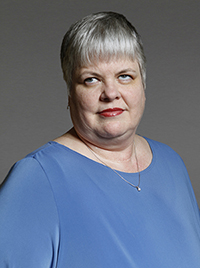 Neva Fairchild has over 20 years of professional experience in the field of vision loss and a lifetime of experience living with low vision. She was diagnosed at an early age with Cone Rod Degeneration, a rare genetic eye condition.
Neva Fairchild joined AFB in 2008, to oversee Esther's Place at the Center on Vision Loss in Dallas, TX. Esther's Place was a demonstration model home with over 500 products and environmental adaptations to help visually impaired or blind individuals live a life with no limits. She is a vital part of AFB's Aging Initiative team, which involves the research and public policy needs of people experiencing vision loss later in life. She also works with AFB Consulting on User Testing, especially for screen reader compatibility.
Prior to joining AFB, Neva was a Vocational Rehabilitation Counselor and Employment Assistance Specialist with the Texas Department of Assistive and Rehabilitative Services, and a Vocational Evaluator with the Dallas Lighthouse for the Blind.
Neva serves in numerous leadership roles, ranging from international to local in scope, with organizations such as the Association for Education and Rehabilitation of the Blind and Visually Impaired and the National Rehabilitation Association. She was also appointed by the Governor of Texas to the Rehabilitation Council of Texas, and served as Chair in FY18 and 19.
Neva holds a bachelor's in Rehabilitation Science and a master's in Rehabilitation Counseling Psychology from the University of Texas Southwestern Medical Center. Her expertise in adult learning and psychology paired with an extensive knowledge of applied solutions, techniques, and tools for adapting to low vision, enables her to add valuable and practical insights in a variety of settings.
Expertise: Aging, Independent Living/Home Adaptation, Technology
Please email communications@afb.org to request an interview with Neva.
Next
Melody Goodspeed, Associate Director of Development