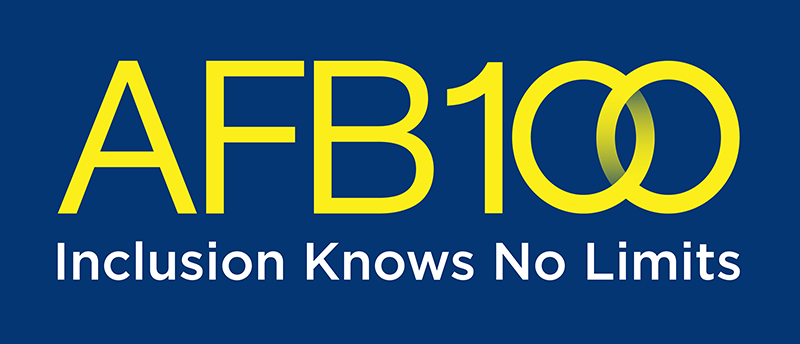 We've been changing the world for 100 years—be part of what the future holds!
Since 1921, the American Foundation for the Blind has been at the forefront of creating a more inclusive world for people who are blind or visually impaired—a world of no limits, where everyone is free to pursue their dreams of education, employment, and a life well and fully lived.
How We're Celebrating
Dinner and Music for a Historic Celebration: Join us in a conversation with MasterChef winner, cookbook author, and restaurateur Christine Ha; entrepreneur and wine expert Dr. Hoby Wedler; and jazz pianist and composer Marcus Roberts as they discuss food, wine, music, creativity, and pursuing your dreams. You can learn how to create dishes from a special menu written by Ha, share a glass of wine from a list created by Wedler, and discover new music from a song list curated by Roberts. Russell Shaffer, Senior Director – Global Culture, Diversity, Equity & Inclusion – Walmart Inc, and former chair of the AFB board, hosted this celebration of the senses, community, and the power of inclusion. Watch Dinner and Music for a Historic Celebration
The Art of Inclusion: AFB100 Concert & Celebration: Watch the March 4 virtual gala with co-hosts Haben Girma, author of the best-selling memoir Haben: The Deafblind Woman Who Conquered Harvard Law, and American Foundation for the Blind President and CEO Kirk Adams. Featuring music from Grammy-nominated artists Amadou & Mariam and Marcus Roberts, jazz pianist Matthew Whitaker, Tony-nominated actor and singer Sean Allan Krill, songwriter and singer Jennah Bell, hip-hop artist Aloe Blacc, and students from the New York Institute of Special Education, this special event was designed to spark joy, celebrate historical milestones, and energize the public around AFB's mission and vision for an inclusive and accessible world.
Centennial Conversations: We continued the celebration with a series of curated webinars focused on the most pressing issues and topics affecting the blind and low vision communities, pairing prominent speakers with younger voices.
Blind and Visually Impaired Women in Leadership—March 18, 2021, 2 pm Eastern
The Inclusive Power of Music—April 22, 2021, 2 pm Eastern
The Power of Gratitude and Joy: A Conversation with Rebecca Alexander—May 27, 2021, 2 pm Eastern
Inclusion, Intersectionality, and the Future of Work—June 24, 2021, 2 pm Eastern
[Making Money Work: Including Disability in the Financial Equation—July 22, 2021, 2 pm Eastern
Thank You
As it has since 1921, AFB firmly believes that partnerships are vital to creating a world of no limits for people who are visually impaired. We are grateful to our centennial sponsors who have partnered with us in celebration and in affirmation of our shared commitment to make our world a more equitable one.
AFB is pleased to collaborate with those who share our vision for a future of no limits. By working with AFB, you are asserting your commitment to an inclusive society and a no limits future for people who are blind or visually impaired, creating a culture of inclusion at work, at school, and in our communities.
Next
American Foundation for the Blind Leadership Conference 2019